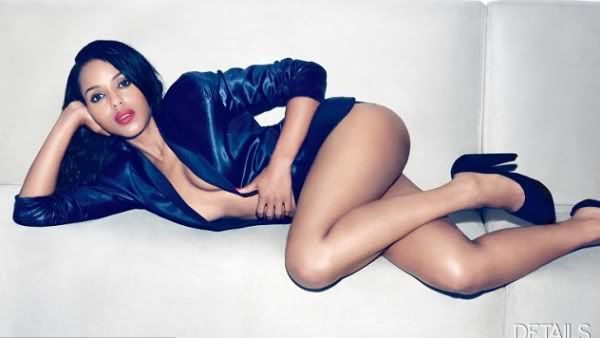 "Scandal" star Kerry Washington is showing off her sultry side in the latest issue of DETAILS Magazine.  Get the deets inside on Kerry's new ABC show and watch Wale and Miguel perform "Lotus Flower Bomb" on "Late Night With Jimmy Fallon."
Kerry Washington vamped it up in the latest issue of DETAILS Magazine where she rocked a shiny blazer, high heels by Theyskens' Theory and Blush underwear.  We normally don't see her this sexed up but she looks hot.
The fab actress has hot projects coming down the pipeline on both the big and small screens. In addition to playing Jamie Foxx's wife in the upcoming Quentin Tarantino flick Django Unchained, the actress is also starring in Shonda Rhimes' new ABC show "Scandal."
In her DETAILS interview, she joked about being famous and how strangers always try to figure out where they know her from.
"I guess what they're going to say they recognize me from.  If it's a teenage guy? "You're the blind girl from Fantastic Four!" A European? "It's always The Last King of Scotland." A lesbian? "She Hate Me!"
Kerry added that she is excited about the start of "Scandal" (Apr. 5) and fans will love the show.  Can't wait!
Also on tv......
Wale stopped by "Late Night with Jimmy Fallon" last night to perform "Lotus Flower Bomb" with Miguel.  Watch the clip above.  Mr. Akintimehin also appears on Monica's New Life disc (March 6).