"L&HH" star Yandy Smith chatted exclusively with TheYBF.com recently where she revealed that fans will see her softer side this season as she introduces viewers to her long-term boyfriend Mandeecees, their son Omere, and she expands her Everything Girls Love brand.  Her man even chimes in to answer a few questions.  See the highlights inside....
Though she's been in the music business for a number of years--first as the assistant to Mona Scott-Young ("L&HH" Executive Producer) and most famously as the former manager of rapper Jim Jones--Yandy Smith stepped out into the spotlight last season as the breakout star of "L&HH" season 2.
Now a music management powerhouse and co-founder/CEO of Everything Girls Love, a lifestyle, Web publishing and fashion brand, Yandy was known as the "Don King" of reality television last season (because fights seemed to follow her everywhere).  And this season, she's still fighting...but as a mother and as a businesswoman.
On season 3, Yandy also shows a softer side as she has become a mother and we meet her live-in boyfriend,Mandeecees.  He even answers a few q's for us during her interview.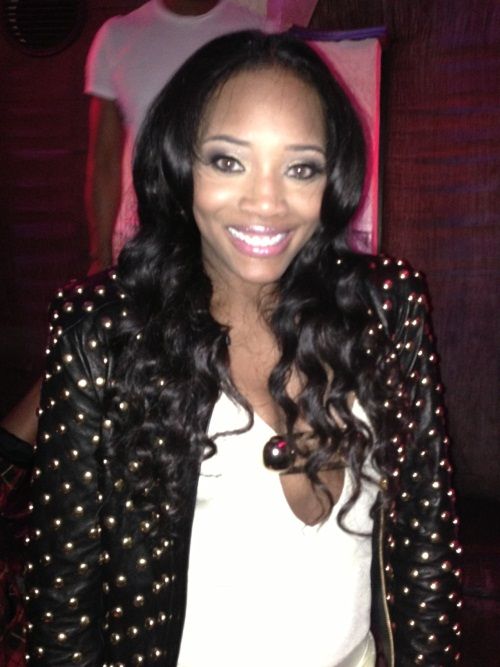 She and Mandeecees chatted exclusively with TheYBF.com about the side of herself that viewers will get to see this season, what she hopes to gain for her brand and what cast members she feels closest to.  Here are the highlights:

This season it appears that we'll see more of your personal life than just you as a businesswoman, was that something you wanted last season?

No.  Last season I was completely closed and I didn't want any of my personal life (no mom, no dad, no man, nothing) on the show. Honestly, the reason why I did the show is because I wanted to give a message to people out there, women, men, whoever…there are some of us who are independent of a man who have built a career in this industry or done well for themselves independently of someone else's career. And I felt that first season that wasn't really shown. Because if you see Somaya struggling, she left struggling. Olivia starting struggling in her music career, she left struggling. I wanted to show that I'm fighting and I'm not really struggling. I wanted season 2 to be focused on my business.

Could you still be considered the Don King of reality tv or do you think you have softened up this season?

Last year, I think that was more so people not understanding production and how things were. I don't necessarily get to choose who I'm shooting with. If you're in a cast with a certain amount of people, I can't bring my girlfriend from school, my other from work to an event. If Emily's doing a party and it's a show about us 6 women, I wouldn't show up with someone other than someone on the show. If you really look at the production side of things, everything has to tie in and sometimes certain people are used to tie it in. So it's not about being a Don King or anything, it's just how the story works. I can't bring my cousin that lives in the Bronx to Emily's event if she's not on the show.

I was soft last season. I'm a softie. This season you see more of my family and what we go through being in the business and all that stuff.

The world didn't see your boyfriend during the last season, what made you want to include him now?

When we started taping I was 8 months pregnant, so there was no way not to include him. I didn't want people…well, People assumed last season, and I realized, that because I didn't have a boyfriend on the show and it is Love & Hip Hop, people assumed that I was in love with Jim or wanted to be with him. It was so confusing and mind-boggling because we were so professional in real life and on the show and I couldn't understand why people thought that. I guess if they don't see you with anybody, they assume you're with nobody. Because I was coming home every night to Mandeecees so it's like, what are they talking about. Do they know what I got at home? I felt it was important to let people know, "Let me check all yall that thought something differently, here it is".

Which cast do you prefer, the previous season or current cast?

I prefer this season's cast because my families on it.  And if I can bring more money to my household, I'm always with that.


How do you feel about your good friend Kimbella not reappearing this season?

I miss her on the show. We talk everyday...on the show, having a comrade and confidant I can go to if things are going on. Again, on the show I can't bring someone who's not a cast member to talk about things on the show. Having a close friend on the show is good because I can go to her and say, "me and this person just got into it, what do you think"? I'm still close with Olivia, but being that Kim's not on it, I can't go to her with certain issues that are happening on the show. She wouldn't be the person I'm taping with because she's not a cast member.


Considering all the drama that happened last season and with reality shows in general, why did you choose to return for another season?

Let me think…there was a lot of drama, but overall it was excellent for my brand. I'm just going to keep it real with you. When I thought about the drama and how much I'm not drama filled, I was asking myself if this is something I really wanted to do. But when I thought about what it's done for my EGL brand, I was like "why wouldn't I". When I thought about how it's a commercial to promote whatever you have (your nails, hair, clothing or jewelry line), this show airs 3 to 4 times a day every day a week, you would be a fool not to take advantage of all those marketing tools and dollars that could be spent. And I felt there was nothing more to think about when I thought of it from that spectrum.

What's the BIGGEST change you've seen in your boyfriend after you had your baby boy?

He's already been a dad and what I love about him is that he's a great dad. But now to see him love up on something that's a part of me, makes me love him. Baby Omere has just gotten us so much closer because I see how much he loves him and how much he wants to protect him.  And that just makes me love him more.

How have you two changed since you've become parents?

Mandeecees: Our relationship and alone time has changed because kids are always in our bed. So when it's time for romance…

Yandy: Oh all the things to talk about he would say that!

Mandeecees: The baby's right there, you know. But other than that, things have been great. I enjoy being a dad and I enjoy watching Yandy.  It's kind of weird now that Yandy's a mother and I'm so used to seeing her as the working lady. A working woman that's always chasing money, chasing checks and now she's always holding a bottle and rocking a baby, and doing motherly things. It's a big change, but it's cool.
You can find out more about Yandy and EGL at EverythingGirlsLove.com
"Love & Hip Hop 3" kicks off tonight at 8p ET on VH1.