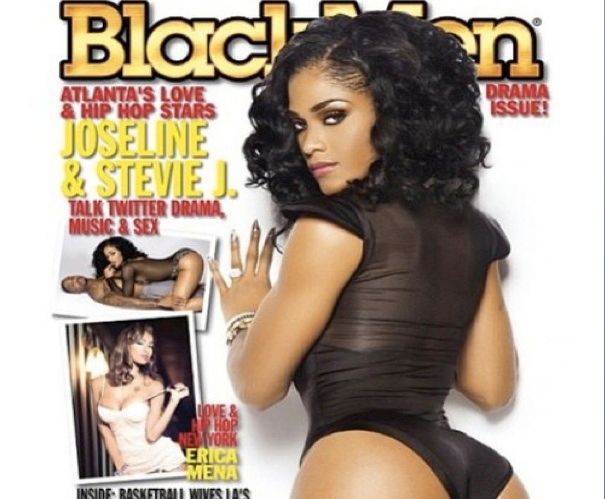 Joseline tapped into her femininity for her the cover of the new issue of Black Men magazine.  And, of course, she's got Stevie J. all in the mix too.  Check their pics and Diamond's feature inside, plus Tami Roman's new diet ad...
The reality chicks and rappers are doing their usual of covering the pages of the booty mags.  First up, "Love & Hip Hop Atlanta" stars Joseline & Stevie J. in Black Men mag.  Dare we say, Joseline actually looks...nice.  And we're kinda loving the last pic even.  We know....it's a shocker.
Also featured in the new issue is rapper (and LAHH ATL star Scrappy's ex) Diamond.  Guess she's putting her T&A purchases (her ex's claims) to good use.
"Basketball Wives" star Tami Roman has branched out to start pushing diet aides.  And she's looking great these days.
Besides starring in a new original comedy series, "Belles", premiering on January 21st and playing the character Loreta Cooper, Tami Roman is also starring in the newest NV Clinical Commercial. As their spokesperson, the 42-year-old busy mom, who recently quit smoking, didn't exercise regularly and she says her metabolism slowed down drastically. So Tami went the route of getting a healthy boost in weight loss and not a quick fix.
She admits,"I've tried to lose weight so many times, but I always gave up easily because the first two weeks are the hardest.  Everyone knows that I love food and can identify with my struggles. Once I tried NV Clinical and saw fast results the first week, it motivated me to keep pushing!
Check out her brand new ad below:
Looking good Tami!