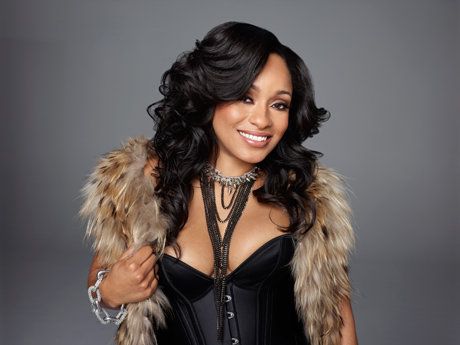 Tahiry Jose, the urban covergirl who first caught the public's eye as Joe Budden girlfriend is set to stir the pot on season 3 of VH1's hit reality series "L&HH." Check out TheYBF.com's exclusive interview inside....
VH1 is amped up for season 3 of its urban soap-opera"Love & Hip Hop" (January 7) and this season we'll see a cast of both new and familiar faces who are full of excitement and drama. 
One of the new faces gracing the small screen will be Dominican model Tahiry Jose (shown atop with co-star Rashidah Ali at Thursday night's premiere party).  The Harlem native first rose to fame through a series of online video posts from her then boyfriend, rapper Joe Budden (who also stars on "L&HH").
Though the show has yet to debut, the drama between the former couple has already spilled off screen and into social media with the pair bickering about Joe rapping about her on his most recent mixtape, A Loose Quarter. 
Tahiry spoke exclusively to TheYBF.com about it all.  Here are the highlights:
With many people labeling you a video ho or rapper arm piece, explain the image YOU are trying to convey:

I am being really "real" on tv and it's not an act. I am hard-working and I'm a college graduate whose grown into a business woman and who's building my brand. I hope to show the whole world that dating a rapper is not all glitz and glamour and I'm a regular person.  I'm "human."

On how she was "discovered" and began her career in the industry

I started doing blogs with Joe. I don't think he knew what he was doing....he was just putting the camera on his girlfriend. He uploaded it to YouTube and the world loved it. And now, several years later, I've done almost every urban magazine and appeared in the movie, Interlude.
On if she feels like Joe Budden discovered her

I believe he put me out there.  BUT, you could put a camera on anybody and you won't get the same effect. He's had a thousand girlfriends and he's put the camera on each and every one of them.  But there's a reason why I'm here…..still. He helped me over the edge….

On finding out Joe was a part of "LAHH 3"

I remember the day exactly. I had held onto the contract for a week and I had it in my gym bag. I was just walking and reminding myself to sign the contract, then I got a phone call. They said Joe had signed a contract and he's a part of "Love & Hop Hop" and my day became CLOUDY. Like literally, everything just stopped around me and I was 'f*ck f*ck f*ck'. And then I said, what the hell. Who am I fooling? Together or not together, that's why we got on the show.

On Joe talking about her on his mixtape and VH1 wanting them to film together


In retrospect, everything is funny and you get over situation. But in the moment, it's my real life. I can't be mad at VH1, we both signed on for this. But still, there's also real life happening, I mean what you see on tv is real, but it's moving a lot slower than real life (the mixtape situation happened AFTER they filmed). So it's difficult because I am not pretending. But Joe does that all the time. He raps about me all the time and he holds on to sh*t.

On what she hopes to gain from being on "L&HH"

Like I said, I'm just being me and I'm enjoying the ride.   I want to be the next Nene Leakes. Why the f*ck not? Let's get it. I mean, I been doing this for four years so now it's time to take it up a notch.

On reservations about going on LAHH and her Twitter gangsters…

I come from blogging about my life but the main thing with this is we weren't in control. Just knowing that I'm not in control scares me. And now it's a bigger audience…I mean this is on tv! It's crazy. But it's been fun. And on the internet thugs, thing can get quite harsh…I am human. I've got a thick skin and it comes with the territory.

On what we expect in the near future?


I am building my empire, which is a little bit of everything. From clothes to music to acting. I've covered almost every urban magazine out there….just have a little piece of me everywhere. I'm also looking into opening my own bar/lounge in Florida (South Beach).
Fans can check her out at tahiryonline.com and on Twitter: @TheRealTahiry.
Love & Hip Hop 3" kicks off January 7th, 8p on VH1.
Pics: TheYBF.com/VH1