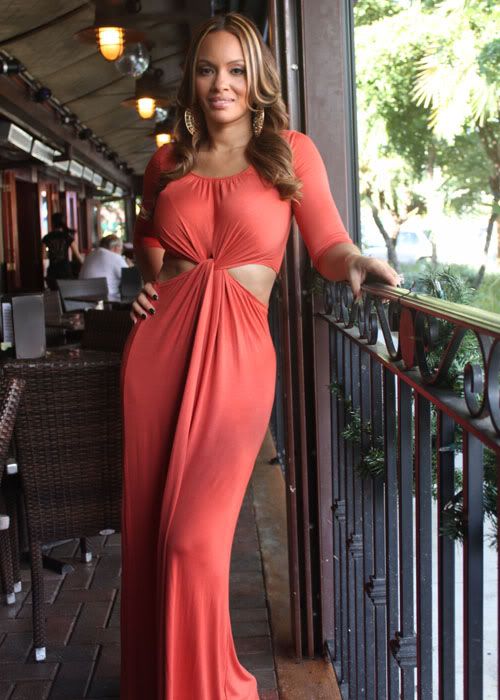 Season 4 of "Basketball Wives" returns February 2012.  But before that, you can check out an unedited and unfiltered livestream from the cast's new promo shoot in Miami today--kicking off at 11am ET.
And drama may ensure since frenemies Eveyln and Jen will be in the same room....AND they're meeting the new cast members Kesha and Kenya.  Check it inside...
As the cast shoots promos for the forthcoming season (Evelyn and Jen's pics above are from earlier this week as they prepped for the shoot), host Liz Black will chat with the ladies about the forthcoming season, last season's most memorable moments, as well as their fashion selections modeled during the promo shoot.
In the upcoming season, you can expect the ladies to explore the pressure of juggling long-distance relationships and the stress of struggling to establish financial independence. Oh, and the breakups to makeups to fist fights with both friends and men.
This season, Shaunie O'Neal is on the path to establishing herself as a business mogul. Evelyn Lozada and Jennifer Williams' 12-year friendship is in a precarious position. Will it recover from last season's fracture? Strong-willed Tami Roman continues to be a force to be reckoned with both socially and now in business. Royce Reed and Suzie Ketcham attempt to navigate uncharted waters as new chapters open in their lives. Two new ladies hit the scene: Newcomer Kesha Nichols survived every girl's worst nightmare, having her engagement broken off by her ball playing fiancé, just hours before their wedding. Kenya Bell is in the process of finalizing a divorce from a basketball star and is one of the most notorious and controversial wives in the league, whose infamous reputation is well known by the other wives.
Here's the live stream below which ends at 3p ET: