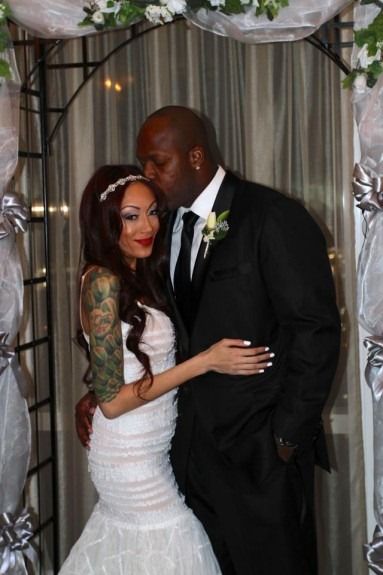 Despite a rocky year, including a domestic violence accusation, Baltimore Ravens linebacker Terrell Suggs wed Candace Williams during a small ceremony in Maryland on Friday. Get the deets on their ceremony inside....
On Friday, NFL star linebacker Terrell Suggs wed his "formerly estranged" babies' mama in during a small ceremony at the Four Seasons Hotel in Maryland.  We told you previously that Candace had accused Terrell of throwing bleach on her and most recently of dragging her alongside a car, but that didn't stop her from professing her love for the baller.  In fact, Candace only dropped her protective order against Terrell THREE days before the wedding.  SMH.
The couple, who exchanged vows in front of their two kids and nearly 30 close friends, plan to have a large ceremony after the football season ends. The bigger celebration will take place in either Arizona (his home state) or Maryland.  He posted a pic and a statement on his Facebook page this weekend saying:
"Last night I married my best friend and the love of my life.Our son gave her away and our daughter looked like a miniature version of my beautiful bride as she stood next to her. I'm a lucky, lucky man. Thank you God for all of your blessings and for showing me such amazing favor."
 
Well isn't that special.  Let's hope their domestic violence days are behind them now....
Pics: Facebook/TMZ