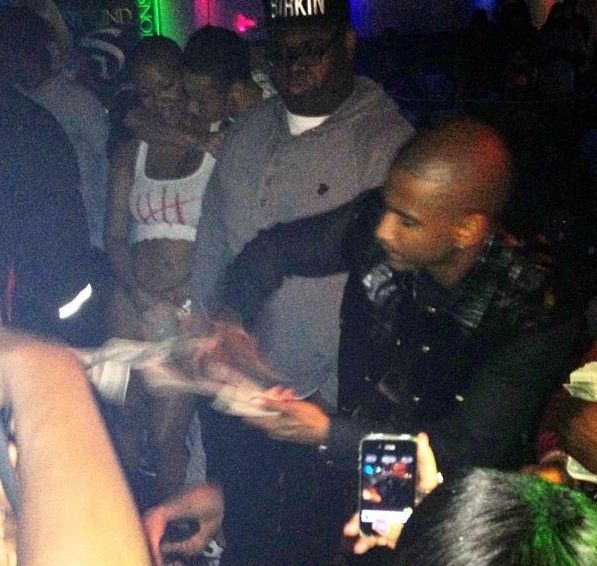 After a wild night in a Queens strip club back in August, Trey Songz has JUST been arrested for allegedly throwing money at a chick inside that strip club.
Deets inside...
Trey Songz may know how to make the neighbors know his name and will sex you up as romantically as hood love can get.....but dude still loves to get gutter with a stripper or two (the above pic is not from the night in question).
According to TMZ, Tremaine Neverson has just been arrested after a woman accused him of assaulting her with cash in the strip club in Queens, NY.  On August 21st, Trey hosted his official Chapter 5 album release party at Club Perfection gentleman's club.    And around 4am, the police report states an altercation happened between Trey and a woman inside the club.
Cops described the incident this way in the criminal complaint: "Tremaine Neverson, did throw a sum of United States currency at the complainant and said sum of United States currency struck the complainant's left eye causing substantial pain to her left eye."
No word on if the alleged "victim" is an actual stripper.
But if she is, I'm baffled on what other way a stripper prefers to get her cash for the night.  Do they have credit card machines on stage now, in place of dollar bills, that they swipe while making their asses give rounds of applause?  Wouldn't getting hit in the face with the very cash you're twerking so hard for be covered under Worker's Comp?  Would love to know.
Meanwhile, Trigga appropriately dropped his remix of "Bandz A Make Her Dance" back in October for his TriggaMix.  And he's rapping & bragging about how he can make a chick suck, f*ck, guzzle and do everything else for his bandz-o-money in the strip club.   He coincidentally talks about getting it in at "Perfections on a Tuesday."
Such a gentleman...
The Randomness:
1.  Secretary of State Hillary Clinton fainted and suffered a concussion from the fall, and is now recovering at home.  The fainting was likely due to dehydration from a recent stomach virus. STORY