"RHOA" star Cynthia Bailey covers SHEEN Magazine along with her husband Peter Thomas. See the sultry pics from their photoshoot inside and details on T-Boz's upcoming reality show....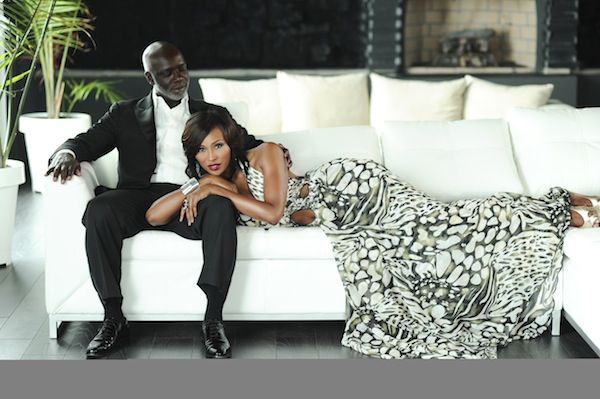 "RHOA" star Cynthia Bailey and her husband Peter Thomas cover Sheen Magazine's Relationship Issue, which hits stands next week.
Inside the mag, the couple offers tips on a successful union, discuss their business ventures and say why they don't allow public opinion to interfere with their love.  Say what you will about this couple but Cynthia has trained her Mr. well on how to twerk out a photoshoot.  Hot pics!
And in television news....
TLC's singer Tionne "T-Boz" Watkins has announced January 1, 2013 as the start date of her reality show (on the TLC network) called"TOTALLY T-BOZ." According to the press release, the show will follow Tionne's journey to LA to start her career in an industry that is very different from what it used to be.  The press release read, 
"Outspoken and driven, T-Boz has spent the last few years on a very rocky road, from dealing with the tragic death of fellow member Lisa "Left Eye" Lopes, to a difficult divorce and financial challenges, and having to recover from a life-threatening brain tumor, all while suffering from debilitating Sickle Cell disease. Yet through it all, T-Boz has always found a way to grow stronger and now, she's hustling hard to transform herself into a bigger success than ever before.

This series will lift the veil on the life of a celebrity who once enjoyed major success and now is returning to a business that is completely different than the last time she was on the top of charts. With the help of her friends and family, she is focused on creating new songs for her solo career and attempting to conquer her health issues - all while acting as a single mother to her twelve year-old daughter Chase. Joining Tionne on this adventure are her little brother Kayo, cousins Barb and Chris, her lifelong friend Tae-Tae, and business partner & friend Tara, who will support her as she fights for even more fame, fortune, and success, and overcomes the obstacles that stand in her way."
Check out the extended trailer above.  Will you be watching?  We hope it helps out with her recent money woes...