Chrissy Teigenrecently revealed she had a life-saving abortion after she previously shared that she and her husband John Legend lost their son, Jack, as a result of a miscarriage. After sharing, she was hit with criticism, which she has responded to. Find out what she said inside…
TRIGGER WARNING! This content may be sensitive to some.
Earlier this week, model mom Chrissy Teigen confessed that the miscarriage she suffered two years ago was actually an abortion.
In September 2020, Chrissy and her husband John Legend shared a heartbreaking post on Instagram to announce they lost their baby, Jack, as a result of a pregnancy complication. The unfortunate news came after Chrissy was admitted to the hospital due to excessive bleeding.
People are criticizing #ChrissyTeigen and #JohnLegend for sharing intimate photos following the death of their baby boy #Jack, who they lost via miscarriage. Prayers up to the family! Everything when you swipe up in Stories. https://t.co/nEpMZsJdZZpic.twitter.com/80A7UglHv4

— YBF CHIC (@TheYBF) October 1, 2020
At the time, they said it was a miscarriage.
Baby Jack would have been Chrissy & John's third child together. The couple - who tied the knot in 2013 - announced they were expecting In August 2020 via John's music video for "Wild." 
While speaking at Propper Daley's "A Day of Unreasonable Conversation" summit this week, the cookbook author shared the lost of their newborn son had actually ended in an abortion, not miscarriage. She said she had to have the abortion or she could have lost her life and that Jack didn't have a chance of surviving.
"Two years ago, when I was pregnant with Jack, I had to make a lot of difficult and heartbreaking decisions. It became very clear around halfway through that he would not survive, and that I wouldn't either without any medical intervention," she said.
The 36-year-old mom said she decided to speak out after the GOP-appointed Supreme Court overturned Roe vs. Wade, which took away a women's constitutional right to abortion. The move also prompted several states to roll back on abortion rights. According to USA Facts, 15 states passed new laws regulating access to abortion in 2022. 
Last month…
#ChrissyTeigen reveals she and #JohnLegend are expecting. Congrats to the couple! https://t.co/cSvB50ugT6pic.twitter.com/4mN9tGW73I

— YBF CHIC (@TheYBF) August 3, 2022
Chrissy announced she and John - who share daughter Luna (6) and son Miles (4) - are pregnant again. During her chat, she noted that she has great medical care and love family and friends to support her throughout this journey. She also said she's grateful for strangers who have shown her love and support since they went public with the news of the lost of their son Jack and their new pregnancy.
While she has been receiving love from some people, she also has been receiving negative criticism from folks online.
"Sorry you lost your child but stop milking that story," someone wrote in her comments.
"She's such a drama queen," another person wrote.
"Sounds like it was a miscarriage but she wants to stay relevant AND they're using her story to fit their narrative. At the end of the day, idgaf," another person wrote.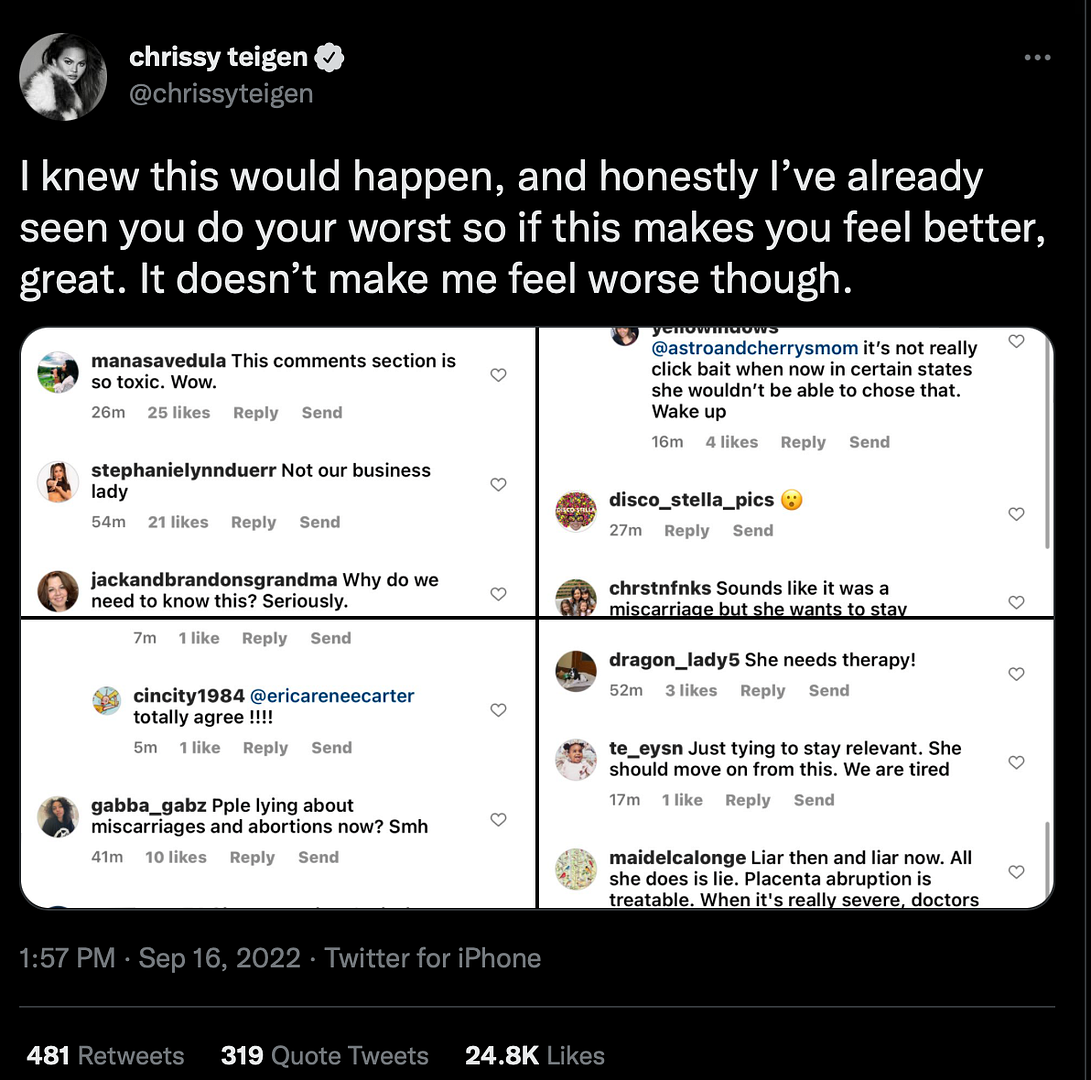 Chrissy took screenshots of the comments, posted them on her Twitter and wrote, "I knew this would happen, and honestly I've already seen you do your worst so if this makes you feel better, great. It doesn't make me feel worse though."
When Chrissy first shared she and John lost their baby, she was shamed for oversharing and they're still doing it. People should just let this woman grieve how she sees fit. After she released the intimate photos, some people were glad she shared them to show women and men who have gone through through the same thing they are not alone.
Now, she's bringing awareness to how detrimental that Roe vs. Wade was overturned. Had she been in a state that didn't allow abortions and couldn't get to a state that did allow them, she could have lost her life.
Last week, John seemingly tributed his wife for all that she's been through with the release of his music video for "Wonder Woman," from his eighth studio album, LEGEND. According to the press release, it was "...a tribute to the power and grace of women, the video – which was shot in the Tuscan region of Italy by filmmaker Nabil Elderkin, who originally introduced the couple in 2006 and who directed the video for "All of Me" in 2013 — that was released on Legend and his wife Chrissy Teigen's ninth wedding anniversary."
PHOTO CREDIT: GETTY