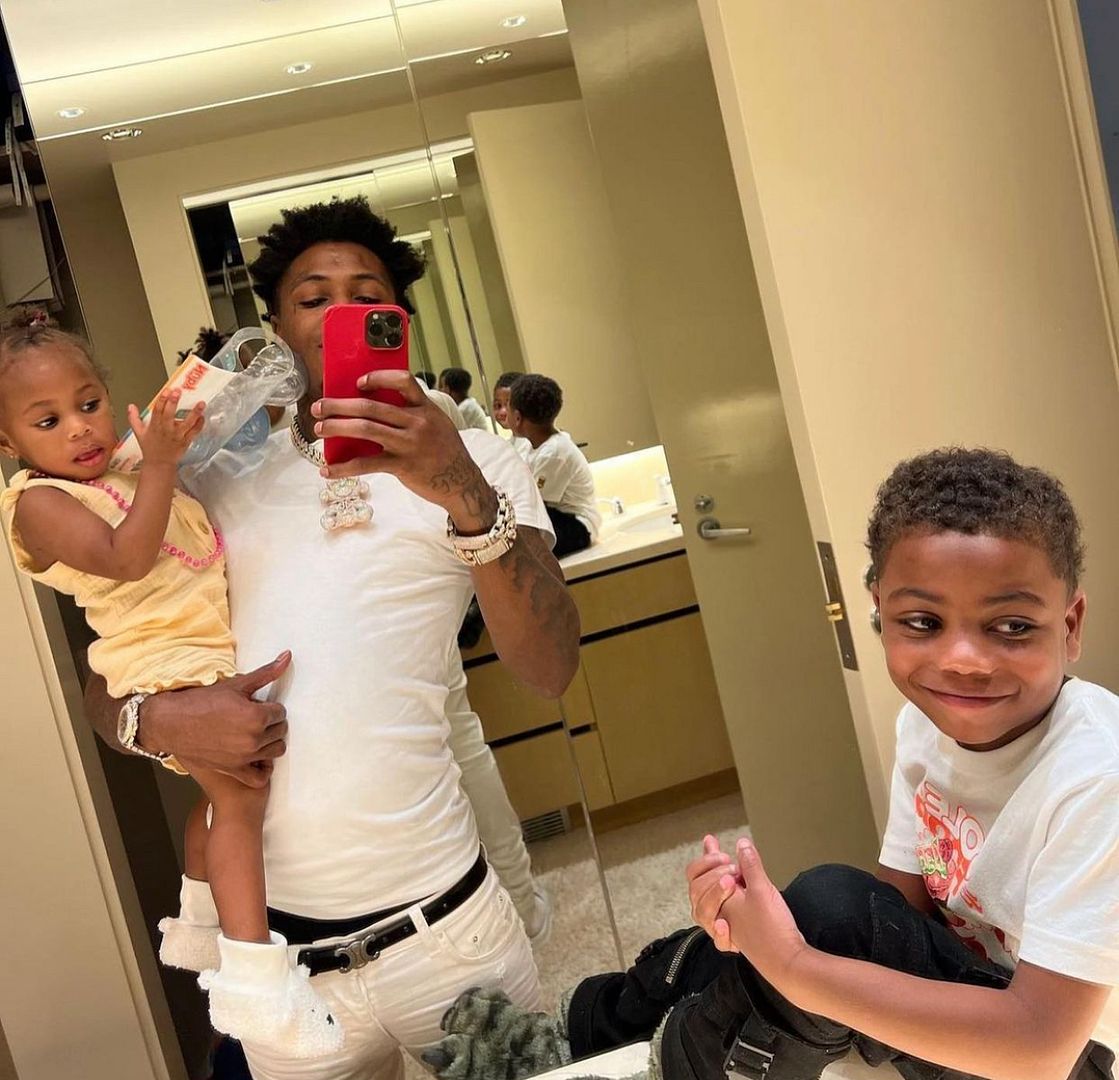 Twitter is cracking jokes, comparing NBA Youngboy to NickCannon after the rapper announced he has another baby on the way, which is either his 9th or 10th child. And he's only 22. Sheesh. More inside…
Rapper NBA Youngboy is giving Nick Cannon a run for his money!
The "I Know" rapper - real name KentrellGaulden - hopped on Instagram to seemingly announce the upcoming arrival of his ninth or tenth child. And he's only 22. He posted a series of photos of himself on Instagram with some of his children, including a photo of a woman's growing pregnant belly with what appears to be an engagement ring on her ring finger.
"Dangerous Love," he captioned the carousel of flicks.
The pregnant woman in the photo is presumed to be his child's mother, JazlynMichelle, whom he shares a daughter named Alice with. In addition to the pregnancy announcement, he dropped a music video for his track titled "Purge Me," which features a very pregany Jazlyn. Watch the video below: 
NBA Youngboy - who was released from prison last year - has umpteen kids with several women, so folks aren't totally shocked by the pregnancy news, especially since the Baton Rouge rapper was already a father to four children at the age of 18.
As far as we can count, here's a breakdown of NBA Youngboy's children and their mothers:
Kentrell Jr. - Iyanna "Yaya" Mayweather (daughter of retired boxer Floyd Mayweather)

Kodi Capri - DreaSymone

Armani - Nisha

Kayden - Nisha

Kacey - JaniaBania

Taylin - Nia

Kamiri (although he's not biologically his child) - StarrDejanee

Alice - Jazlyn (who is pregnant with his child)
NBA Youngboy was thought to be the father of a child named Kamron with a woman named StarrThigpen, but a DNA test taken in 2017 proved otherwise.
In total (if this is correct), he has 8 children with 7 different woman and baby #9 on the way.
Needless to say, folks have been cutting up on Twitter, comparing him toNickCannon, 41, who is currently awaiting the arrival of Baby #9 (with Baby Mama #4 Abby De La Rosa) & #10 (with Baby Mama #2 BrittanyBell). Peep the reactions below:
Doing Nick Cannon numbers at 22 years of age is insane https://t.co/uch2YIxaOl

— Wongisimo (@whereswongo) September 5, 2022
nick canon got 24 hours to respond https://t.co/wtv9GLjjfq

— kira  (@kirawontmiss) September 5, 2022
the world will be ran by descendants of nba youngboy, future, & nick cannon soon https://t.co/xUh5LPvzjM

— tay (@tayouttahere) September 5, 2022
Nick Cannon and Youngboy fighting over who will have the most kids: pic.twitter.com/wwPeQTes3O

— OrerCrunch (@SDoot95) September 5, 2022
Nick cannon : my kids will rule the world

Youngboy : pic.twitter.com/bdrtPHWwrr

— Flip (@NoDaysOffFlip) September 5, 2022
this nigga in a race wit nick cannon https://t.co/YRacBYxPrB

— Corn (@luhblix) September 5, 2022
youngboy and Nick cannon need to take this advice pic.twitter.com/8f50ztW4DG

—  (@scr1blez) September 5, 2022
All we can do is shake our heads at this madness.  It needs to STOP because ultimately this hurts the children more than anyone else.
Photo: NBA Youngboy's IG