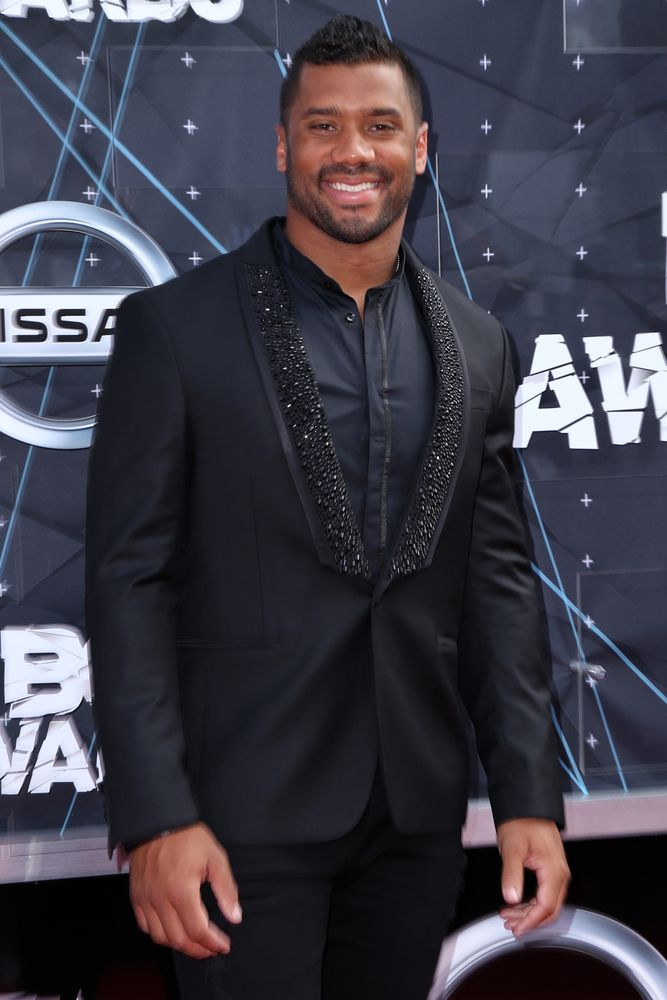 Russell Wilson's presence has already had a dramatic effect on the Denver Broncos, causing the organization to offer him a mega contract extension. The Broncos QB has agreed to a 5-year contract extension with $245 million, including $165 million in guaranteed coins. Deets inside…
Say what you want about Russell Wilson - he's THE MAN!
Since joining the Denver Broncos in March, Russell Wilson has already won the hearts of damn near everyone in the organization. And he's being rewarded handsomely.
According to NFL journalist Ian Rapoport, the Broncos QB has agreed to a new deal with the team worth $245 million over five years, including $165 million in guaranteed money, a $50 million signing bonus, and $77 million in the first eight months. SHEESH! Talk about securing the bag! And he hasn't made his first snap in a regular season game yet.
The mega deal is the third-most lucrative NFL contract in NFL history in terms of guaranteed money, trailing behind Cleveland Browns quarterback Deshaun Watson's $230 million and Arizona Cardinals quarterback KylerMurray's $189.5 million.
"In just a few short months with the Broncos, Russell has already had a dramatic effect on this organization both on and off the field," Broncos general manager George Paton said in a statement.
"His leadership, work-ethic and championship mentality have helped elevate our team in partnership with Coach Hackett, his teammates and the staff. I'd like to thank Greg Penner and our entire ownership group for the support and resources to get this long-term extension done. I also appreciate the collaboration and communication with Russell's agent, Mark Rodgers, along with Rich Hurtado on our staff. We will continue to focus on building and maintaining a championship roster with Russell as our quarterback well into the future." 
Looks like the Wilsons will be living the glamorous life in Denver up until 2028.
I asked Broncos @DangeRussWilson why not try to reset qb market and instead he created salary cap flexibility for team. "It wasn't about how much (money), it was about how many (championships)." #Denver7pic.twitter.com/CV1zM9O95g

— Troy Renck (@TroyRenck) September 1, 2022
"For me, it wasn't really about how much, necessarily," Russell said during a press conference yesterday. "It was about how many — how many Super Bowls we win. And that was really the focus."
Peep the clip above.
Speaking of new deals…
The Super Bowl winning champ has partnered with Carrier Global Corporation, the leading global provider of healthy, safe, sustainable and intelligent building and cold chain solutions, to help launch solutions critical to healthy and sustainable buildings and homes. As health and physical well-being are paramount to Russell's high-performance career, the Denver Broncos quarterback will partner with Carrier to introduce customers to differentiated offerings for healthy indoor air quality and sustainable solutions.
As co-founding partner of Abound Ventures, the NFLer will focus on Carrier's new Abound platform and its range of air purifiers. Abound is a digital platform that enables healthy indoor air quality and drives reduced carbon emissions from buildings, with a wide range of applications including commercial real estate, education, healthcare, hospitality, retail, and sports and entertainment facilities. 
BOSS moves. Watch Russell and Carrier CEO DaveGitlin, talk about their new partnership above.
Congrats, Russ!
Photo:  Jean_Nelson/Depositphotos