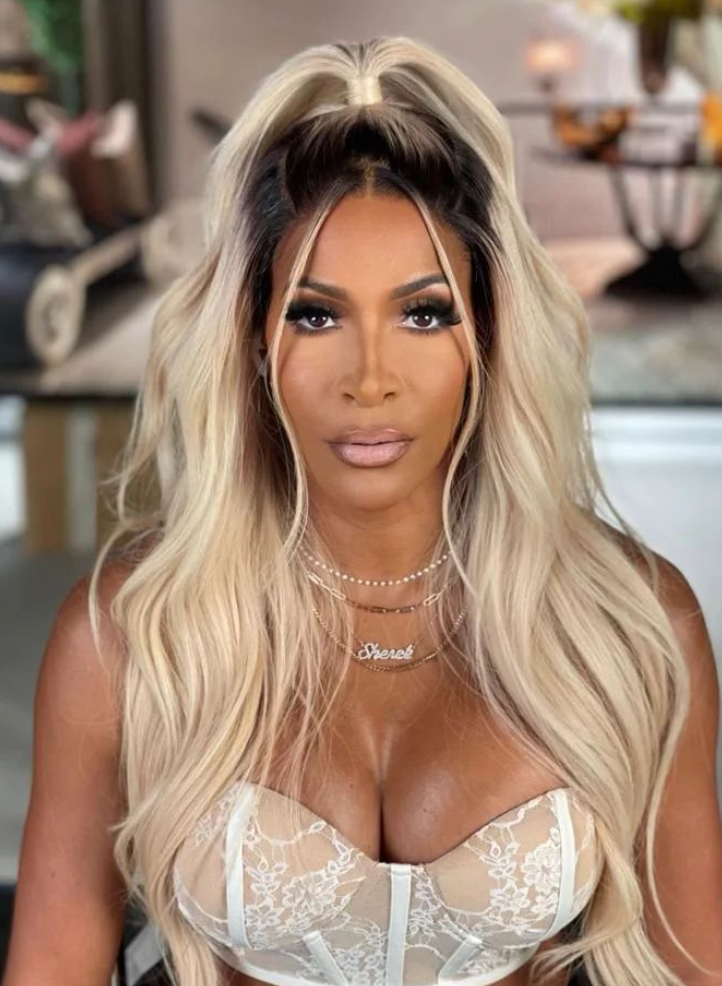 "Real Housewives of Atlanta" star Shereé Whitfield instructed her fans to get their coins ready for her "SHE by Sheree" drop. However, the people still have many questions. More inside…
One storyline "Real Housewives of Atlanta" fans love to obsess over is Shereé Whitfield's over-a-decade long journey into fashion.
The "RHOA" star's fashion journey started in Season 2 (2009), when she curated a fashion show that lacked…fashion, per Uncle Dwight Eubanks.
After that, "SHE by Shereé" was born…and then just existed. Fans pointed out that nothing ever went on sale to purchase after the fashion show and have questions about the line ever since. Why didn't the line get released? She said she was "revamping a lot."
Fastforward to Season 10, Shereé decided to take her fashion talents to a new level, announcing the (re?)launch of her apparel business.
When asked about her line during the reunion show in 2018, her first response was "joggers," leaving fans and the cast confused because the line was originally supposed to be a luxury brand. Shereé later explained "She by Shereé" was a lifestyle/athleisure apparel brand.
Peep the promo clip she released below:
SHE's arrived.
Visit https://t.co/wYFfBP6WAu to see the full video and sign up for the official launch of the SHE by Shereé website. Video credit: Jamil "Aries" Purnell pic.twitter.com/AlpQNsfXjX

— Shereé Whitfield (@IamSheree) October 15, 2018
Since then, there have been several launch announcements, yet, no clothing line for sale. A few days ago, the mom-of-three hinted her new collection would be coming soon:
"Make sure to have your credit cards ready," she tweeted with hashtags #SheByShereé #RHOA #Joggers #LetEmTalk.
Someone responded, "I hope you're gonna have a curvy line since most of your fan base that has been anticipating this for years have now had children, gotten married, died, etc."
Not DIED!
By what year?

— monique's receipt book (@LisaLowbar) August 23, 2022
Someone else responded to her tweet, writing, "By what year?"
I need a whole different size of joggers than when she started the conversation.

— Smoky Greenwood (@flustrated41) August 24, 2022
Another person tweeted, "When are we talking about so I can budget… I was expecting this in 08 when I was young and wild. Now I'm 37, married with a baby, I gotta plan out where my money goes."
"I need a whole different size of joggers than when she started the conversation," someone else said in response.
Check out more reactions below:
We've moved on pic.twitter.com/rfrNET24Ns

— Corona (@whoreheycorona) August 23, 2022
Gir who gonna buy those loose fabrics cheap from Ali baba make sure you ready to go bankrupt like nene because it will not Sell I mean 10 years she by dollar tree nobody is excited for

— DarkStudd (@Finestudd) August 23, 2022
In Spring, Summer or September?

— Amazement (@Amaze_M) August 23, 2022
14 seasons, 4 presidents, 3 different decades and a once in a century pandemic later we finally get She by Sheree! #RHOA

— J (@jj__eighty_nine) August 24, 2022
We're waiting pic.twitter.com/t9Mq7a1HQd

— Karen Huger's Wig (@KarenHugersWig) August 24, 2022
It wasn't all shade. She did receive some positive feedback as well:
Thx boo

— Shereé Whitfield (@IamSheree) August 24, 2022
Do you think SHE by Shereé will drop this year?
Photo: Sheree's IG