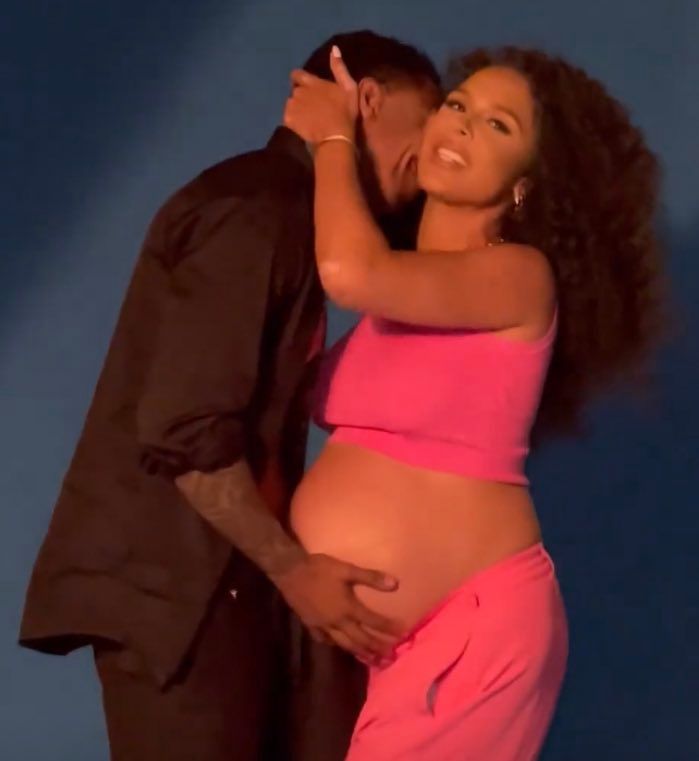 Yep. NickCannonis having ANOTHER baby, which would make Baby #10. This child will be his third with his ex, BrittanyBell and they're happy as pie about it. More inside...
Back in June, Nick Cannon hinted that more babies were on the way after confirming Baby #9. Now, we know he wasn't lying and no one is shocked. His sperm is cleary the gift that keeps on giving…to several women.
Nick Cannon just announced baby #10 is on the way. The 41-year-old TV host is expecting his 10th child with his kids' mother, BrittanyBell. The new baby will be their third child together as they already share two children, 5-year-old son GoldenSagon and 19-month-old PowerfulQueen.
And as he often does, the King of Maternity Shoots made the announcement with a new maternity shoot, except this time he gave his fans a behind-the-scenes look:
"Time Stopped and This Happened… @missbbell #Sunshine #SonRISE," the "Wild 'N Out" honcho captioned the post.
Baby #10 news comes on the heels of Baby #9's confirmation. Back in June, Nick baby mama DJ Abby De La Rosa confirmed she and Nick were expecting their THIRD child together. She took to her OnlyFans page to do a gender reveal after revealing she's expecting again.  And we've learned it's a girl.
Nick and Abby share a set of twins, Zillion and Zion, who turned one back in June. They didn't waste anytime to conceive their newest bundle of joy.
The King of Maternity Shoots welcomed four children in a 12-month span and it seems he's trying to do it again.
Just weeks ago, the "America's Got Talent" host was helping Baby #8 - Legendary Love Cannon - to come into this world with "Wild 'N Out" girl BreTiesi. Right after baby Legendary was born (June 28th), they noticed he wasn't crying. In a YouTube video, Bre explained their son had a "long crown" because his hand was up by his ear when he was born, which is a condition known as nucal hand, so he needed a little respiratory support. 
Below, we will break down Nick's expanding family because we know it's confusing. 
Ex-wife MariahCarey - 11-year-old twins, Moroccan and Monroe

Ex BrittanyBell - 5-year-old Golden and 1-year-old Powerful Queen + Pregnant with Baby #10

"Wild 'N Out" girl AlyssaScott - Zen, who passed away when he was 5-months due to brain cancer.

DJ Abbey De La Rosa - 1-year-old twins Zillion and Zion + Pregnant with Baby #9

"Wild 'N Out" girl BreTiesi - 2-month-old LegendaryLove
So, as of RIGHT now - he has two babies on the way that we know about.
The Internet has been cutting up over his recent baby announcement:
How Nick Cannon FaceTime's all his kids. pic.twitter.com/l7JKfiMCMa

— Dennis Nguyen (@pastorpapi23) August 24, 2022
Who knew when National Geographic said that this is what the average American would look like in 2050 it's because we would all be descendants of Nick Cannon. pic.twitter.com/MvrPOdaLce

— Old Miami (@flyChy) August 25, 2022
I'd pay good money to have Iyanla out of retirement and do a 3-part special on Nick Cannon and his baby mamas.

— k a r y. (@itsKARY_) August 24, 2022
Nick Cannon calling his kids down for family dinner.

— NUFF (@nuffsaidny) August 24, 2022
Nick Cannon playing duck, duck, goose with his kids. pic.twitter.com/7cmMNkU0PZ

— Chris Najdek (@Chris_Najdek) August 24, 2022
DoorDash delivering food to all of Nick Cannon kids pic.twitter.com/wQ7Ao8O8ru

— Rich (@UptownDC_Rich) August 24, 2022
Zero chill. Congrats again, Nick.
Photo: Nick's IG