Yesterday, a woman was captured at Hartsfield-Jackson Atlanta International Airport and taken into custody without incident after she was suspected of shooting and killing multiple people in Midtown Atlanta. According to reports, she recently filed a civil rights lawsuit against her former employer, BDO, alleging burglary, harassment and more. More details inside…
Chaos ensued in Midtown Atlanta Monday afternoon (August 22nd) as police investigated a deadly shooting that took the lives of two people and injured another inside of a Midtown condominium. A female suspect was detained at Hartsfield-Jackson Atlanta International Airport and taken into custody without incident.
According to an official source with the Alcohol, Tobacco, Firearms and Explosives, the shooter has been identified as RaissaKengne. She allegedly opened fire inside the 1280 West condo building, killing WesleyFreeman, a 41-year-old from Atlanta, and MichaelShinners, 60, who lived in the suburb of Alpharetta, according to the Fulton County Medical Examiner's Office. The agency said Freeman, who died at a nearby hospital, was shot six times and Shinners was hit three times.
An ATF task force was able to locate her after an ATF agent reportedly contacted a taxi company and found out she had been dropped off at the airport. A source told WSB-TV2 that the suspect was arrested in the terminal prior to going through security and had a .9mm Glock pistol in her purse. WOW. 
Peep pictures from her arrest below:
#BREAKING: Picture from Channel 2 viewer shows what appears alleged midtown shooter being arrested at Atlanta airport: https://t.co/2bOcGrCaz1 (Photo used with permission) pic.twitter.com/zWXGymck0e

— WSB-TV (@wsbtv) August 22, 2022
The ATF turned her over to the Atlanta Police Department, who issued a statement after she was apprehended.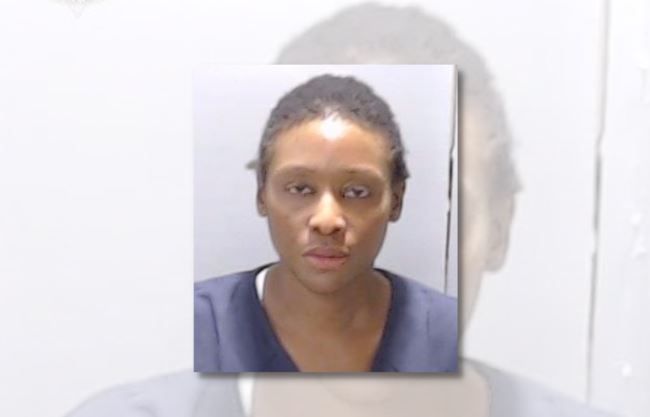 APD said the following in a news release on Monday:
"We are grateful for the assistance of our public safety partners who assisted in this situation. Specifically, the Fulton County Sheriff's Office, Fulton County Marshals Office, MARTA Police, Georgia State University Police, Georgia Tech Police Department, the ATF, Atlanta Fire Rescue Department and Grady EMS. With the help of our public safety partners and our extensive camera network, we were able to locate the suspect and safely apprehend her at Hartsfield Jackson Atlanta International Airport."
Interim Police Chief Darin Schierbaum said the shootings didn't appear to be random acts.
"We do believe the individuals were likely targeted," he told reporters. He added that officers searching for the suspect had obtained information that the suspect had gone to the airport.
The DailyMail reported the suspect is a former audit manager at BDO USA. According to the site, an email alert sent by Metropolitan Atlanta Rapid Transit Authority warning its employees of the shooter identified the suspect as RaissaKengne, a former Audit Manager at BDO, an accounting firm.  
Social media users have uncovered a LinkedIn page reportedly belonging to the suspect where she details allegations of her employer "spying" on her.
The building where that employee - BDO Accounting - is located is reportedly near the scene of the shooting. Pn her LinkedIn profile, she shared she worked at BDO, an accounting firm
On her LinkedIn profile, she said she worked at an accounting firm, BDO, until November of 2021 and she also mentioned the location of one of the shootings at 1100 Peachtree Street, where victim, Wesley Freeman, was killed. Not only that, she reportedly referred to Wesley Freeman as the "laziest manager I have had the displeasure of working for."
WSB-TV2 has the deets on her lawsuit:
In the lawsuit, Kengne said she faced "retaliation, persecution, harassment, intimidation, threats, burglary, computer hacking" after she said she noted a "significant deficiency" in an audit that was disregarded.

The lawsuit indicates Kengne lived at 1280 West Peachtree, which is the same location where she allegedly shot two people, including Michael Shinners who is also listed in the lawsuit.

Kengne accused the condo association of "allowing unauthorized individuals to break into Plaintiff's home in order to facilitate the harassment and retaliation" from BDO and others listed in the lawsuit.

The lawsuit was dismissed. Just last Tuesday, Kengne filed an appeal where she once again listed victims in Monday's shooting.
Wow. Insane. 
The shooting suspect is expected to appear in court today for her first appearance.
Sending prayers and healing to the families and friends of the loved ones who were killed and injured.
Photo: EVA CARRE/Shutterstock/