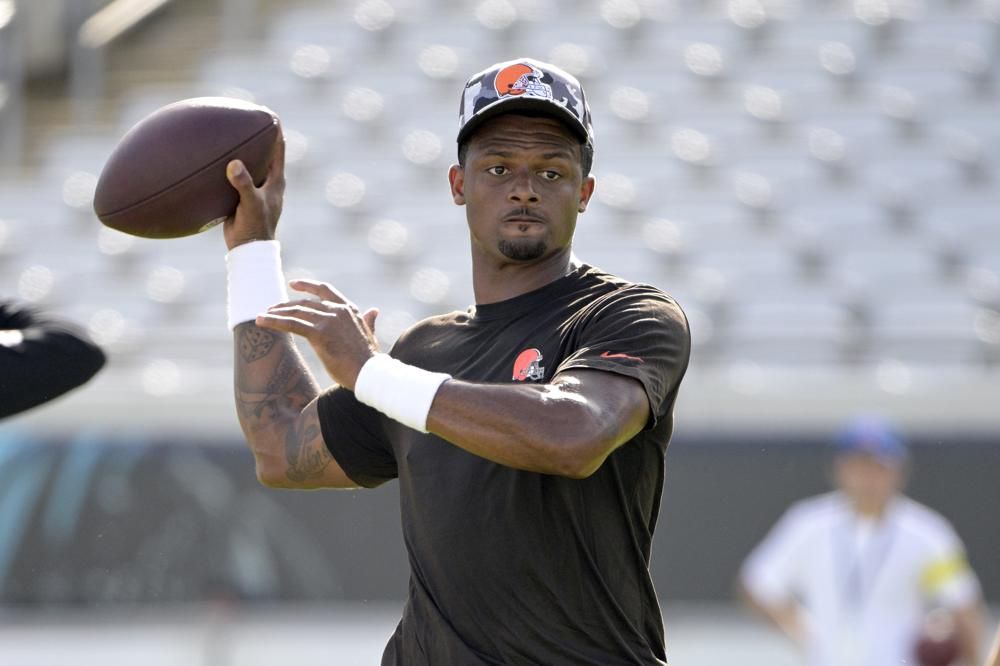 The Deshaun Watson saga comes to an unsatisfying end after he reached a settlement with the NFL and NFLPA to be suspended for 11 games and fined $5 million after he was accused by more than two dozen women of sexual misconduct during massage sessions. Details inside….
Cleveland Browns quarterback Deshaun Watson WILL hit the field this upcoming NFL season, making his debut against his former team - Houston Texans - when he returns. And its baffling to many considering the sexual misconduct allegations made against him by more than two dozen women.
The Browns QB will serve an 11-game suspension and pay a $5 million fine as part of a settlement with the NFL and the NFLPA following accusations of sexual misconduct by two dozen women. In addition to the game suspension and fine, he has agreed to also undergo mandatory evaluation by behavioral experts and follow their suggested treatment program.
We previously told you, Deshaun signed a $230 million fully guaranteed contract after being traded to the Browns from the Texans in March. During the suspension, he'll lose $632,500 in salary where he was set to make $1.035 million in his first season.
The suspension takes effect August 30th and he'll be eligible for reinstatement Nov. 28 - just in time to face off against his old team during Week 13 on December 4th.
Last Friday (August 12th), he apologized to "all the women he impacted in this situation" during a one-on-one interview with AditiKinkhabwala, which was the first time he attempted to release an apology.
Check it:
After the settlement was announced, Deshaun released a statement that included a "non-apology."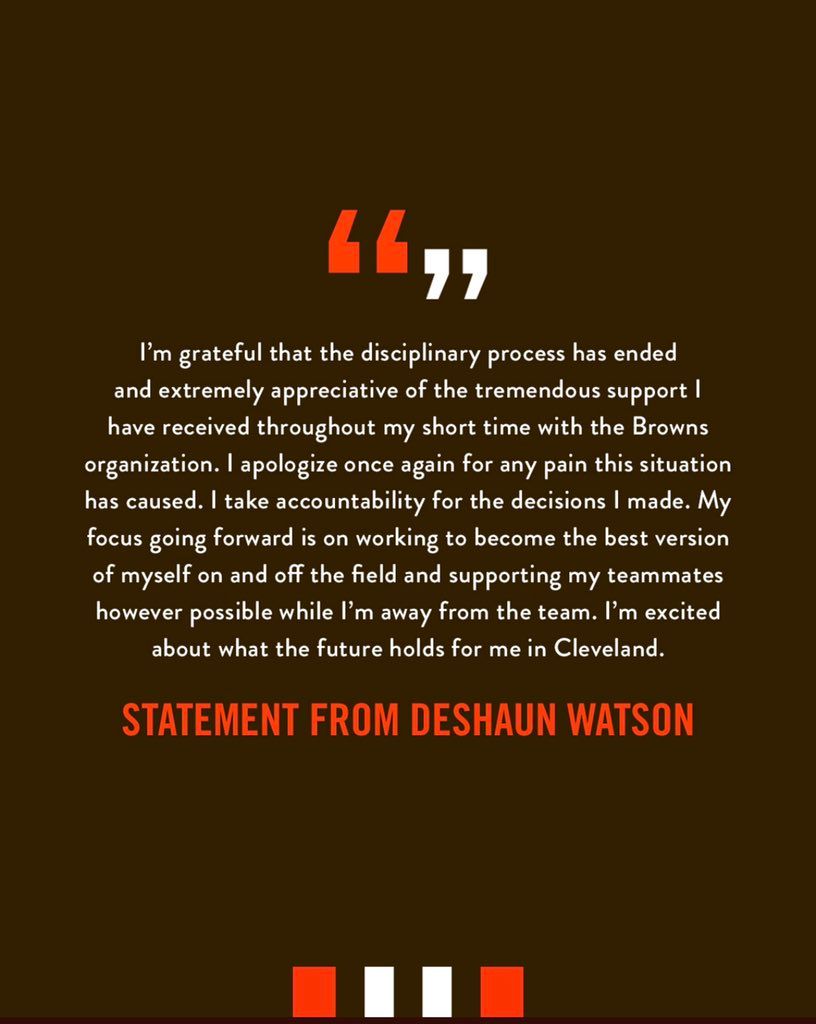 "I'm grateful that the disciplinary process has ended and extremely appreciative of the tremendous support I have received throughout my short time with the Browns organization," Deshaun said in a statement released by the Browns. "I apologize once again for any pain this situation has caused. I take accountability for the decisions I made. My focus going forward is on working to become the best version of myself on and off the field and supporting my teammates however possible while I'm away from the team. I'm excited about what the future holds for me in Cleveland."
On Thursday (August 18th), Deshaun spoke with the media where he maintained his innocence.
"I've always stood on my innocence and always said that I've never assaulted anyone or disrespected anyone and I'm continuing to stand on that," he said. "But at the same time, I have to continue to push forward with my life and my career. I'm going to continue to stand on my innocence and keep pushing forward, and I've always stood on not disrespecting or sexually assaulting anyone."
Watch his full press conference below:
So, which is it? Are you apologetic for "any pain this situation has caused" or are you innocent?  Some are arguing he can be both, but....are we sure that's the case?
Oh, and get this, the NFL and the Browns are donating $1 million each to a fund that will support nonprofit organizations in the United States "that educate young people on healthy relationships, promote education and prevention of sexual misconduct and assault, support survivors, and related causes," the NFL said in announcing the settlement.
Statements from #Browns ownership and Deshaun Watson via the team pic.twitter.com/nSrwsUzLLB

— Mike Garafolo (@MikeGarafolo) August 18, 2022
Browns owner Jimmy Hallam defended Deshaun, stating he believes in second chances. In announcing the team's support for its new quarterback, Haslam's wife, Dee, said the Browns are donating $1 million to help fight sex trafficking, sexual abuse and other related endeavors.
"I think in this country, and hopefully in the world, people deserve second chances," Jimmy Haslam said. "I really think that. … Is he never supposed to play again? Is he never supposed to be a part of society? Does he get no chance to rehabilitate himself? That is what we are going to do."
What does sex trafficking have to do with anything? This is about Deshaun's problematic actions. That's it, that's all. 
"The message today to all victims is clear: If you believe you have been sexually assaulted by a powerful person, keep your mouth shut and go away," said lawyer TonyBuzbee, who represents the women who sued Deshaun. "The NFL has certainly demonstrated that its ownership and the organization doesn't care."
The Cleveland Browns quarterback has settled with 23 of the 24 women who accused him of sexual misconduct. One woman said she's NOT settling!
The Daily Beast reports:
My name is Lauren Baxley. I am a former massage therapist, having quit the only career I have known in May of this year. I am the remaining plaintiff against Deshaun Watson, the Cleveland Browns quarterback who harassed and committed indecent assault against me.

I have rejected all settlement offers, in part because they have not included any sincere acknowledgment of remorse and wrongdoings, nor have they included any promises of rehabilitative treatment. Watson still refuses to admit that he harassed and committed indecent assault against me. Any settlement offer he has made has been a dismissal of his evil actions, and I know that unless there is an authoritative intervention, he will continue his destructive behavior.

Because Watson repeatedly assaulted women, the institutions and individuals who currently uphold and employ him must also be held accountable.

I am just one of dozens of women whose lives have been eternally harmed by his sexual violence. Even one more victim is outrageous.

I sincerely, with humility in my relative anonymity, ask that those in power over Deshaun Watson make swift and stringent decisions to prevent further acts of harm against women. Please remember the women who have decided they could no longer fight this legal battle after multiple courts, and multiple fandoms, told them their lives didn't matter.
This Deshaun Watson debacle is just one case of how the NFL has failed women as a whole.  His agent, who stands to gain a reported 3% of Deshaun's huge $250M contract, is sticking beside him, of course. 
Deshaun has always stated he is innocent of sexual assault. Nothing has changed in what he said. He also said he is remorseful, the decisions he made have created this situation. The settlement allows him to move forward with his life and career.

— David Mulugheta (@DavidMulugheta) August 18, 2022
And he's sparked some heated responses.
What decisions specifically? I know you wont answer because you're a coward.

— Curtis Loew (@ShutUpCraig) August 18, 2022
And guarantees you still get your percentage.

— danielle (@deemazingg_) August 18, 2022
he isn't remorseful lmao, his apology was the equivalent of im sorry you were offended. But I did nothing wrong.

— Bobby Silver (@BobbySilver_) August 18, 2022
Carrying water for a prolific predatory creep is an interesting move, no doubt

— Benny Fazio, Criminal Mastermind (COVID-19 HATER) (@KButter_22) August 18, 2022
Peep some of the fallout on social media below:
My thoughts on the latest surrounding Deshaun Watson and the NFL pic.twitter.com/JZ3nhADgGX

— Robert Griffin III (@RGIII) August 19, 2022
Me watching Browns fans justify Deshaun Watson being the face of their franchise pic.twitter.com/anQQ5Sggop

— Adam Steel (@RenegadeAdam) August 19, 2022
THIS…. This needs shared everywhere. This is exactly how any normal human being should feel about this mess. Kyle is spot on. #DeshaunWatson#Brownshttps://t.co/gQxTvs4xVe

— Bengalorian (@thebengalorian) August 19, 2022
Browns Owner: "DeShaun Watson deserves a second chance?" How about a twenty-fifth chance? He can't even apologize to his accusers.

— Jeff Lambert (@LawyerLambert) August 19, 2022
DeShaun Watson is the first and only player, coach, or front office member in NFL history to be suspended exactly 11 games. Watson's first game back will be against his former team the Houston Texans. This suspension was not a surprise, it was the plan all along.

— King of Phinland (@KingOfPhinland) August 19, 2022
After Listening to DeShaun Watson's comments yesterday, it's clear to me that he's not in the slightest bit legitimately remorseful. He sounded annoyed that he had to address this matter. He just wants this to go away, but it's a stain that will stay with him his entire life.

— Larry Krueger (@sportslarryk) August 19, 2022
How do you feel about Deshaun Watson's punishment (if you want to call it that)?
Photo: AP Foto/Phelan M. Ebenhack