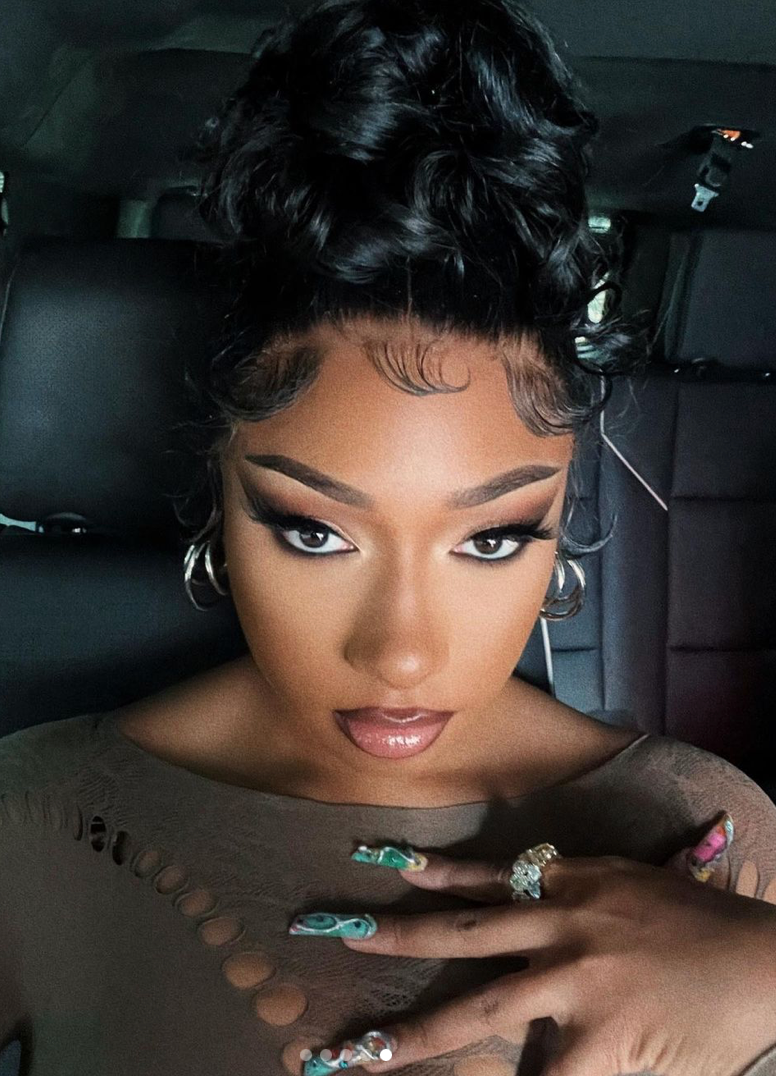 Megan Thee Stallion gives her Hotties a more intimate look at who she really is on her recently released sophomore album, Traumazine, where she opens up about her "real feelings." Deets on her candid album, plus receipts of the Houston Hottie popping off on her record label(again) inside…
Surprise! Ish just got real.
Megan Thee Stallion just released her sophomore album titled, Traumazine, amid the legal drama with her label 1501 Certified Entertainment.
Traumazine - which dropped less than two years after her debut Good News - features 18 tracks with features from Latto, Lucky Daye and Jhené Aiko and Houston Hottie has arrived with a new sound for her fans. It's a blistering confessional of the things she has gone through since the July 2020 shooting involving herself and artist Tory Lanez. 
After the drop at midnight, the 27-year-old three-time Grammy Award winner made her way to NYC to hit the stage to perform for "Good Morning America's" Summer Series event.
After performing, she explained the meaning of the title of her album and what fans can expect when they listen to the new musical offering:
"I wanted to create a new experience for the Hotties, like, y'all know me but I really want y'all to get to know me so had to make up a word for what we're doing now." — @theestallion on #TRAUMAZINE#MeganTheeStallionOnGMAhttps://t.co/kWY5S6eOU4pic.twitter.com/Iqs7tBsE7m

— Good Morning America (@GMA) August 12, 2022
"I feel like this was a whole new experience for me. And I wanted to create a new experience for the Hotties, like, y'all know me but I really want y'all to get to know me so had to make up a word for what we're doing now," she said.
Only a few more hours until #TRAUMAZINEpic.twitter.com/Bq2cuiasVf

— TINA SNOW (@theestallion) August 11, 2022
On this album, she really tapped into her "real feelings" and wrote songs that reflect those feelings.
During the onstage interview, Meg revealed "Megan Thee Director" is about to make her debut and she showed love to Queen Latifah for expanding her career outside of music - something she sees herself doing as well.
Peep the clip above. 
Im HER #TRAUMAZINEpic.twitter.com/0SVrmqh3oJ

— TINA SNOW (@theestallion) August 12, 2022
In the week leading up to the release, the Houston Hottie shared a teaser as well as the definition of Traumazine: "The chemical release in the brain when it is forced to deal with pain emotions caused by traumatic events and experiences. See synonyms: self-realization."
Before the album's release, there was record label drama…of course.
On Wednesday evening, the "WAP" raptress hopped on Twitter to address the ongoing issues she's having with her record label, 1501 Certified Entertainment, in a number of tweets.
"Y'all know I always have problems with dropping my music under this label,all these games and having to go to court just to put out my art has been so stressful," Meg tweeted."Thank you hotties for rocking with me through the bullshit WE ALMOST OUT LETS STAY FOCUSED AND RUN THIS LAST ONE UP."
The "Body" rapper then popped off on 1501 Entertainment honcho Carl Crawford: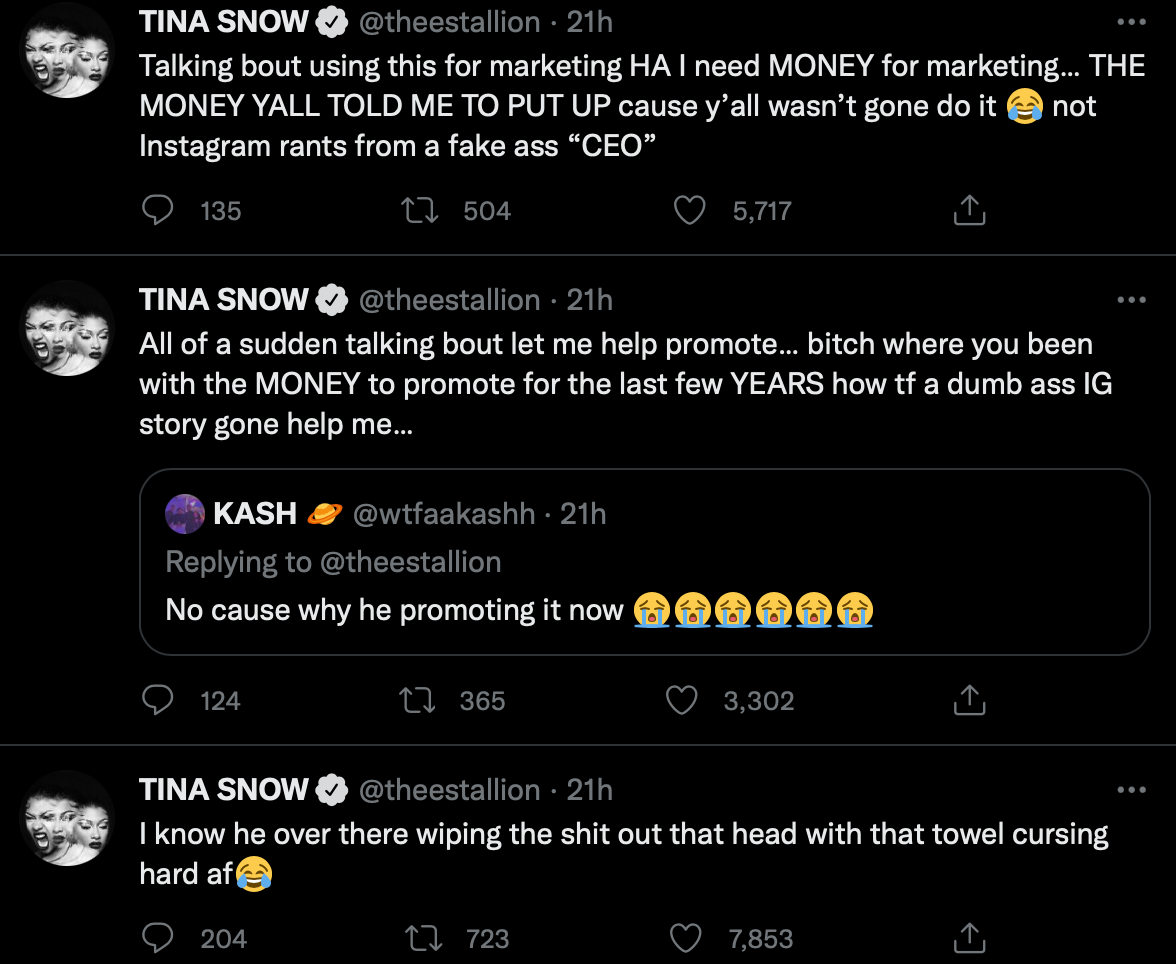 "Carl be so mf mad," she tweeted."ahhhh haaaa that's why you can't make no more money off me."
"No cause why he promoting it now," a fan tweeted in response.
"All of a sudden talking bout let me help promote… b*tch where you been with the MONEY to promote for the last few YEARS how tf a dumb ass IG story gone help me…," Meg responded. "Talking bout using this for marketing HA I need MONEY for marketing… THE MONEY YALL TOLD ME TO PUT UP cause y'all wasn't gone do it not Instagram rants from a fake ass 'CEO.'"
Bloopity Bloop!
Earlier this year, the "SAVAGE" rapper filed a lawsuit against 1501, alleging that the label claims that her October mixtape, Something For Thee Hotties, doesn't meet the definition of an album and therefore doesn't count towards the quota necessary to fulfill her contract.
Recently, Megan shaded 1501 Certified Entertainment during a new L.A. Leakers freestyle set to the "Regulate" beat. Take a listen below:
Despite the legal drama, it appears Meg's contract with Carl & 1501 will be up soon.
As her new album rolled out, Meg chopped it up with Spotify on what the title of the album means:
Hotties, you ready for #TRAUMAZINE tonight? @theestallion told us what to expect pic.twitter.com/CdxZ1QopGC

— Spotify (@Spotify) August 11, 2022
Traumazine is available on all streaming platforms. Run it up, Hotties.
BONUS:
The award winning rapper stopped by Sirius XM to chop it up with SwaggySie about the new album and more. Peep the interview above.
Photos:  Meg's IG