Ja Rule is speaking out in his own defense after Fat Joe publicly criticized Irv Gotti for ranting and raving about Ashanti during his cringey "Drink Champs" interview. Find out what they both said, plus Irv's response to the drama inside…
Irv Gotti's chatty patty antics have gone viral, causing other celebs to speak out.
Irv linked up with artist Ja Rule to sit down with N.O.R.E. and DJEFN for a new episode of their "Drink Champs" podcast. To make a long interview short, it was CRINGEY AF. The Murder Inc. founder was fixated on sharing alleged details about his "relationship" with former Murder Inc. artist Ashanti while he was still married.
During the conversation, Irv revealed Ashanti's "Happy" single was the product of the two having intercourse. The track was released in 2002 when Ashanti was about 22 and Irv was 32. 


"Let me explain the relationship and how it worked, and how it worked to our advantage," Gotti said. "We just finished sleeping together, or whatever, I'm taking a shower. I'm in the shower, a n*gga be creative after [sex]. I think of the whole track in the shower."
Watch the clip below:
#irvgotti says after him and #ashanti fkd he showered and thought of her hit song #happy#drinkchampspic.twitter.com/68tTQlOoeE

— Khordelle (@Khordelle) August 6, 2022
So lame.
During the interview, Irv also shared how he was crushed when he learned Ashanti had gotten involved with rapper Nelly. Peep the clip below:
Gotti ain't over it pic.twitter.com/7eLW6RF0ou

— N.O.R.E (@noreaga) August 2, 2022
Throughout the interview, Gotti also kept referring to Ashanti as a "b*tch," which was MAD disrespectful.
After the interview went viral, Nelly invited Ashanti to perform with him and seemingly referenced Irv's interview when he said he had NBA tickets:
Tons of backlash poured in once Gotti's clips went viral. He took to social media to respond: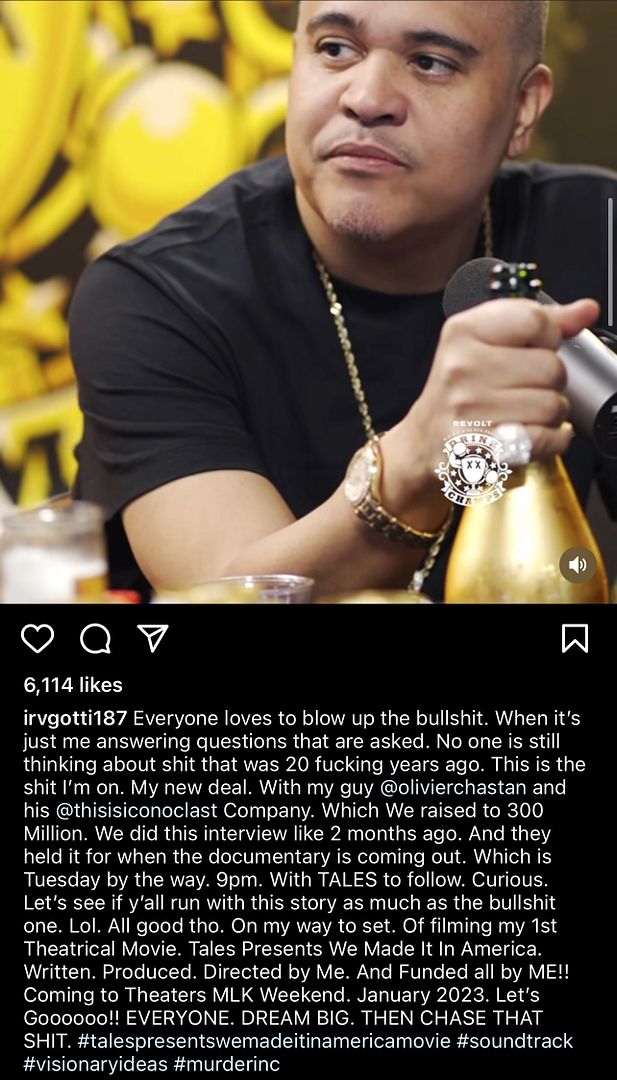 "Everyone loves to blow up the bullsh*t," Gotti wrote."When it's just me answering questions that are asked. No one is still thinking about shit that was 20 fucking years ago. This is the shit I'm on. My new deal. With my guy @olivierchastan and his @thisisiconoclast Company. Which We raised to 300 Million. We did this interview like 2 months ago. And they held it for when the documentary is coming out. Which is Tuesday by the way. 9pm. With TALES to follow. Curious. Let's see if y'all run with this story as much as the bullshit one. Lol. All good tho. On my way to set. Of filming my 1st Theatrical Movie. Tales Presents We Made It In America. Written. Produced. Directed by Me. And Funded all by ME!! Coming to Theaters MLK Weekend. January 2023. Let's Goooooo!! EVERYONE. DREAM BIG. THEN CHASE THAT SH*T."
Rapper Fat Joe - who is like a big brother to Ashanti - caught wind of the Gotti's comments and reacted. The NYC rapper criticized Irv for spilling tea about his alleged "relationship" with the "Baby" singer. He also called out Ja - who was sitting next to Irv during the interview - for not defending Ashanti, who is someone he also calls his sister.
"Y'all can @ IrvGotti, Ja, whatever the f*ck you want," he said during an Instagram Live."Irv Gotti a sucka, man! Whatever Irv has with Ashanti…is 20 years old, right? I know he was making some points that mean a lot to him, his heart and soul, but when you keep ranting about somebody 20 years later, it felt like he's not over the young lady. Also, we didn't know that they was f*cking. 'Cause the whole time, I'm there! 'What's Luv,' Big Pun record, on tour — I never seen them together like that. Now I'm not saying they wasn't; they was, or there was rumors they was. I never seen it. But I don't need to know!"
"It's okay, if its in a documentary," Joe continued. "You gotta see your truth in your documentary. But to go to Drink Champs and to keep calling her a b*tch, keep disrespecting ... Um, guys, I'm not gonna be the guy to 'stand up for Ashanti, the brother that' ... Ja Rule was standing right next to him. And so I'm not gonna be that guy. But, I'm not telling stories about a girl I was with 20 years ago. In fact, I hope you die. F*ck you, b*tch. Leave me alone, right. So, when you doing this, it looks like you caught up, you aint get over the s**t."

Watch the clip below:
Fat Joe addresses the Irv/Ashanti situation.pic.twitter.com/hf5zCVTpGT

— Old Head Energy (@Cheamane) August 9, 2022
Glad SOMEONE checked him publicly.
Ja hopped on social media to respond to claims that he did not defend Ashanti and basically said to keep him out of it.
"[cap emoji] STOP saying I didn't defend sis and all women when I clearly told Gotti stop calling Ashanti/women the B word same way I told Joe at Verzuz watch the interview before you talk sh*t…. NOW LEAVE ME TF OUT THESE GROWN FOLKS BUSINESS," Ja wrote in the comments of Hollywood Unlocked's comments section.
So far, Ashanti has not responded.
You can watch the full Drinks Champs interview below:
Thoughts?
Tonight...
Irv Gotti's "Murder, Inc" five-part docuseries debuts on BET tonight at 9pm EST. Will you be watching?
Photos: lev radin/Tinseltown/Shutterstock/everett225/Depostiphotos