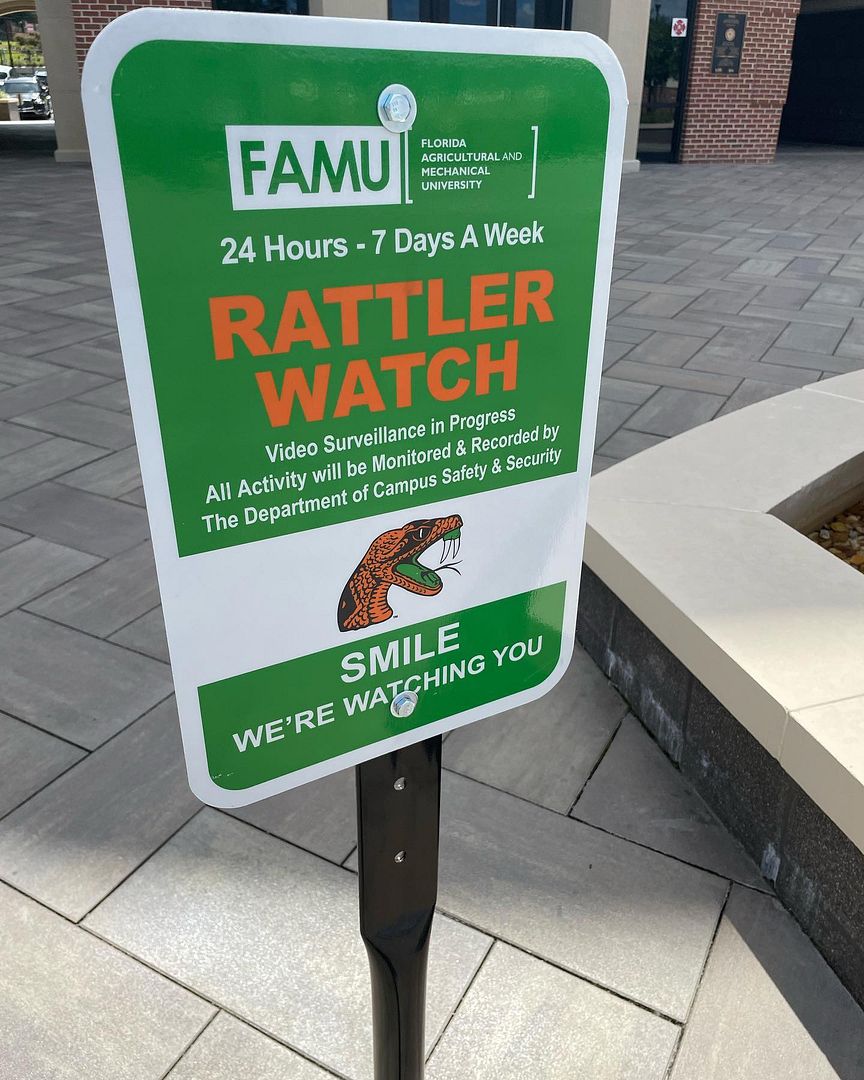 Florida A&M posted surveillance signs around campus and launched an investigation after a student went viral for posing nude in front of the school's Rattler statue for her graduation photos. Deets inside…
This generation is different.
Florida A&M has launched an investigation and posted up surveillance signs after a student went viral for her nude graduation photos that were snapped on campus.
Terica Williams shook the table after sharing photos of herself in her birthday suit in front of FAMU's iconic Rattler statue. The 24-year-old - who earned her master's in counselor education - bared it all in a pair of red bottom heels and snake accessories in her hair.
"Anybody who knows me knows that I've been dressing provocative my whole life," she wrote. "There's a lot of assumptions that have came with me accepting my body. A lot of people questioned my capabilities and intelligence solely based on how I choose to dress. As I'm standing here with my Masters Degree at the tender age of 24, I am the living proof that clothes do not define you. I encouraged every body to embrace their bodies and step outside social norms.
With love,
Terica Williams, M.Ed #tericastar"
Some folks gave the modern-day Medusa props for her creativity, while others chastised her for making FAMU look bad.
Maybe I'm just an extreme feminist but I think ole girl from FAMU ate that shoot up . The snake wig ehhh but the concept was beautifully executed.

— Deebe (@dewop_) July 30, 2022
Down in the Tally... where them girls get naked

*goes to corner again* #FAMUpic.twitter.com/A1j4ergKbC

— P. Against The World (@chillin662) July 30, 2022
The girl in front of the FAMU snake just got her masters & that's her grad pic. Now every time a prospective employer looks her up that is what they will find. A photoshoot is one thing but as a grad pic in front of the school

— Lex (@lovedlanae) July 30, 2022
Okay now. This is too much . No one person is setting FAMU thousands of steps back. It's a photo shoot, by a person/individual. FSU has entire secs workers wearing their nalia while on film and still in school. It drove up admission. Let's not dtm.

— Sun (@champagnecoco) July 30, 2022
I can see where you frustration is coming from. However if it's one thing I learned at our illustrious university, it is respectability politics is a dog whistle. If people want to feel a way they will. Simple. FAMU did produce that. +a million other people who are not perfect.

— Sun (@champagnecoco) July 30, 2022
FAMU released a statement about the image to address next steps. 
Florida A&M University Statement regarding posted photo in front of Rattler statue. pic.twitter.com/Mhck5YDUfB

— Florida A&M University (@FAMU_1887) July 30, 2022
"The university is aware of the picture taken and is currently investigating the incident," Vice President of Student Affairs William E. Hudson Jr. said in the release.
Surveillance signs were also posted on campus, warning students there are cameras recording their every move:
Before posting her nude graduation photos, Terica shared her achievements as a student at the university while celebrating her new journey as she joins the two percent of Black therapists.  
Striking is a habit, I just had to have it 


Dear FAMU, Thank you, because of you I:


• Gained thousands of dollars worth of scholarships


• Maintained a 3.8 GPA


• Received a Graduate Assistant


• Awarded a Graduate Fellowship


• Became a Mentor


• Received a little sister from BSLS


• Perfected my image


"Now, I am joining the 2% of black therapists. For that, I am forever grateful. Warmly, Terica Williams, M.Ed. ( Masters in Counselor Education)," she wrote in the caption.
There are rumors that FAMU could possibly take her degree. That hasn't been confirmed, but Terica posted a funny video about what she would do if they snatch her degree:
The FAMU grad also called folks praying on her downfall the real "snakes":
"How the people from the highest of seven hills praying on my downfall?! My degree was earned, not given. They cannot take it away," she wrote in the caption of more graduation photos. "If you want FAMU to withhold my degree, then you're the real snakes." 
The investigation is still underway.
FAMU President Larry Robinson has not issued any public statement about the incident, but he did mention the Rattler Watch signs were not installed in direct response to the photo incident.  He declined to share information related to the investigation, including if the photo shoot was captured on the surveillance video.
"Safety is important to us, and we ordered the signs a few weeks ago just to get the message out that campus is under continuous surveillance," said FAMU Chief of Police TerenceCalloway, who is also assistant vice president of Campus Safety and Security. 
"We don't mind people taking a photo by the snake," Calloway said, "but the signage is generally our message to new incoming freshmen, returning students, faculty, staff and visitors that we don't want people walking on the border and all that type of stuff."
There are about 25 signs posted on campus, including parking lot entrances, residence halls, and both inside and around campus buildings. In total, there are more than 1,500 cameras on campus, which are monitored around the clock at the FAMU Police Department's dispatch center.
So basically, don't try this ish!
Photo: FAMU's FB