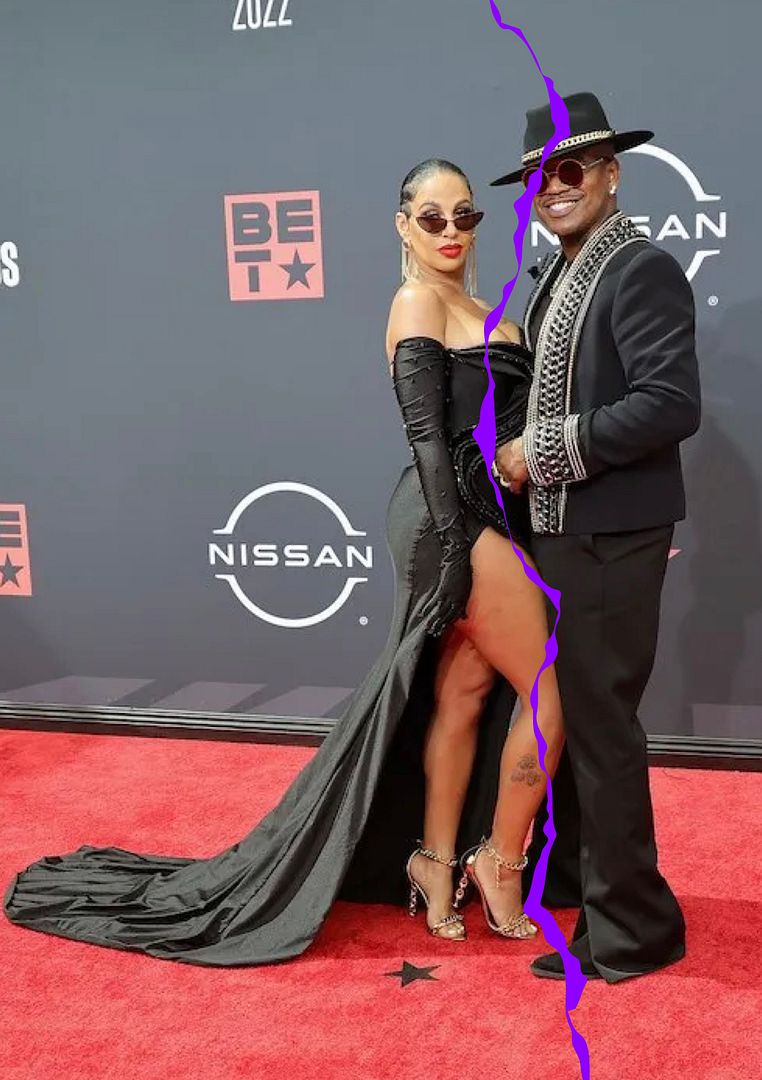 After blasting her husband online for cheating, Crystal Smith officially files for divorce from Ne-Yo, claiming he fathered a baby with another woman! Deets inside…
The writing was on the wall after that explosive Instagram post last weekend.
After blasting her husband for cheating throughout their 8-year relationship, CrystalSmith pulled the trigger on a divorce from R&B crooner Ne-Yo.
In the divorce docs (filed in Atlanta earlier this week), she said their marriage is "irretrievably broken with no hope for reconciliation" since the Grammy Award winning singer-songwriter can't keep his penis in his pants.
Apparently, the "So Sick" singer recently fathered a child with another woman and that was enough for Crystal to end it all for good.
In the paperwork, she claims she and Ne-Yo have been separated since July 22nd. Since then, she has been taking care of their children. She's seeking primary physical custody and joint legal custody as well as child support and alimony.
Ne-Yo and Crystal tied the knot in 2016 and they have three children together, sons ShafferChimere Jr. (6) and RomanAlexander-Raj(4), as well as their 13-month-old daughter, Isabella Rose.  The singer-songwriter also has two kids with ex Monyetta Shaw: daughter Madilyn (11) and son Mason (10).
Last Saturday, Crystal took to Instagram to reveal Ne-Yo cheated on her throughout their eight-year relationship with prostitutes - "unprotected" - and that she's DONE with him. She also asked people to stop sending her videos of him cheating.
"Eight years. 8 years of lies and deception," she wrote. "8 years of unknowingly sharing my life and my husband with numerous women who sell their bodies to him unprotected…every last one of them!"

"To say I'm heartbroken and disgusted is a[n] understatement," her message continued. "To ask me to stay and accept it is absolutely insane. The mentality of a narcissist. I will no longer lie to the public or pretend that this is something it isn't. I choose me, I choose my happiness and health and my respect."

She added, "I gained 3 beautiful children out of this but nothing else but wasted years and heartache."
A day after her post, the "Sexy Love" singer released a statement asking for "privacy" as his family work through their issues "behind closed doors."
"For the sake of our children, my family and I will work through our challenges behind closed doors," Ne-Yo tweeted a day after Crystal exposed him. "Personal matters are not meant to be addressed and dissected in public forums. I simply ask that you please respect me and my family's privacy at this time."
He later posted a video of screaming ladies fan'ing out for him at his latest show.
A few months ago, the couple orchestrated a vow renewal wedding after a two-year separation. Back in April, the couple renewed their vows at an over-the-top wedding on a rooftop of the new Resorts World complex in Las Vegas.
In February 2020, Crystal was rumored to be dating/flirting with Ryan Henry from "Black Ink Chicago". Not long after that, Ne-Yo announced he was divorcing Crystal. She said on the "Tamron Hall" show that she learned about her divorce from the "So Sick" crooner like we all did: The Internet!
"We weren't really talking at that time. I chose to leave the relationship because of issues, and at the time I felt like it was to get back at me or to hurt me, or whatever the case may be," she shared. "He said that it wasn't so I took his word for that. But it definitely didn't feel good, it was embarrassing to say the least."
A month after Crystal was seen hanging out with Ryan, the COVID-19 shut down happened.  Ne-Yo and Crystal quarantined together for the "sake of their kids."  Needless to say, quarantine worked wonders for their relationship, and things were getting hot and heavy once again.  By May 2020, the twosome were posting TikTok videos together, getting lovey dovey on social media and revealed later they repaired their relationship.
Guess it's over this time…
Photo: Getty via BET