A rep for Wendy Williams confirms the daytime talk show host is NOT married to an NYPD cop named Henry despite recent reports. The marriage news comes on the heels of concerning videos of Wendy going viral. More inside….
UPDATE:
Hollywood Unlocked honcho Jason Lee called up Wendy Williams to clap back at reports that say she's NOT pregnant. On the call (above), Wendy confirms she IS in fact pregnant and said "f**k" William Selby. Listen above.
---------------------------------------
It seems Wendy Williams got a little carried away talking about her new relationship.
Turns out, the daytime talk show is NOT married to a New York Police Department officer named Henry, according to her rep.
"That's inaccurate," WilliamSelby (pictured below) told Page Six. "She is excited about a new relationship and probably got carried away in conversation."
Is Wendy dating a police officer?
"Wendy doesn't wish to disclose details at the moment," her rep said.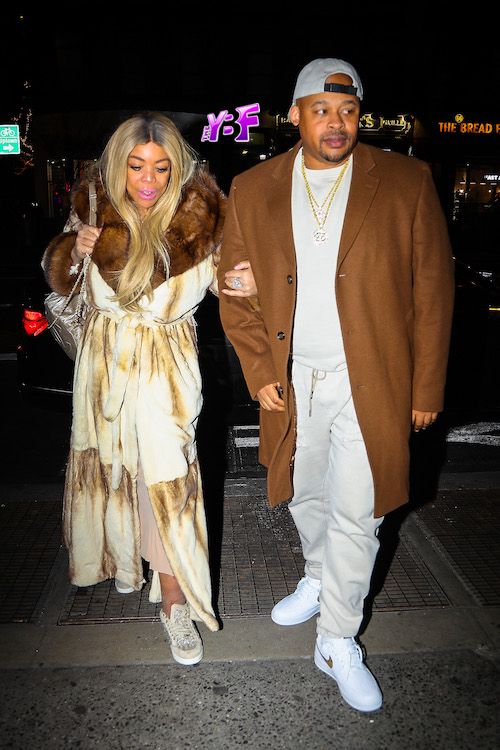 One month after Wendy's divorce from Kevin Hunter Sr. was announced, she was romantically linked to William "Big Will" Selby, who is a New York City-based jeweler who has created pieces for celebs like Drake and 50Cent. It seems he has changed professions and is now Wendy's rep. Interesting. Missed their dating rumor tea? Click HERE. 
Yesterday, Hollywood Unlocked reported the 58-year-old host called up blogger Jason Lee to inform him of her new marriage. She told him she was flying to Los Angeles later this week but also had some other bombshell news.
"She says, 'I'm married.' I'm like, 'What?' She's like, 'I got married,'" Jason recalled of their conversation.

"I'm like, 'You got married when?' And she's like, 'I got married last week.'"
There's more…
The site also reported Wendy instructed her publicist to keep her "entire family away from [her] except for [her] son for at least a year" and that her American Express credit card no longer works because her finances remain under Wells Fargo's control.
The reports of her being married comes on the heels of concerning videos of Wendy showing off a huge ring on her ring finger to fans in the streets. You can peep the clip below:
hoping Wendy Williams gets the help she needs. she's clearly high out of her mind pic.twitter.com/cp4QErDpaP

— BREESYHO (@breesyho) August 1, 2022
The daytime talk show host - who reportedly has a new podcast in the works - was also seen sleeping inside of the Louis Vuitton store:
No lie this is Wendy Williams in LV right now pic.twitter.com/21O5NtODuF

— INSTA: @gossipofthecitytea (@GOTCITYTEA) August 1, 2022
Just a few weeks ago…
Tommy Williams - Wendy's younger brother - took to his YouTube account to react to how his sister has allegedly been acting. He claims Wendy refused to let her son, KevinJr., into her NYC penthouse after he flew to the Big Apple to celebrate her birthday (July 18th).
The audio in the video is super low, so here's a transcript via TheJasmineBrand/Shadow And Act:
Tommy said that while her birthday should be "a great time" for family, "[i]t's not a great time for everybody inside of Wendy's head." He also called Williams "trash" for her actions.

He described Williams as being "mean," "abrupt" and "heartless," and also said that he spent time with Kevin Jr. while Williams refused.

"Her son is up there to spend what could be a monumental time with his mother, that is if she opens the door," he said. "My nephew is trying to get in there now to see his mother. He was with me yesterday, we talked about the trip. We smiled and laughed…I was excited for him [to meet Williams]…And now the moment of truth–as beckons to see his mother at the pearly gates–to see Wendy."

Tommy went on to disapprove of how Williams has been talking openly about sex in recent interviews, as well as her apparent prior behavior behind the scenes.

"Talk about dragging, she's dragging everybody, namely her son. She's selfish," he said. "One thing about Wendy is she's always been selfish. All the way back. Way before the Wendy Show, way before."

"She talks about how much she wants to bang, how much she wants somebody to bang her out. She's got a son, she's got a 91-year-old father, she's got a mother looking down at her from the heavens," he continued.

While he said he still cares about his sister despite his disapproval, his comments fly in stark contrast to how he was speaking about Williams just a few weeks ago, earlier in July.

In the first video he spoke about his sister, he said how she was being taken advantage of by others in her camp.

"Her health is the situation…The fact that she needs to be away from people that are doing her wrong, that's the situation," he said in a video. "The fact that family is all down here in South Florida and Wendy is up in New York by herself."
Watch the video above (if you can hear it).
It's kinda sad seeing Wendy spiral after her divorce from Kevin Hunter Sr. was finalized (in 2020). We just hope she can get things back on track with her health and finances, launch her podcast, and reunite with her Wendy Watchers.
Photo: Wendy's IG/Felipe Ramales / SplashNews.com/