A Chi-town romance in Philly?! Word on the curb is that Jennifer Hudson and Common were spotted looking extra cozy together on a dinner date. Deets inside…
Is there a new Hollywood "IT" couple? Possibly. Or, it could just be two friends having dinner together. 
Chicago natives Jennifer Hudson and Common are currently filming a new action/sci-fi film titled, Breathe, and they MAY have found love on the set. There are receipts…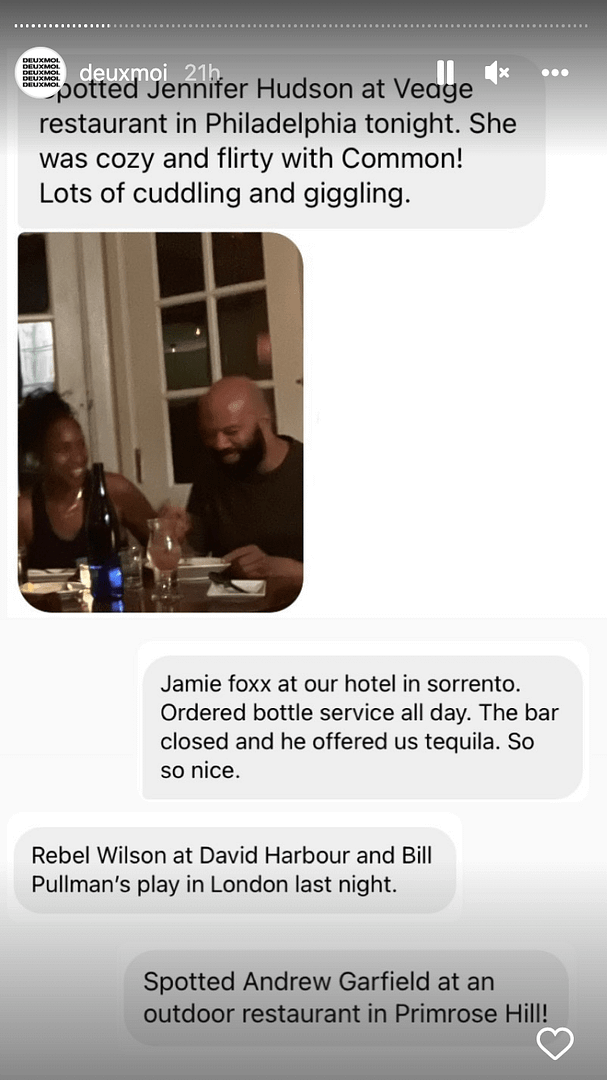 Someone snagged a flick of the EGOT winner and the Oscar & Grammy winner enjoying an intimate dinner in Philadelphia at Vedge restaurant over the weekend. The source sent the flick to @deuxmoi's direct messages and described their outing as something more than just friends having dinner.
"She [JHud] was cozy and flirty with Common," the source wrote. "Lots of cuddling and giggling."
Based on the picture, they both do appear to be enjoying themselves. However, that doesn't instantly mean they are in a relationship. It's either the beginning of a budding romance or two actors having a meal together. 
The "Love Of My Life" rapper was last romantically linked to award-winning actress Tiffany Haddish. The former couple confirmed they were in a relationship in August 2020 after meeting on the set of the film, The Kitchen. It's reported they broke up in November 2021. Common's ex-girlfriends include Serena Williams,Erykah Badu, Angela Rye, and Taraji P. Henson, to name a few.
The RESPECT actress got engaged to her son's father David Otunga - a professional wrestler in the WWE and a Harvard Law graduate - in September 2008. The couple welcomed their son, David Daniel Otunga Jr. in August 2009. In November 2017, they called it quits, which launched a nasty child support and custody battle. Thankfully, they were able to resolve everything in 2019.
Hmm…do are you here for a JHud x Common romance? Sound off in the comments.