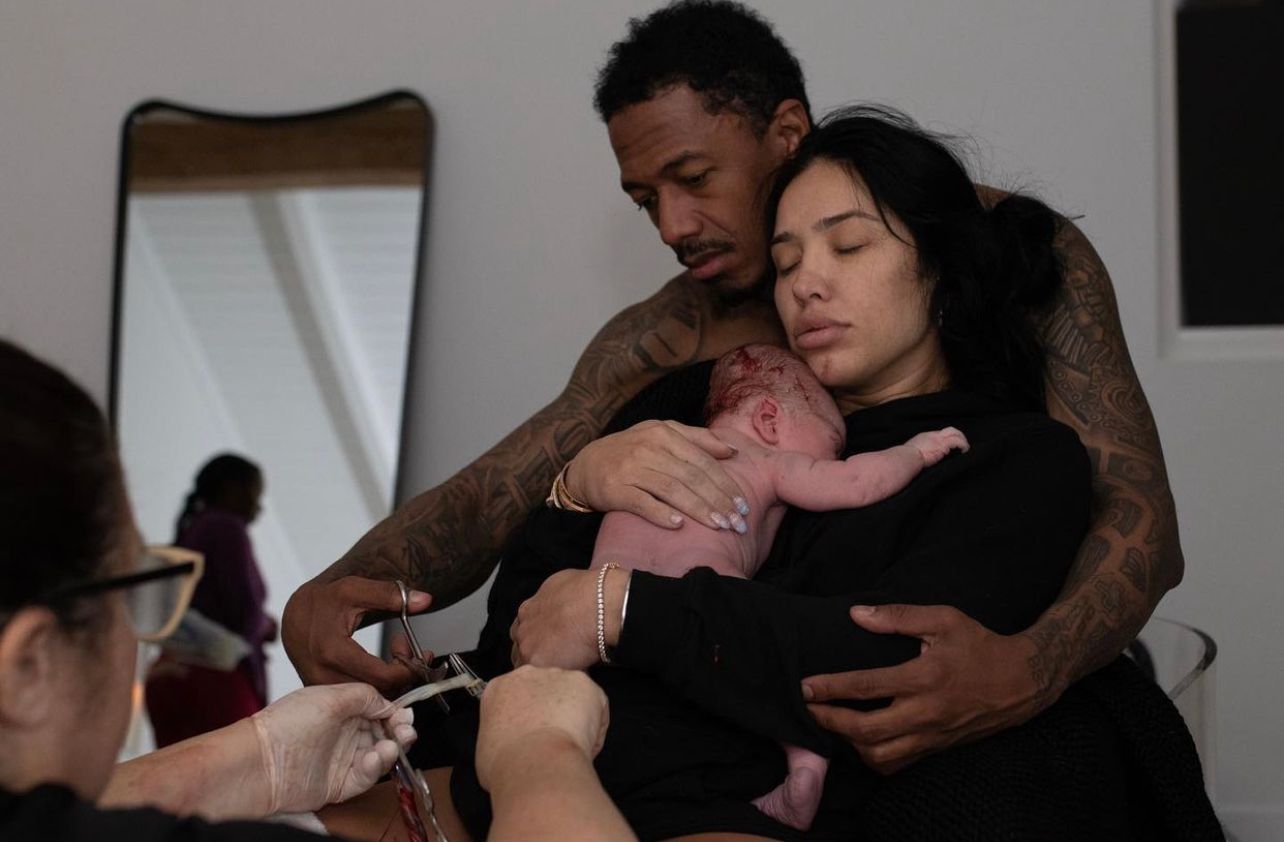 Nick Cannon has welcomed his 8th child with "Wild 'N Out" girl Bre Tiesi and they've documented their labor and delivery journey where Bre birthed their baby at home without any medications. They suffered a scare when the baby needed "respiratory support" after he was born. Watch their birth documentary, plus details about their baby boy inside…
Nick Cannon and Bre Tiesi just announced they welcomed their baby boy last month via a "natural unmedicated home birth," surrounded by family. The 41-year-old TV host and the 31-year-old "Wild 'N Out" girl are the proud parents of baby Legendary Love Cannon, who was born Tuesday, June 28th at 1:28AM. He was 8 pounds 10 ounces.
Baby Legendary is Nick's 8th child and Bre's first.
"I did it," Bre announced on Instagram."An all natural unmedicated home birth. This was the most humbling / limit pushing yet awakening and completely empowering experience. I can't thank my team enough for delivering my son safely," she wrote. "This experience has changed me forever and I couldn't of asked for a more amazing and supportive partner. Daddy showed the f up for us.. I couldn't of done it without you. I can't believe he's here ."
Mr. Incredible hopped in her comments and wrote, "You never cease to amaze me!! Full of passion, drive, focus, brilliance and most importantly love!!! Honored and privileged to experience this beautiful miracle with you! Thank you for the greatest gift any human can give to another. For this my love is forever indebted."
Nick and Bre documented their baby's birth, which they shared in a vlog on Bre's YouTube account.
"The Vlog of my birth is now LIVE on my YouTube," she continued. "I have documented my pregnancy, natural induction, labor, delivery as well as more information and resources for doulas midwife's and hypno birthing. It's Real RAW and I hope It helps anyone considering an unmedicated home birth."
In the video, Bre is seen working through the pain of her contractions with Nick right by her side, walking around outside to help induce labor and sitting in a tub full of water to help ease the pain from contractions.
Right after baby Legendary came out, they noticed the baby wasn't crying. She explained their son had a "long crown" because his hand was up by his ear when he was born, which is a condition known as nucal hand. 
"So he needed a little respiratory support from Robyn [her midwife]," she wrote. "I noticed he wasn't crying…"
At the end of the clip, Bre summed up her birthing experience:
"This was the most limit pushing/painful moment yet completely empowering & beautiful. The intensity of birth takes over your whole body. I swear I was pushing so hard, screaming & crying. I started to break. I started doubting I could do it. I kept saying why won't he come get him out…"
She continued, "At a certain point I had left my body and I didn't remember a lot of my birth until my team sat with me to process my birth, which I felt was sooo healing and helpful. I can't think them enough and my amazing partner who showed the f* up for us. We love you so much."
Baby Legendary is baby #8 for Nick and he was born weeks after it was announced Baby #9 was on the way. Abby De La Rose - who is the mother of his 1-year-old twins Zillion Heir and Zion Mixolydian, is currently pregnant with her third child. It's a girl.
Baby Legendary will join Nick's growing family, which include 11-year-old twins, Moroccan and Monroe, whom he shares with his ex-wife MariahCarey. Nick and his ex-BrittanyBell share 5-year-old Golden and 1-year-old PowerfulQueen. He then shares twins, Zion and Zillion, with DJ Abby De La Rosa. His 5-month-old son, Zen (whom he shared with "Wild 'N Out" girl AlyssaScott), passed away last December due to brain cancer. There are unconfirmed rumors that both Alyssa and Brittany are pregnant again by Nick.
Looks like he's trying to beat his last record where he welcomed four children in a 12-month span.
Well alright. Congrats! 
Photos: YouTube Screenshot