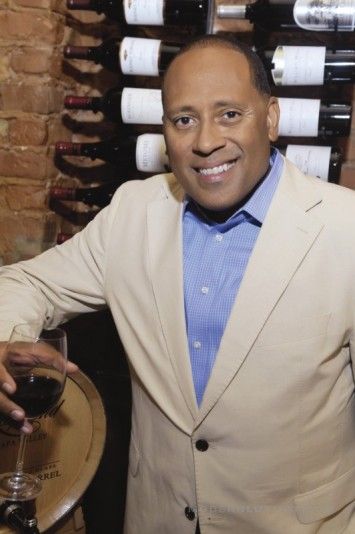 There were rumors on the net last night that Frank Ski & Wanda Smith, the legendary hosts of the biggest urban radio morning show in Atlanta, would be leaving the station.  And this morning, the hosts made the announcement after 14 years on the air...
Frank Ski and Wanda will be leaving CBS radio's V103 in Atlanta as the #1 morning hosts in the city.  It was a shock to the community as they are still in the midst of their send-off show.
He announced he would be stepping away from his V103 family to pursue dreams and plans he has for himself.  And about an hour later, Wanda announced the same.
Steve Harvey called in while he was in the middle of his own radio show, and he hinted that this was due to a bad business decision by the station and  "someone is making a huge mistake."  He said that you don't let legends go because legends have a tendency to show back up in places you don't expect them to.  Steve gushed they've been competitors and friends for years, but he will indeed find out what happened. 
Michael Baisden, Ricky Smiley and plenty other radio vets have called in during this morning's send off show.  But Frank Ski said he doesn't plan to leave ATL, even though his home is now for sale.  And next week will be their final days (not tomorrow as some are reporting), as Frank says he and Wanda want to see through their "Christmas List" shows. 
Frank, who also has a restaurant in Atlanta, maintains he's leaving because he wants to affect more people on a larger level.  And it seems that CBS and the hosts could not come to an agreement about Frank expanding his empire--especially with him reportedly wanting a CBS tv show based around his radio life.  That was apparently a no-go.
Atlanta's in an uproar, despite the fact Frank & Wanda made their own decisions to leave.  But many believe they were forced to make the decision as CBS would not cater to their expansion needs.
As for who will take over.  Radio Facts reportsRyan Cameron, one of the top radio personalities on V103 in the afternoon, will move to the morning show timeslot.  And as for who will take his show--former "106 & Park" host Big Tigger is in talks, reportedly, to move to Atlanta for that gig.
Check out the Ustream going on right now (until 10am) from Frank & Wanda's show.  Check out his full statement over at AJC.
*UPDATE*  AJC has confirmed that Ryan Cameron will definitely take over the morning show this January.  And Big Tigger will indeed take ver the afternoon show.