Drake isn't letting an intruder and a run-in with Swedish cops mess up his Hot Boy Summer. He's currently vacationing in St. Tropez with social media star Suede Brooks following several bizarre incidents. An intruder was arrested at his Beverly Hills mansion for trespassing. Also, Drizzy seemingly had a run-in with Swedish cops. Deets inside…
This has been one hell of a week for Drake and its only Wednesday.
Despite the drama, the Young Money rapper, 35, isn't letting anything stop him from having some fun in the sun. The Certified Lover Boy was spotted getting cozy on a yacht in St. Tropez, France with social media star Suede Brooks, 20. The paps nabbed flicks of Drake and Suede:
Drake and YouTube Star Suede Brooks 'Having Fun Together' Amid St. Tropez Trip, Source Says https://t.co/tiXyM2gjFE

— Nigeria News Buzz (@NigeriaNewsBuz) July 20, 2022
A source spilled tea to Entertainment Tonight, revealing Drizzy and Suede have been hanging out together in St. Tropez for the last several days, "yacht hopping" while abroad. Apparently, they have a few friends in common and this allegedly isn't the first time they've hung out together. 
"Their friends think they make a cute couple and have been rooting for them to hang out more," the source said.
Suede dropped a hint that she's in St. Tropez, sharing St. Tropez postcards on her IG Stories:
Mmhmm.
The Canadian rapper was also spotted out having fun with a few of his friends, including his homie Chubbs.
Whatever cologne Drake was wearing had the bees going crazy. Watch Drizzy duck and dodge being stung by a bee below:
HA!
While dining, Drizzy whipped out his phone to troll Joe Budden over folks dancing to his 2003 hit track "Pump It Up":
Drake trolls Joe Budden over people dancing awkwardly to Joe's song Pump It Up in St. Tropez pic.twitter.com/6u0FhUK3fi

— No Jumper (@nojumper) July 20, 2022
Teehee!
Before jetting to France…
Close up look at Drake's Jet as it lands in Sweden pic.twitter.com/K6y5qk4M4v

— 2Cool2Blog (@2cooI2blog) July 13, 2022
A few days ago, Drizzy touched down in Sweden and not long after, there were rumors that he had been detained by Swedish police. According to the rumors, Drake had allegedly been arrested on marijuana-related charges while partying in a Swedish club after arriving in the country on his private jet.
Drake's team initially denied that he had a run-in with Swedish police, however, he hopped on social media to confirm he did in fact have a run-in with law enforcement.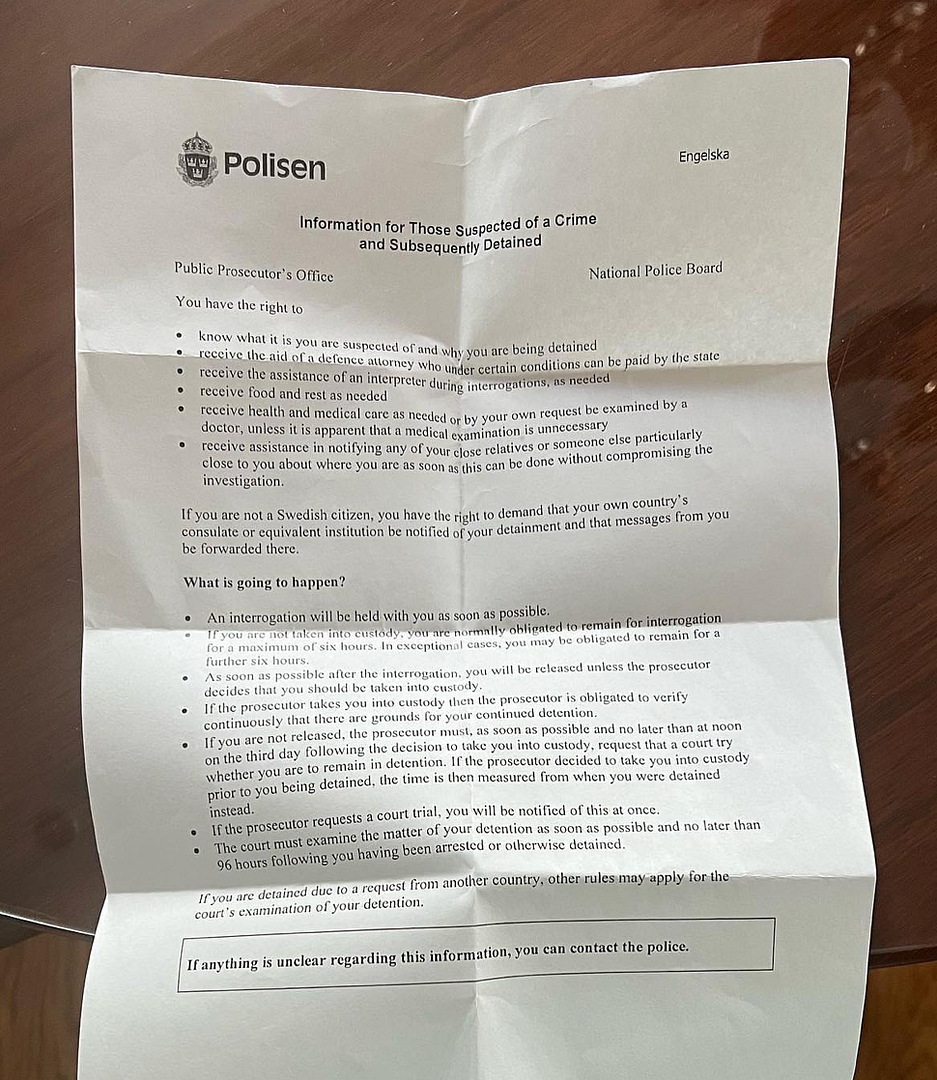 The Grammy Award winning rapper shared a photo in a collage of photos from his time in Sweden that included a screenshot of a letter detailing his rights in the European country as a detainee.
The letter listed the detainee's rights as well as those of a person who is "not a Swedish citizen," like Drake, who is from Canada. The paper also detailed what happens when a person is detained or taken into custody.
Luckily for his sake, it wasn't a A$AP Rocky situation.
Also…
Last week, a man who trespassed onto Drake's home in Beverly Hills and claimed to be his son was arrested! Drizzy wasn't home at the time when the 23-year-old intruder, who said Drizzy is his dad, popped up at his residence. He was cutting up in Sweden. Luckily, the intruder never made it inside the home.
TMZ reports:
LAPD tells TMZ ... cops were called to the rapper's Beverly Hills-adjacent mansion last Friday after an employee saw someone near the pool house.

Police questioned the 23-year-old ... the man claimed 35-year-old Drake was his dad and he was just waiting for him to come home ... but obviously cops weren't buying it.

The man was arrested for misdemeanor trespassing ... we're told the guy never made it inside the house.

Drake plunked down $75M for the estate a few months back, buying the property from "Take That" singer Robbie Williams.
Glad no one was hurt.