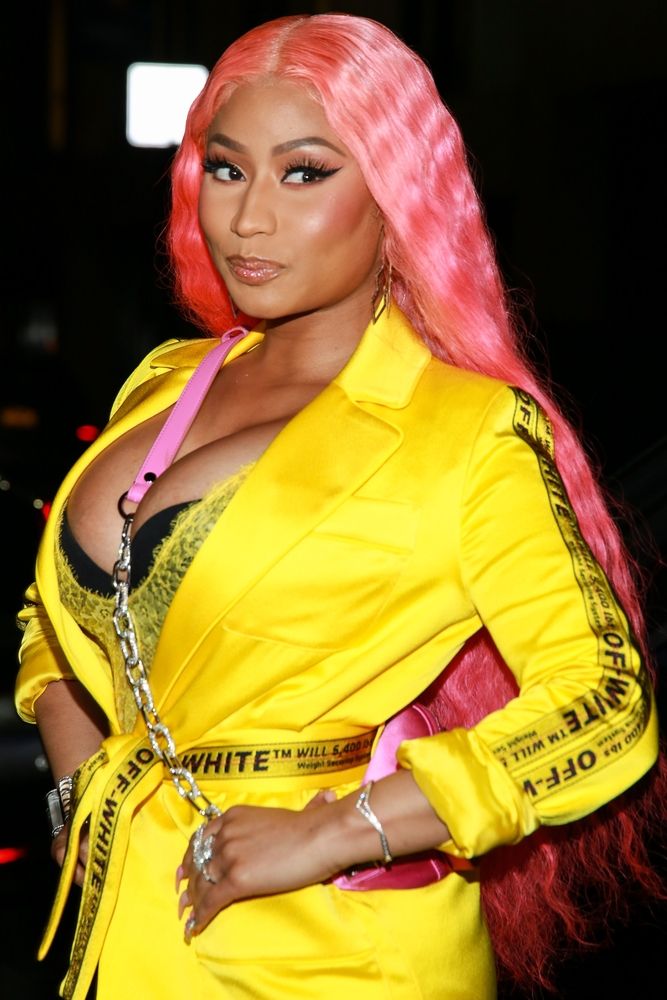 The Barbz speculate Nicki Minaj has new music coming down the pipeline after she teased them with "#NickiFreakyGirl." The super sexy teaser dropped right after her London Barbz chased her down the street in total chaos. Also, Kanye West has seemingly responded to her "clown" comment by unfollowing her on Instagram. Get the Nicki updates inside…
Nicki Minaj is on the comeback tip!
After hitting the stage at ESSENCE Festival, Wireless Festival, and causing complete pandemonium in the streets of London, Nicki Minaj treats the Barbz with a new song teaser.
Y'all want a surprise ? Tweet #NickiFreakyGirl

— Nicki Minaj (@NICKIMINAJ) July 13, 2022
"Y'all want a surprise? Tweet #NickiFreakyGirl," the QUEEN raptress tweeted.
Not long after that tweet, the Young Money rapper hopped on social media to release a snippet of an unreleased raunchy new single titled "Freaky Girl," which samples Rick James' 1981 classic hit "Super Freak."
He want a F R EEEEEE A K #FreakyGirl#NickiFreakyGirlpic.twitter.com/89JIftQ35x

— Nicki Minaj (@NICKIMINAJ) July 13, 2022
"He want a F R EEEEEE A K #FreakyGirl [tongue emoji," Nicki captioned the clip, which features her on all fours twerking in a Burberry swimsuit.
On the track, she raps, "I can lick it, I can ride it while you slippin' and slidin'/I can do all them little tricks and keep the d*ck up inside it/You can smack it, you can grip it, you can go down and kiss it/And every time he leave me alone he always tell me he miss it."
Take a listen above.
The snippet comes on the heels of collaborations, including "Do We Have A Problem" and "Bussin'" - both featuringLilBaby - as well as "We Go Up" with FivioForeign, and "Blick Blick" with Coi Leray.
Before Nicki set the Internet on fire with the "Freaky Girl" snippet, videos of her being chased down by fans in London were circulating online. 
Complete chaos broke out after the "Seeing Green" raptress cancelled a London meet and greet due to severe overcrowding outside of the venue. The police deemed it to be unsafe, so she had to axe it. It's reported fans were waiting outside for over six hours. Watch the insane clips above below:
There's also a viral video of Nicki seemingly pushing a fan out of the way: 
I wash Nicki Minaj would push me all the way into the USA. His lucky ass. pic.twitter.com/vHOv4CrCNA

— phyzics (@phyzics_704) July 11, 2022
The London Barbz love them some Nicki. There's one celeb who ISN'T loving her at the moment…
. @kanyewest has officially unfollowed @NICKIMINAJpic.twitter.com/h3XSASSVYq

— barbie (@PlNKPRlNTMlNAJ) July 12, 2022
…and that would be Kanye West. Fans noticed the "Flashing Lights" rapper unfollowed Nicki on Instagram following comments she made during her performance at ESSENCE Festival.
The QUEEN raptress headlined the ESSENCE Festival of Culture in New Orleans where she stopped the DJ mid-performance when he played Kanye West's hit "Monster."
"Hold up. Hold up. I'm monster'd out. I'm monstered out and we don't f*** with clowns. But you know what? I got to shoutout New Orleans," Nicki told the audience.
The shade of it all. Fans speculate the diss is due to Kanye's collaboration on Cardi's B's new single, "Hot Sh*t." It dropped the same day as Nicki's performance. There's also talk that Nicki could still be pissed at Ye for not releasing their collaboration track "New Body" after she rewrote her verse for him to accommodate his spiritual journey. 
No response from Nicki after Ye unfollowed her, but we wouldn't be surprised if she does.
Photos: everett225/Depositphotos