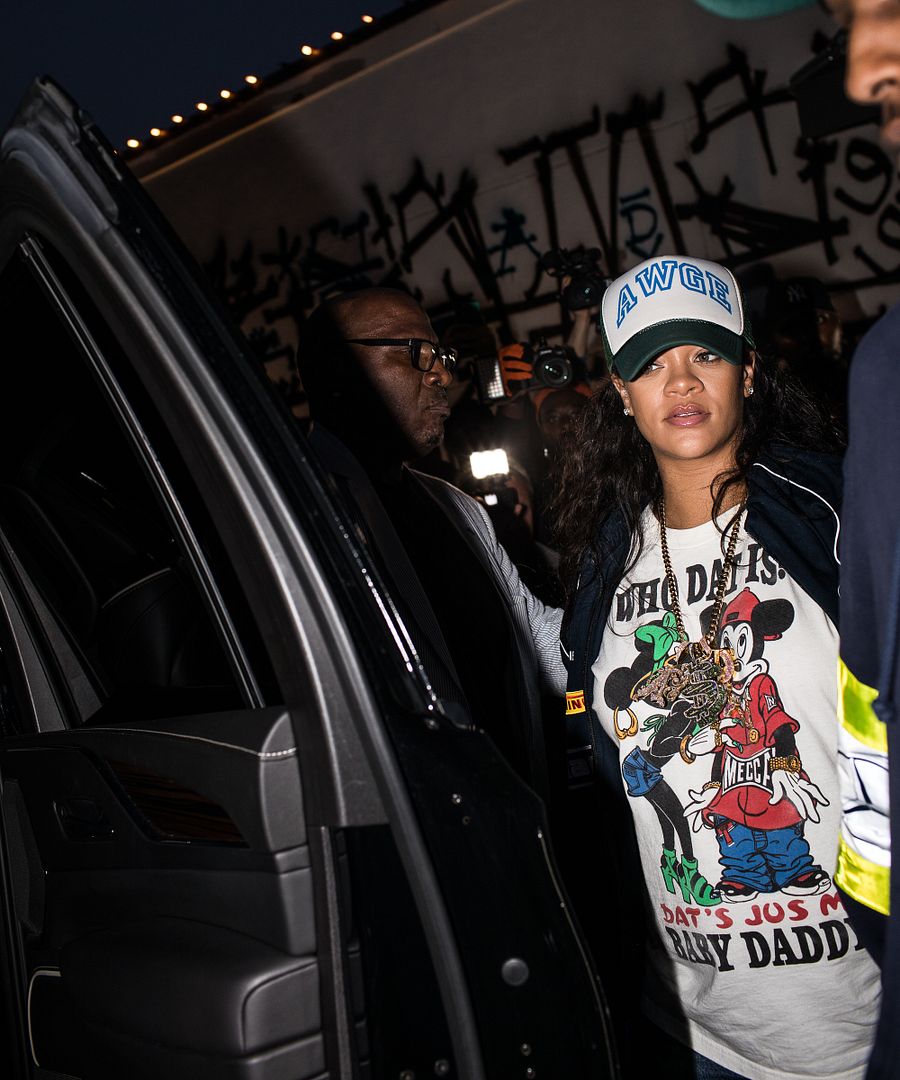 Rihanna is making her rounds overseas to support her boyfriendA$AP Rocky. See flicks and videos of the new mom chilling in a club in Germany and rocking out in Portugal inside…
On the run!
Rihanna is back outside, being the supportive girlfriend as her man makes his tour stops overseas.
Last night, A$AP Rocky was booked to perform at the 808 Berlin nightclub in Berlin, Germany, and his girl RiRi was right by his side to support. Fans got excited when they noticed the billionaire Bajan beauty - dressed in all black - walking into the building. She hung out in a VIP section behind Rocky, vibing out to the music.
Rihanna watching Rocky DJ at 808 Berlin night club @ASVP_Lou#asaprocky#rihannapic.twitter.com/n8PtJTGYr7

— mrsawge (@mrsawge11) July 9, 2022
Rihanna at 808 Berlin nightclub tonight pic.twitter.com/8oDfDCj7do

— Rihanna Gallery (@GalerieRihanna) July 9, 2022
The global superstar - who welcomed a baby boy in May - also hit up Rolling Loud in Portugal (July 7th) to support her boo. The 34-year-old entertainer tried to keep a low profile, but it wasn't hard to spot her.
Rihanna at Rolling Loud Festival in Portugal last night. pic.twitter.com/scfozdBbpN

—  (@gabgonebad) July 8, 2022
Rihanna toute choux hier au show de son chéri Asap Rocky au Portugal pour le Rolling Loud #peoplepic.twitter.com/RiE2vbACdO

— Paulette Kimuntu Kim (@KimKimuntu) July 9, 2022
Rihanna at Rolling Loud festival in Portugal last night. (via Priscilla Ono on Instagram) pic.twitter.com/2Q2n9cPX0g

— Rihanna News (@TeamOfRihanna) July 8, 2022
Gorge.
The "Diamonds" singer looked OVER it though:
rihanna at rolling loud festival in portugal tonight. she's so gorgeous pic.twitter.com/78HCr9YFeV

—  (@gabgonebad) July 8, 2022
: another video of rihanna at the rolling loud festival pic.twitter.com/A0Pa31iYUN

—  (@gabgonebad) July 8, 2022
She's probably tired and still adjusting to life as a new mom.
The Fenty Beauty honcho has been jet setting with Rocky for the last week or so. She was spotted for the first time since giving birth last week at a barbershop in London. The "D.M.B." rapper got a round up before he hit the stage at the Wireless Festival last Friday:
New Mom & Dad Rihanna & ASAP Rocky were spotted in London together at local barbershop for the first time since welcoming their baby boy! #Rihanna#RIHANNANAVY#asaprocky#london#queen#riri#fenty#balckgirlmagic#blacklove#blm#singer#rapper#artist#music#BLACKpic.twitter.com/f8yAI91HE8

— REDFLAMEZ (@REDFLAMEZ_Media) July 4, 2022
RiRi - rocking all black - made an appearance at the Wireless Festival as well:
Rihanna right now at Wireless Festival! pic.twitter.com/iAEo3j2RsV

— Rihanna Gallery (@GalerieRihanna) July 1, 2022
Folks have started to criticize Rihanna for being out and about so soon after having her son. The NAVY has come to her defense, popping back at those who have something to say:
Rihanna could've had her baby 83 months ago yall still need to leave her alone.

— Master (@itscarink) July 9, 2022
Idk. I just thought we'd see a LOT less of Rihanna after the baby and it seems like she's back to business as usual

— Grab My Prada (@AyUBigHeadMF) July 9, 2022
Hey there young what you smoking on. …Entirely too soon. Is the baby even 2 months yet?? I'm concerned. I expected different behavior but guess she gotta seem fun for that Asap #AsapRocky#Rihanna#badgalririhttps://t.co/n5OXiAQaF4

— TeaWithBaby (@babbyteaa) July 9, 2022
I mean, the fact she smokes blunt now can mean only two things: 1) the baby is left with the nanny for the entire babysitting sperm donor tour (2+ weeks), which is atrocious for a new mom and definitely reshapes my assumptions about what kind of mom would Rihanna be

— Ju Lia (@AlexKamillaKroy) July 9, 2022
Rihanna is so hands on with this motherhood thing! She's doing what many don't do! Tote around their couple month old baby! Most celebs would have had a nanny! So proud of Ri a business bitch

— tee gotti (@huncho_gvng) July 9, 2022
Rihanna had that baby and back outside like ain't none never happened https://t.co/IFFu9T0DH5

— Markia (@iAllure_) July 9, 2022
Thoughts?
Photo: HardShell Films/Shutterstock