It's the beginning of a new era and we're already obsessed! Watch the new trailer for Issa Rae and the City Girls' new HBO Max comedy, "Rap Sh!t," plus see flicks and videos of Issa on the promo trail inside…
Issa Raeis BACK with a new television show and it's already giving us what we need for a Hot Girl Summer inside.
After wrapping up "Insecure" on the west coast, the EMMY & Golden Globe nominee jetted to the 305 to team up with the City Girls to executive produce a brand new HBO Max comedy series titled, "Rap Sh!t." And thankfully, viewers will get a comedic peek at what females endure when they try to break into the rap industry.
"Are y'all ready for the next big, must-see, fun show this summer?" Issa asks in the trailer. We sure are!
The HBO Max series follows two estranged friends from high school, Shawna (played by comedienne AidaOsman) and Mia ("Love & Hip Hop: Miami" star KaMillion), who come together to form a rap group in Miami. It sounds good at the beginning; however, the ladies have totally different visions of how the group should look and perform. Shawna dreams of creating more socially-conscious rap, going against the industry's expectations. Meanwhile, Mia is a single mother willing to do whatever it takes to get to the bag. She's all about her paper, especially since she has a four-year-old daughter to take care of.
Joining Aida and KaMillion, the main cast includes Jonica Booth, Devon Terrell, RJ Cyler, Nijah Brenea, Anna Mezentseva, Victoria Richards, Daisy Fernandez, and Ralph Hughes.
"Rap Sh!t" is executive produced by Issa Rae and showrunner SyreetaSingleton (who wrote for "Insecure"), as well as MontrelMcKay for HOORAE, Jonathan Berry and Dave Becky for 3 Arts Entertainment, and DenieseDavis. Issa also wrote the premiere episode and co-wrote the finale episode with Syreeta. Hip hop duo YungMiami and JT of City Girls serve as co-executive producers, along with Kevin "Coach K" Lee and Pierre "P" Thomas for Quality Control Films and SaraRastogi for HOORAE. Also, Issa's audio content company Raedio handles music supervision for the series. Nice! 
Peep the trailer above.
Over the weekend...
Issa, Syreeta, Aida, KaMillion and more were front-and-center at the 2022 ESSENCE Festival in New Orleans to host an exclusive screening and Q&A panel for the series.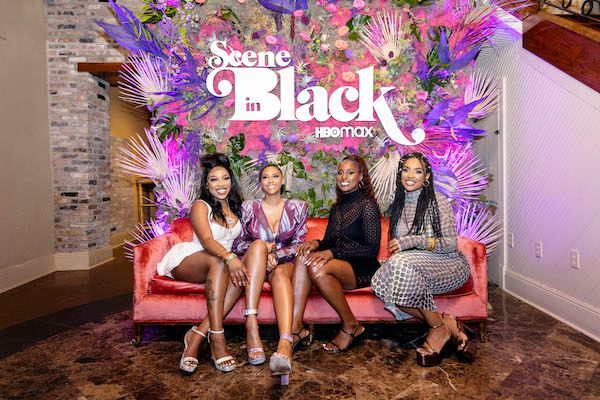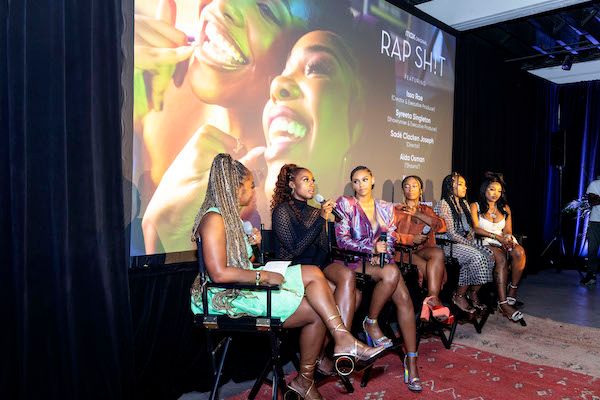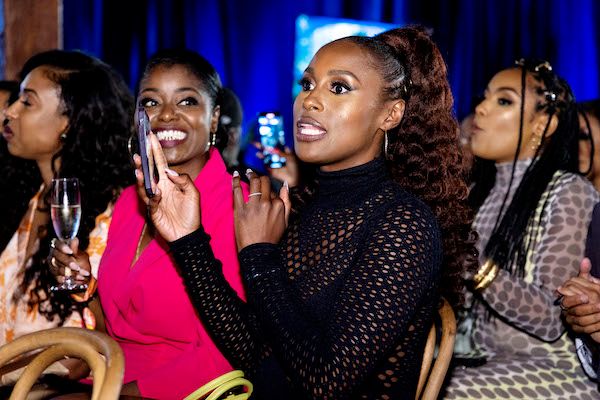 Fun times.
Last month...
Issa debuted "Rap Sh!t" at the 2022 American Black Film Festival (ABFF) in Miami and TheYBF.com was on the scene. 
"Coming to ABFF, and these memories that I have here, are what honestly inspired me to set the show in Miami. It really is a full-circle moment that this is debuting here," she said.
Go inside the screening held at the New World Center performance hall above. If you can't view the video, click here. 
"Rap Sh!t" premieres with two episodes on Thursday, July 21st at 9pm EST/6pm PST on HBO Max. The eight-episode season will continue with one episode weekly until September 1st. Will you be tuned in? We sure will!
Photos: Dorothy Hong for HBO Max