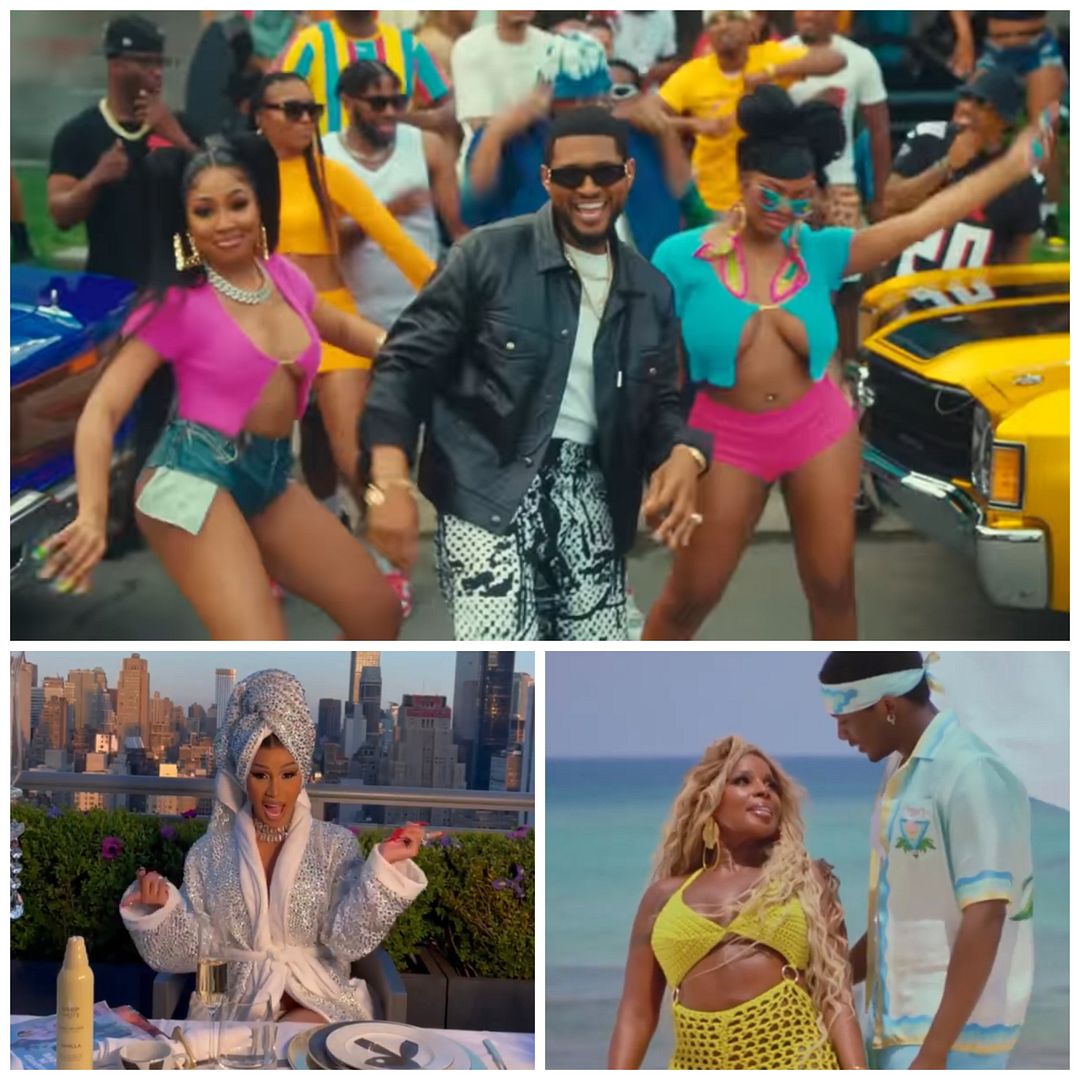 The summer time bops are rolling in! See the visuals for City Girls& Usher's"Good Love," watch Mary J. Blige get her "Stella" on in her new "Come See About Me" video starring "BMF" star Da'Vinchi, and listen to Cardi B's"Hot Sh*t" featuring Kanye West and Lil Durk inside…
It's time for some fun in the sun and artists are making sure to drop the tunes to vibe out to while doing so.
Taking back to the throwback Cascade days, the City Girls and Usher team up for the visuals of their new feel good track, "Good Love." The visuals were shot at the famous Cascades skating rink in Usher's hometown of Atlanta. In the Daps-directed video, everyone is living it up outside, playing spades, twerking, doing line dances, and roller skating. A whole vibe.
The swoops. The hoops. The daisy dukes. Yung Miami and JT took back to the late 90s/early 2000s with their overall looks for the visuals. Speaking of throwbacks, the track samplesLathunGrady's 1997 song "Freak It." Also, Miami pays homage to Miami King UncleLuke's 1992 track "Breakdown" when she raps:
"Sit me center stage and watch me do my thing/Like don't stop, get it, get it, ooh, ooh, hit it, hit it/," she raps. "Look back, swirl, twist it, we just some city b*tches."
Tap into their summer anthem below:
Speaking of Usher…
The R&B King put his talents on display for NPR's live Tiny Desk Concert, joined by backup singers EricBellinger and Vedo, who Usher referred to as his brothers.
"I'm hoping to just really have fun today. This office party that we're having," Usher said before singing his first throwback tune — "You Make Me Wanna." By the way, that track celebrates its 25th anniversary this year. Sheesh! We're getting old.
After serenading the small group of guests with his classic "Nice & Slow," he said, "Celebrating Black Music Month. This is Black magic right here, baby."
"This is a lot of fun and I really am happy to just celebrate the years of music and really celebrate my brothers," he continued. "I'm really happy to be able to share. I think that if life has taught us anything it's that we should share with each other, not just the music but to understand that life is a collaborative process and be able to lift each other up, stand with each other is all it's really about." 
Watch his full performance above.
As for new music...
Remember back in January when we told you Cardi B and Kanye West were working on something together? Turns out, they were likely discussing her new track "Hot Sht*t," which she just released. The track also features fan favorite Lil Durk. It's Cardi's first single of the year, following last year's "Up," which followed "WAP," featuring Megan Thee Stallion.
Earlier this year when Cardi & Ye were spotted in Miami, it was rumored they were shooting a new music video. It doesn't seem that's going to happen now as the Grammy Award winning raptress ran into "difficulties" with the video's rollout.
"I will not be releasing a music video with this song," she told her fans on IG. "I just don't feel like doing too much this time around. I'm just exhausted with everybody [and] I'm so tired of people not doing their f**king job correctly."
The hot mom explained how this song is different than her other tracks and isn't for TikTok.
"It's something that I feel like y'all haven't heard from me before," she added. "I feel like people is expecting a lot of slutness and blah blah blah. Y'all keep talking I keep making TikTok records and this is definitely not that. It's a fun great record. It's masculine [and] it's great for the clubs. It's great for the b*tches." 
Cardi later hopped on social media and said she couldn't wait to drop the song so she can go get a tummy tuck. Peep the clip below:
Well alright.
Take a listen "Hot Sh*t" above.
As for another new video…
Legendary songstress Mary J. Blige is living her best cougar life in her new video!
Taking it to the beach, the 51-year-old soulful songstress taps into her inner island gyal for her "Come See About Me" video. And it's giving "How Stella Got Her Grove Back" vibes.
MJB tapped fine a** "BMF" star Da'Vinchi as her love interest in the video where they turn up the seduction with Goodess wine and intimate moments on the beach. Get into it below:
In other news, MJB is gearing up for her one-night only performance at New York's United Palace, sponsored by Apple Music. It'll be exclusively streamed on Apple Music on July 27th at 7pm PST.
Also…
Fresh from her debut performance at the 2022 BET Awards, breakthrough R&B superstar Muni Long releases the highly-anticipated follow-up EP to her 2021 debut, Public Displays of Affection Too.
The 5-song EP, released via Muni's own Supergiant Records and Def Jam Recordings, features "Baby Boo," her new summertime anthem featuring Saweetie, as well as the new singles "Pain" and "Another."  Just in time for those chill summer nights.
Def downloading.
Photos: Instagram