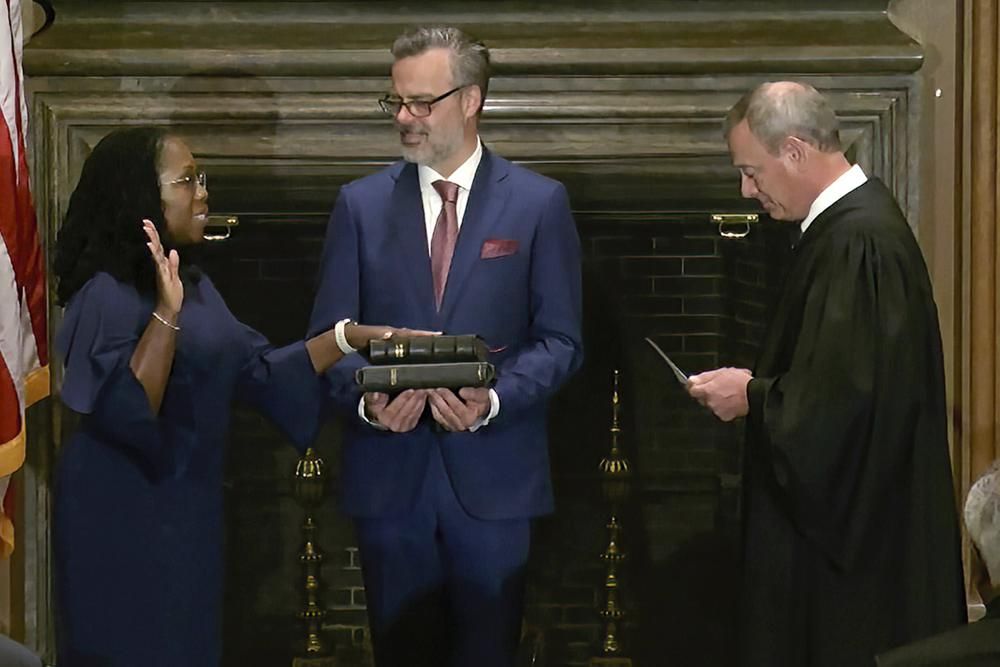 It's official! Ketanji Brown Jackson was just sworn in as the first Black female justice to serve on the U.S. Supreme Court! Celebrate inside….
The United States has a new Supreme Court Justice!
Ketanji Brown Jacksonwas sworn in to the Supreme Court today, making HERstory as the first Black woman on the nation's highest court.
President Biden nominated the 51-year-old U.S. appeals court judge to become the 116th associate justice to succeed Justice Stephen Breyer, for whom she clerked. The 83-year-old judge - who is considered to be the most senior jurist in the court's three-member liberal wing - announced in January he has plans to retire this Summer.
And trust, she didn't get the nomination simply because she's a Black woman. The American Bar Association, which evaluates judicial nominees, gave Judge Jackson its highest rating, "well qualified." And multiple elite organizations as well as hundreds of black deans of law schools, judges and lawyers, signed letters to Congress confirming her pristine qualifications, urging the Senate to confirm her expeditiously.
On April 7th, she was confirmed by the Senate in a 53-47 vote.
Justice Jackson recited two oaths required of Supreme Court justices, one administered by Stephen Breyer and the other by Chief Justice JohnRoberts. Watch Justice Jackson being sworn in below:
Not only is she the first Black female Supreme Court justice, but she's also the first justice in decades with any significant experience representing criminal defendants since she previously served as a federal public defender.. The last justice with any real experience as a defense lawyer in criminal cases was Justice Thurgood Marshall, who is the first African American justice to serve on the Supreme Court of the United States
Also, it's the first time in judicial history that four women will serve together on the nine-member court. She joins Justices SoniaSotomayor, Elena Kagan and Amy Coney Barrett.
"Although we celebrate her today, one Black woman or a cohort of Black women can't save this democracy alone. We are a piece of it and we are doing our work, our part. She's going to forever reshape and shape that court. But she's just a piece of the work that needs to happen moving forward,"saidGlyndaCarr, president of Higher Heights for America.
Social media has been LIT UP with congratulatory messages to our new Justice:
Today is a beacon of light & a momentous occasion for our country & for little Black girls everywhere as the first Black woman is sworn into the Supreme Court.

Congratulations, Justice Jackson. Amid the darkness, we will always rise.

— Congresswoman Ayanna Pressley (@RepPressley) June 30, 2022
The United States of America is better today because of you: Justice Ketanji Brown Jackson. pic.twitter.com/IdXXK1eSbo

— Sen. Cory Booker (@SenBooker) June 30, 2022
Amongst all the harm and pain being caused, let's take a moment to celebrate the wins.

Congratulations, Supreme Court Justice, Ketanji Brown Jackson. pic.twitter.com/PZ0jrdsta2

— Frederick Joseph (@FredTJoseph) June 30, 2022
Judge Ketanji Brown Jackson has officially made history by becoming the 1st Black woman to be sworn in as a Supreme Court Justice! I am overwhelmingly proud to experience this well-deserved and powerful moment! #BlackExcellencepic.twitter.com/bkWkIFZfhP

— Ben Crump (@AttorneyCrump) June 30, 2022
Today we celebrate a monumental moment in history. Ketanji Brown Jackson, we congratulate and thank you for your dedication to this country. You are an inspiration to all girls to persevere. #ketanjibrownjackson#scotus#supremecourt#blackgirlmagicpic.twitter.com/2rFNN6arYT

— Rep. Stacey Plaskett (@StaceyPlaskett) June 30, 2022
Happy Justice Ketanji Brown Jackson day! pic.twitter.com/murbOFtli0

— Chanteezy The Real (@iamchanteezy) June 30, 2022
As Justice Ketanji Brown Jackson takes her seat on the Supreme Court, our nation takes an historic step toward realizing our highest ideals.
 
Amid this Court's cruel assault on Americans' health, freedom and security, she will be a much needed force for equal justice for all.

— Nancy Pelosi (@SpeakerPelosi) June 30, 2022
I'm thrilled to see Justice Ketanji Brown Jackson sworn in today as the first Black woman to serve on the Supreme Court! As a former public defender, she'll bring an invaluable perspective to the bench. I also want to thank Justice Breyer for his extraordinary public service. pic.twitter.com/m9EgTPlhRq

— Elizabeth Warren (@SenWarren) June 30, 2022
"I stand on the shoulders of so many who have come before me,"- Supreme Court Justice #KetanjiBrownJacksonpic.twitter.com/WM5UaJ5ibC

— Black Lives Matter (@Blklivesmatter) June 30, 2022
During her speech at the White House after her historic confirmation she said, "It has taken 232 years and 115 prior appointments for a Black woman to be selected to serve on the Supreme Court of the United States. But we've made it. We've made it. All of us." 
Yes we did. CONGRATS Justice Ketanji Brown Jackson!
Photo: Supreme Court via AP