*Shaking & crying* It's almost here y'all!  The newest iteration of one of our favorite on-screen black love stories, The Best Man, just got a premiere date.  We've got ALL the deets on "The Best Man: The Final Chapters" series and the very first official pics below.
Everybody's back!  In one of the two official photo releases, we see the fellas – Morris Chestnut, Taye Diggs, Terrence Howard and Harold Perrineau– sitting around the card table having a boys' night (above).  So it looks like the friendships are still in tact - at least that's how it SEEMS.
We'll get the full story when THE BEST MAN: THE FINAL CHAPTERS hits our tv screens this Holiday season.  Peacock just announced the series will premiere on December 22nd, and it looks like it's going to be worth the wait!
Wives Regina Hall and Sanaa Lathan are also returning, and it looks like their friendship is still strong as well in the second official pic just released:
Peacock dropped the details about what the series (which is at least 4 episodes though the final number has not yet been confirmed) will be giving for the   reunited star-studded original cast:
Based upon the eponymous Universal film franchise written and directed by Malcolm D. Lee, the series will catch up with Harper, Robyn, Jordan, Lance, Quentin, Shelby, Candace, and Murch as relationships evolve and past grievances resurface in the unpredictable stages of midlife crisis meets midlife renaissance. Cast: Morris Chestnut, Melissa De Sousa, Taye Diggs, Regina Hall, Terrence Howard, Sanaa Lathan, Nia Long and Harold Perrineau.
Malcolm D. Lee returns as the writer and Director (along with Dayna Lynne North of Loud Sis Productions and Dominique Telson for Blackmaled Productions).
We do know the cast is still filming, and they're currently shooting scenes in NYC:
Malcolm's already let a few series secrets out, too. Nicole Ari Parker looks to be joining the Best Man world:
As is vet Robert Townsend as a Director:
In their tropical location set of the Dominican Republic (where they filmed last month), it looks like a wedding will going down (Quentin's?!):
Earlier this week, Director Malcolm said they're in the final stretch of shooting while sharing an on-set photo with Terrence & Melissa:
It's been almost 10 years since The Best Man Holiday film and 23 years since the original Best Man.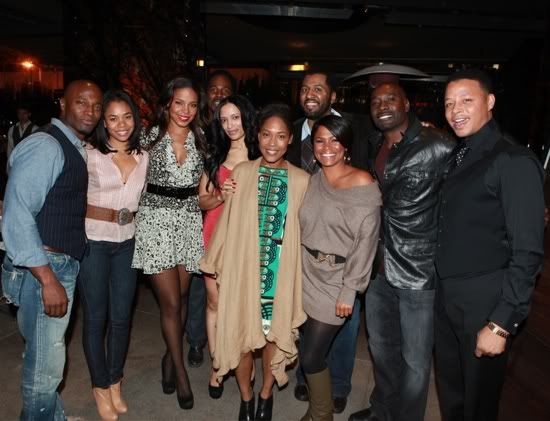 Some things never change.
Photos: Peacock/Getty