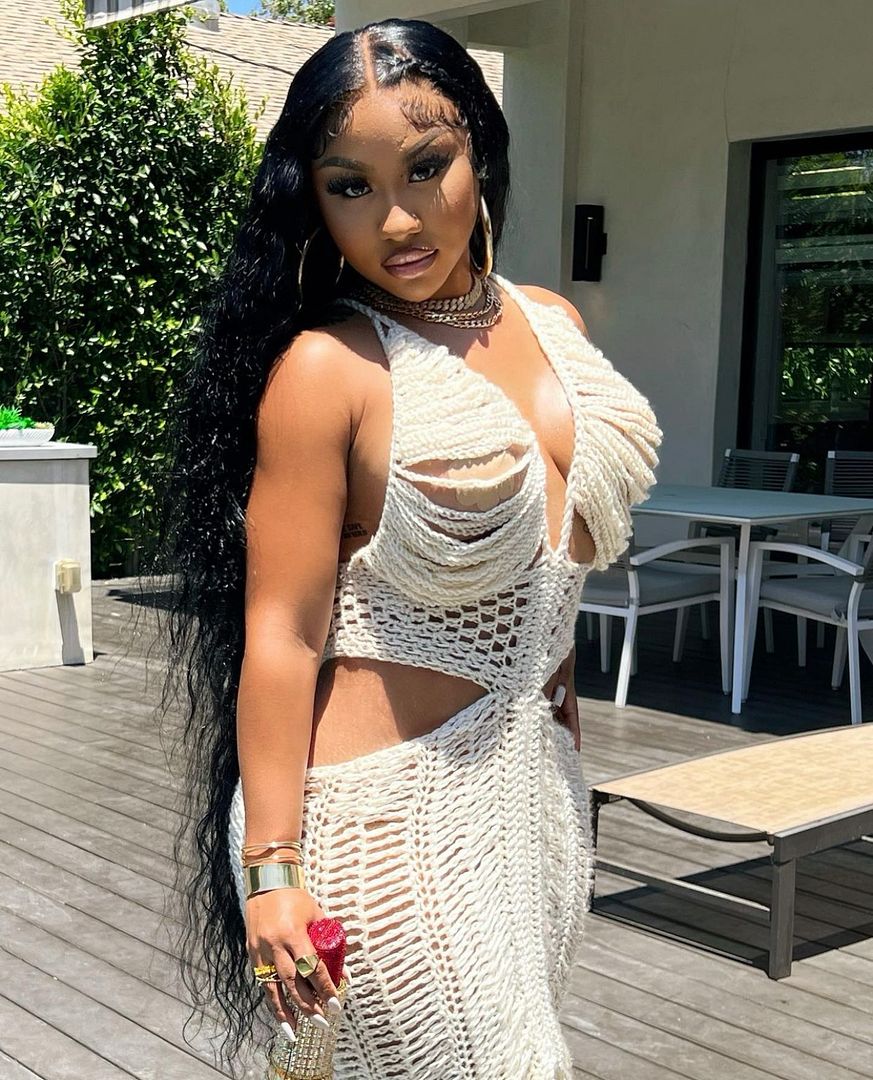 AriFletcher has been put on BLAST by fashion designer GiGiHunter over a dress she claims the social influencer never returned. See her receipts and Ari's response inside….
Social media influencer AriFletcher made her major red carpet debut at the 2022 BET Awards to dish deets on her new reality show.
The boss mom - who dates rapper Moneybagg Yo - hit the carpet with her co-stars and fellow chicks Jayda Cheaves, Dess Dior and Lakeyah. They are about to give fans a behind-the-scenes look at their day-to-day lives on BET+'s upcoming docuseries, "The Impact ATL."
On the carpet, Ari snapped it up in a cream cutout crochet dress with a mini train, paired with strappy sandals. Before hitting the carpet, she snapped it up outside and shared the pictorials on her Instagram. Once she uploaded the flicks, fans quickly hit the comments to let her know that she looked cute, however, the dress didn't really fit the occasion.
@slorefilms: "ari this look like a coverup for a bathing suit but it's real cute"
@shaylitx: "Girl it's not giving ari try again next year"
@mssboujiee: "Ari u be cute but I am so upset with this look for BET… who styled you ?!"
@keepitsmrt: "I hate this outfit but you look pretty always"
Then, we noticed a comment from fashion designer GiGi Hunter - owner of sexy knitwear company The GiGi Hunter Collection - where she revealed she made a dress for Ari and that she should have worn it on the carpet.
@gigihuntercollection: "She should've wore the one she had me make her. We need answers now @therealkylesister"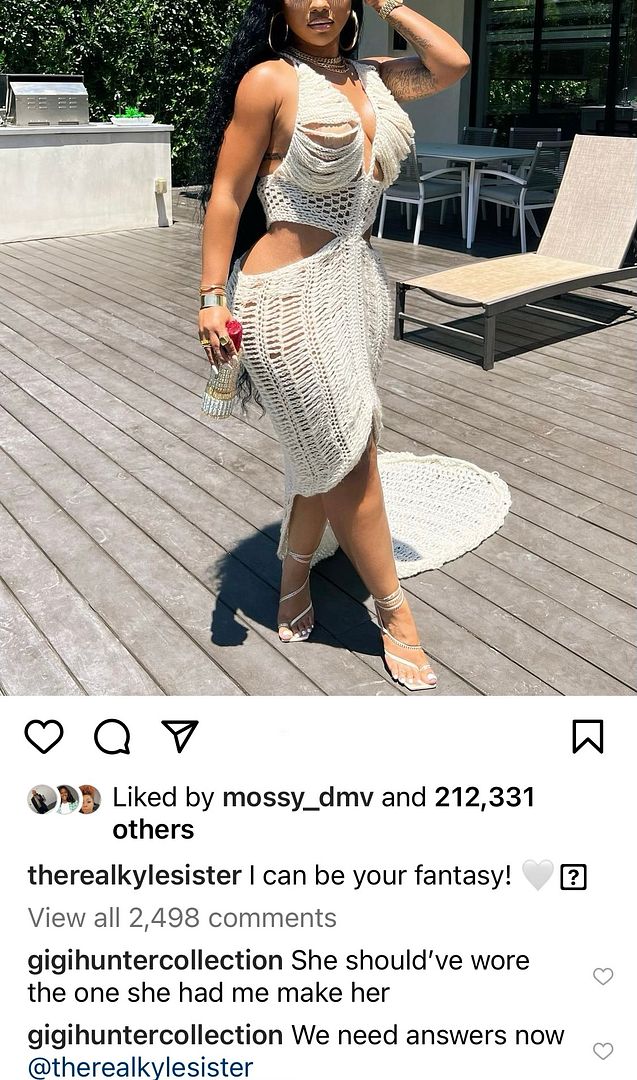 After posting in her comments, GiGi took to her IG Stories to explain what happened. The fashion designer - who has had celebs like Beyonce and Jada Pinkett-Smith to rock her pieces over the years - noticed Ari was wearing a dress similar to a dress she recently made for her. GiGi said the 26-year-old influencer hit her up to make a dress in exchange for social media promotion last year. GiGi handmade the dress and sent it off to Ari. However, Ari allegedly didn't hold up her end of the deal.
"@therealkylesister had me make her a dress in exchange for a post/tag – she ghosted me and kept the dress only to wear this fake knockoff of my brand LOL," GiGi wrote in her Instagram story."Somebody better tell herrr."
Peep the dress below: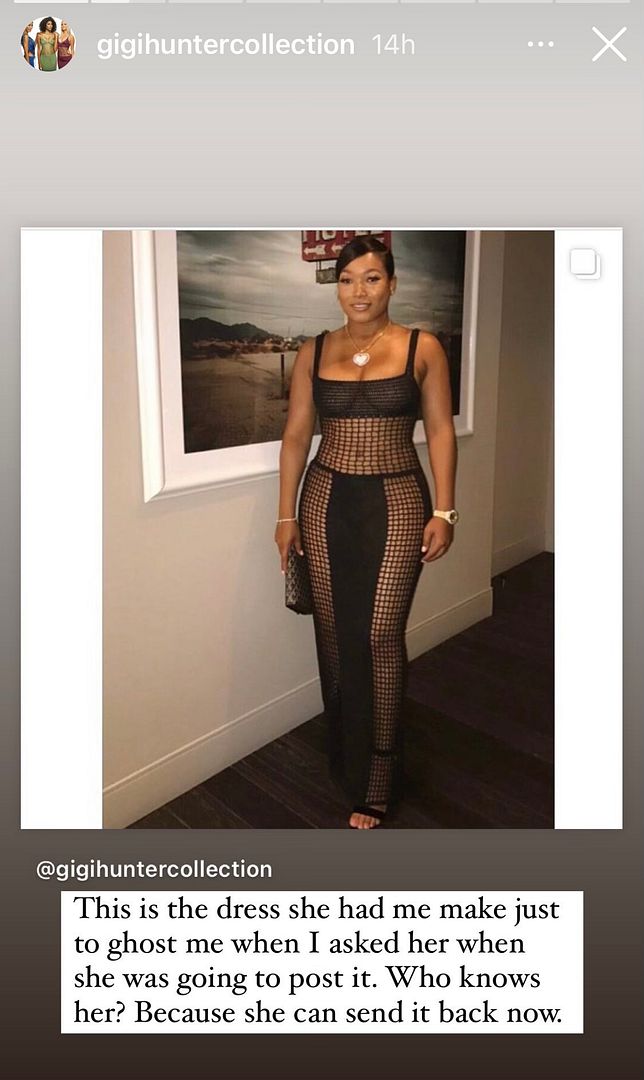 "This is the dress she had me make just to ghost me when I asked her when she was going to post it. Who knows her? Because she can send it back now," GiGi wrote.
Some time passed, so GiGi hit Ari up, asking her when she would wear the dress. Ari stated she had plans to go on vacation to the Bahamas and would wear/post the dress then. Two weeks passed, no post. GiGi hit Ari up and said she never received a response after Ari said she was going to the Bahamas. Peep her text receipts below:
GiGi's supporters began reposting her posts on their accounts, which she shared with her fans: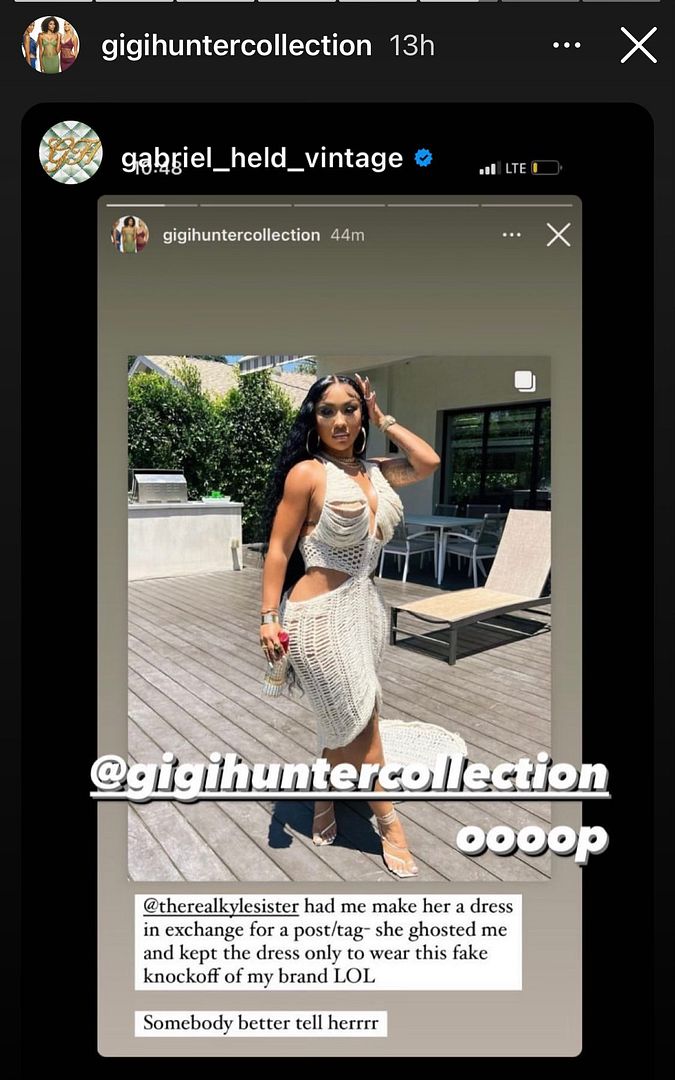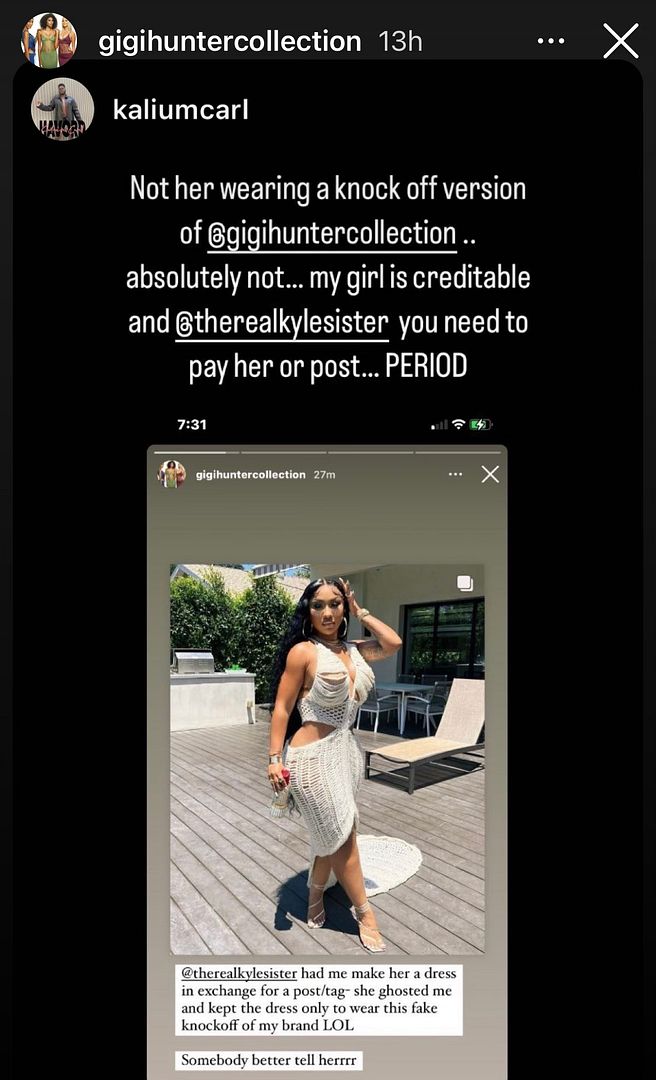 The Chicago native caught wind of her posts and responded on her IG Story: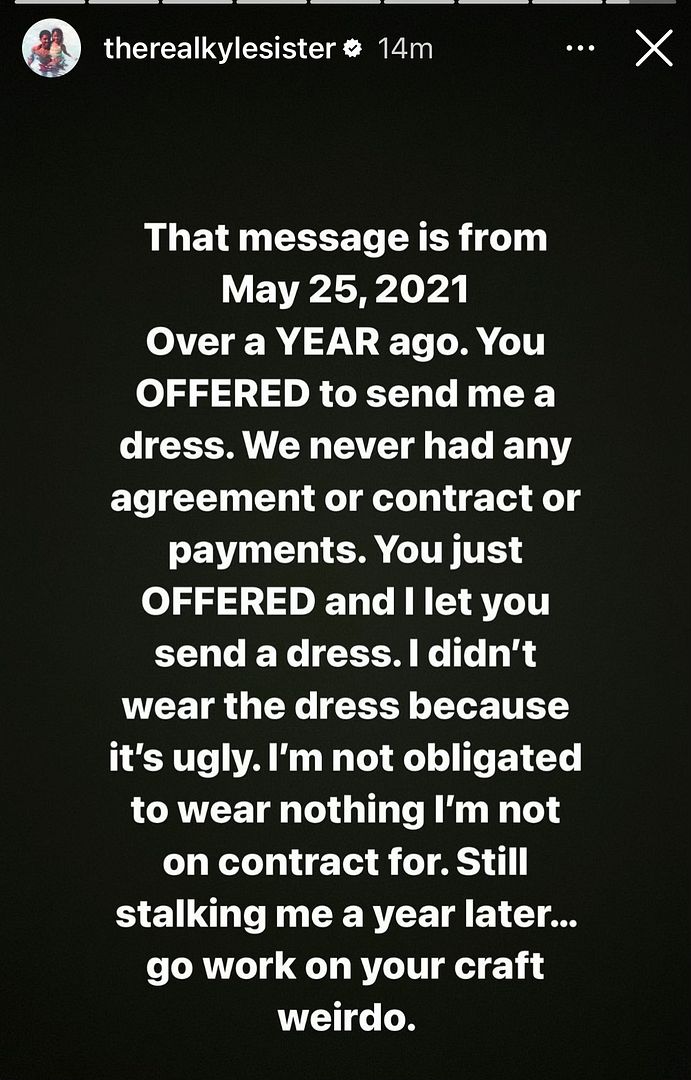 "That message is from May 25, 2021," Ari wrote."Over a YEAR ago. You OFFERED to send me a dress. We never had any agreement or contract or payments. You just OFFERED and I let you send a dress. I didn't wear the dress because it's ugly. I'm not obligated to wear nothing I'm not on contract for. Still stalking me a year later… go work on your craft weirdo."
GiGi responded, "Lmfaoo work on my craft when you had your cousin reach out to me for a free dress," along with crying laughing emojis.
"Everyone has their own opinion and that's okay. I vented out of frustration - I do not need the clout. At the end of they, my creations and my history in the game say enough. It's a lesson learned. Y'll be blessed," GiGi concluded.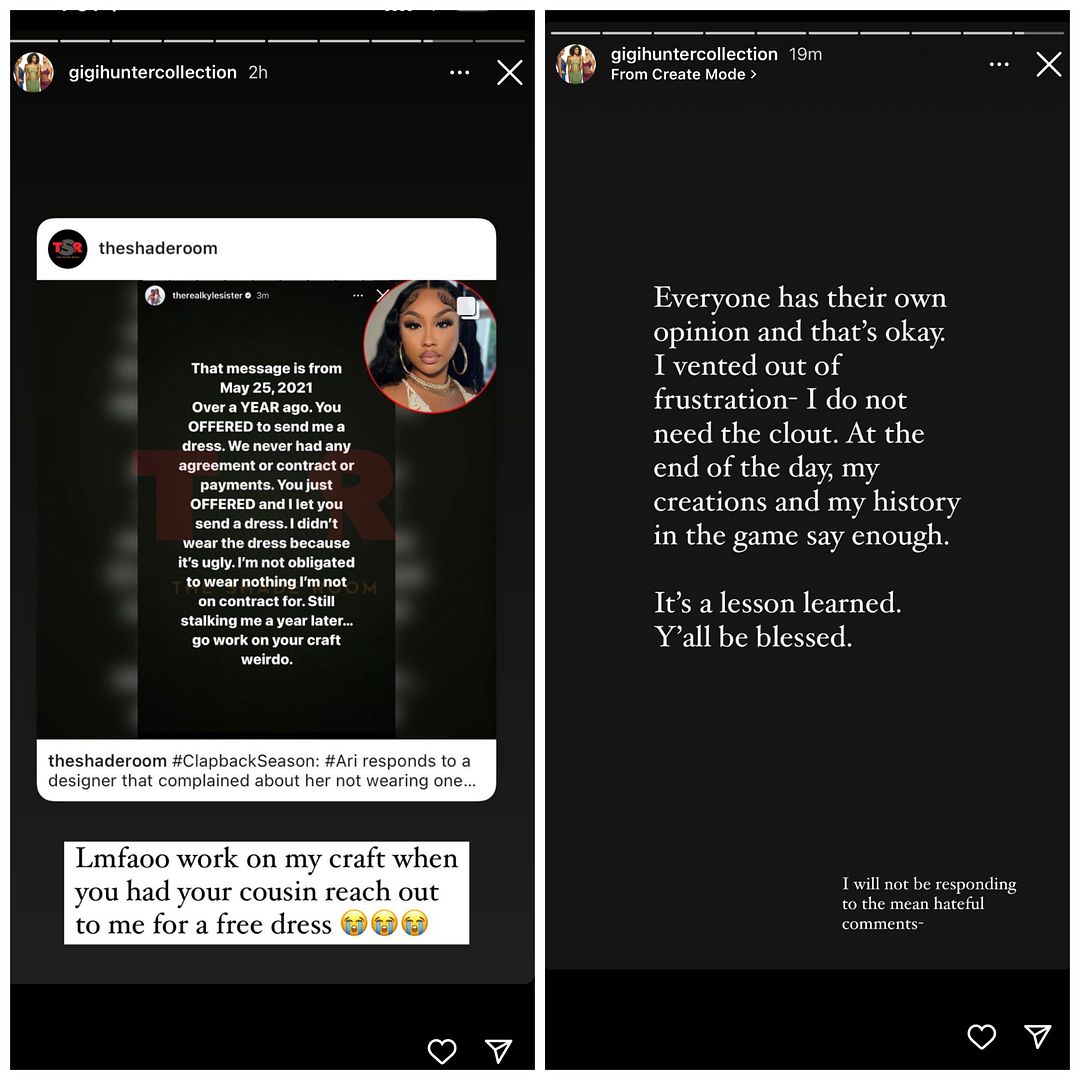 On Twitter…
All these dresses and islands talk… God trying to give me a sign to go on a damn vacation.

— KYLESISTER (@AriTheDon) June 28, 2022
Ari tweeted the drama must be a sign that she needs a vacation.
Also...
GiGi shared she's making her last handmade creations and will be done with it all in a year. Better get those orders in, STAT!
Photo: Ari's IG