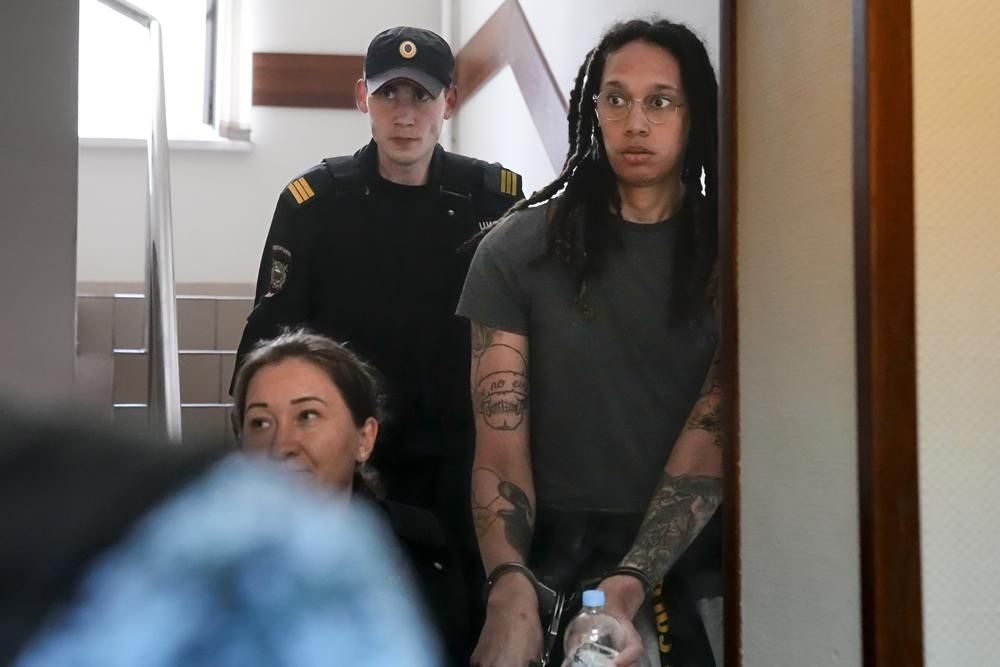 New flicks of WNBA star BrittneyGriner have surfaced as she appeared in a Russian court today. In a short court proceeding, a judge ordered the "wrongfully detained" U.S. citizen to be detained for the length of her trial, which is set to start Friday, July 1st. More inside…
WNBA star Brittney Griner has sat behind bars in a Russian prison for 130 days after she was detained when Moscow-area airport authorities reportedly found cannabis vape cartridges in her luggage on February 17th, a week before Russia invaded Ukraine. She was traveling to Russia to play in the league overseas during the WNBA's offseason.
Since Brittney's arrest, only one grainy picture of her holding up a white sheet of paper had surfaced.
Now, new pictures and videos of the seven-time WNBA All-Star shackled, and seemingly scared, have surfaced.
Also, a trial date has finally been announced.
The Phoenix Mercury center and two-time U.S. Olympic gold medalist, who the U.S. declared as being "wrongfully detained" - has been ordered to remain in custody for the duration of her criminal trial. The trial is set to start July 1st.
If convicted on charges of large-scale transportation of drugs, she could face a maximum penalty of 10 years in a Russian prison.
Per Brittney's lawyer, AlexanderBoikov, the trial will start July 1st, but it will begin with technical matters such as reading the indictment and reviewing case files. Her lawyer predicts the trial will last about two months. The NY Times reports: 
Mr. Boikov said that he expected the trial to take up to two months, depending on the court's workload. He also said Ms. Griner feels well and has no complaints about her treatment in the pretrial detention center.

"It is hot in Moscow, so she feels that too, especially while being transported to the court," Mr. Boikov said in a phone interview.
After the hearing, reporters caught a glimpse of Brittney as she walked through a hallway in the courthouse. She didn't say anything as she was escorted through the building in shackles.
And 40 min later the preliminary hearing is over. No comment from Griner. Her Russian lawyer says the judge extended her detention for the length of her trial. No date set. Curiously, no US embassy officials present for the hearing. #BrittneyGrinerpic.twitter.com/FSYprXjSgs

— Charles Maynes (@cwmiii3) June 27, 2022
Last week, Dmitry Peskov - spokesman for Russian President VladimirPutin - told NBC News' Keir Simmons that Brittney is NOT a political prisoner, despite the U.S. declaring she's being "wrongfully detained" last month amid Russia's unprovoked war on Ukraine. Oversight of her case was transferred to the State Department Presidential Envoy for Hostage Affairs, which should have launched more aggressive efforts to get her home.
"Why should we make an exemption for a foreign citizen?" he said. "She violated Russian law, and now she's being prosecuted," Peskov said. "It's not about being a hostage. There are lots of American citizens here. They're enjoying their freedoms … but you have to obey the laws."
Since the 31-year-old's arrest, Brittney's wife, CherelleGriner, has been blasting the U.S. government for not doing more to get her back home. Last weekend, Cherelle was expecting to hear from her wife on the couple's fourth anniversary (June 18th). However, the U.S. government fumbled the call, leaving her devastated.
"I was distraught. I was hurt. I was done, fed up," Cherelle Griner told The Associated Press in an interview, recounting how an anniversary she had eagerly anticipated was instead spent in tears. "I'm pretty sure I texted BG's agent and was like: 'I don't want to talk to anybody. It's going to take me a minute to get my emotions together, and just tell everybody I'm unavailable right now.' Because it just knocked me out. I wasn't well, I'm still not well."
According to reports, the couple had not spoken by phone the entire time she had been in a Russian prison, so Cherelle was eager to speak to her wife.
After the call never came through, Cherelle later learned from her wife's lawyers that Brittney actually tried to call 11 times over a period of several hours, dialing a number she'd been given at the U.S. embassy in Moscow, which the couple had been told would then patch the call through to Cherelle Griner in Phoenix. But each time, the call went unanswered because the desk at the embassy where the phone rang was apparently unstaffed on Saturday.
The State Department owned up to their mistake, releasing a statement that said:
"We deeply regret that Brittney Griner was unable to speak with her wife because of a logistical error." The department reiterated that it has no higher priority than the safety of Americans overseas and that it remains in regular contact with families of hostages and wrongful detainees."
It's not looking good for Brittney. According to reports, fewer than 1% of defendants in Russian criminal cases are acquitted. Also, unlike in the U.S., acquittals can be overturned!
ESPN's investigative reporter T.J. Quinn started a Twitter thread explaining what could possibly go down during Brittney's trail and the aftermath:
Brittney Griner is scheduled to start her trial Friday. Here's what experts and officials say you need to know:
1. This was absolutely expected.
2. She'll almost certainly be convicted and sentenced.
3. It's all part of the negotiations.
Here's why...
/1 https://t.co/cAOzsLJywn

— T.J. Quinn (@TJQuinnESPN) June 27, 2022
Do you think she'll get convicted?!
Photos: AP Photo/Alexander Zemlianichenko