Summer Walker just posted up new flicks that have fans speculating if she's pregnant again! The possible pregnancy news comes on the heels of her ESSENCE cover story where she shared she wished she had paid more attention to the type of person her daughter's father, London On Da Track, is before having his baby. Everything inside…
No more shy girl. Summer Walker is coming out of her shell, getting more comfortable with live performances, much to her fans' delight.  Y'all know she's known for sitting in a chair and doing just enough on stage.
Last night, he R&B songstress headlined the sold-out "A Hot Summer Night In LA" concert where she hit the stage alongside Ari Lennox, special guest Jazmine Sullivan and more. And it's obvious the Still Not Over It singer is more comfortable on stage.
Watch the 'Awkward Kween' serenade her fans with her vocals below:
Before hitting the stage, the 26-year-old songstress shared some photos of herself…
And fans quickly pointed out her questionable midsection.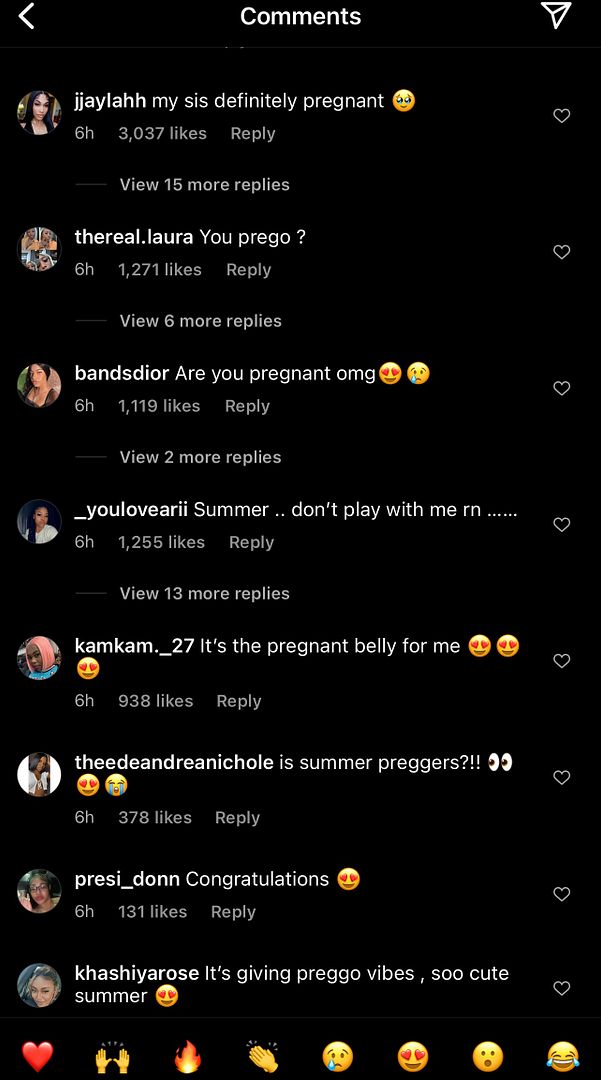 "It's the pregnant belly for me," one user wrote.
"Are you pregnant omg," another user wrote.
"Summer .. don't play with me rn ……," a fan wrote.
"is summer preggers?!!," a fan asked.
Hmm…IF she's pregnant, it'll be her second child….with the new baby likely conceived with her boyfriend Larry/LVRD Pharoh. Summer shares her daughter, Bubbles, with producer London On Da Track. They welcomed her in March 2021 and have been going THROUGH IT ever since. 
Speaking of London….
In the cover story for her newly released ESSENCE 2022 digital cover, Summer opened up about motherhood, and her split from London. The "No Love" singer bluntly told the publication she wished she vetted her child's father better.
"I wish that I paid more attention to the person I procreated with," she said. "It's still like you never really know anybody. Even how long you can be with people, you just never really know. People be in long-a** marriages, and they just switch up and you'll be like, 'Yo, what the f*ck?' So, I guess you can just never really know."
While what she's saying is true, London showed his true colors way before she got pregnant. It was evident with the way he treated his other babies' mothers who Summer often got into it with over him. As many have said previously, Summer thought he would treat her and her daughter differently, but she was sadly mistaken.
Although she and London stay at each other's neck, her 1-year-old daughter makes it all worth it.
"It brings you the most joy in the world. At the same time, it's really hard, it's really stressful, and it's really a lot of sacrifice. Sometimes, it's like, is it worth it? Then they smile and make your day, and the answer is yes."
You can read her full interview here.  By the way, she's set to make her debut at the ESSENCE Festival on July 2nd.
In other news…
Summer has been receiving backlash for posts she shared on her IG Stories. Fans are accusing her of using the overturn of Roe vs. Wade as a way to promote her show last night. First, she posted commentary about the Supreme Court's ruling and declared the United States is under a dictatorship:
"So, I guess we should say goodbye to the rest of our natural born rights lol, since this a dictatorship & all," she wrote. "Imagine doing alllll this just to try and keep the white population from declining as it has been so rapidly lol," she said.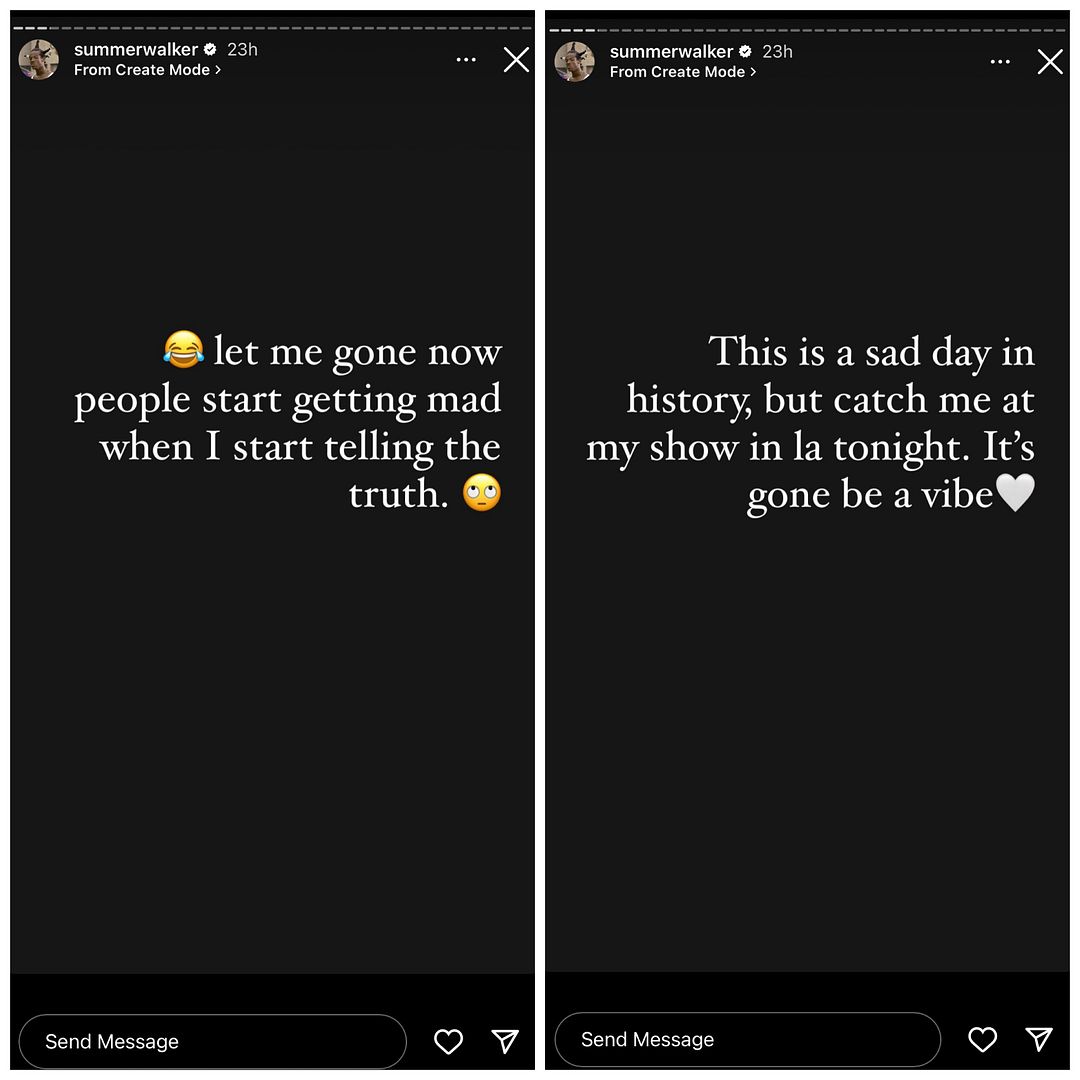 "Let me gone now people start getting mad when I start telling the truth," she continued. "This is a sad day in history, but catch me at my show in la tonight. It's gone be a vibe."
Folks quickly responded:
summer walker is a strange person. imagine using the overturning of the right to safe abortion to promote your tour? weird as FUCK.

— ً (@backtoIifes) June 24, 2022
Summer Walker said sorry you lost abortion rights but come to my show and let's vibe. Maybe London is not the villain herehttps://t.co/rPxC4ZQ1DX

— O Cristo Redentor (@chelseasexual) June 25, 2022
Summer Walker really used abortion ban to promote her show pic.twitter.com/CgJsTqf9VV

— Lee (@LeeSmithss) June 24, 2022
However, some of her fans have come to her defense, sharing that she has always talked about abortions and now being dragged for speaking out:
I feel sorry for Summer Walker. she's posted about abortions more than ANY celebrity & one weirdo posts her LAST story post about her show tonight & now y'all running with it. she really trending over y'all false ass narrative….

— D a s i a (@donkaa_boot) June 25, 2022
summer walker's been one of the only celebs to openly talk & shed light on the abortion ban but leave it to twitter mfs to take shit outta context

— nanaaa. (@esmeemina) June 25, 2022
One thing y'all not finna do is act like Summer Walker hasn't always been very vocal when it's come to abortion rights…

— Spazz City (@kennxken) June 24, 2022
Thoughts?
BONUS:
Summer Walker brought out Omarion at her concert and he sang it how it was post to be last night pic.twitter.com/57lqYXOEpS

— Bri (@bmichh) June 25, 2022
Following his R&B Verzuz "L" against Mario, Summer brought out Omarion during her set. Peep the clip above.
Photos: Summer's IG