Florida A&M University's Marching "100" was selected to open up for the Louis Vuitton Men's Paris Fashion Show. And they brought the house down! Watch their performance inside….
Well, this is one epic way to start a fashion show!
Florida A&M University's Marching "100" was selected to open up for the 2022 Louis Vuitton Men's Paris Fashion Show. And it was EVERYTHING.
#LVMenSS23
"Strange Math". A cinematic prelude to the next #LouisVuitton Men's show explores the relationship between imagination and reality. Watch the fashion show live on June 23rd at 2:30 pm (CEST) on Twitter or at https://t.co/ohg72TTDcFpic.twitter.com/EGTaAStNw5

— Louis Vuitton (@LouisVuitton) June 23, 2022
Louis Vuitton hosted its 2023 Spring and Summer Men's Fashion show in the Cour Carrée of the Louvre Museum in Paris, France, inviting the FAMU Marching 100 to kick things off. FAMU is the nation's largest historically black university by enrollment, located in Tallahassee, the Florida state capital.
Decked out in their trademark orange and green, the FAMU Marching 100 made sure to bring some of the HBCU experience to the runway. The performance opened with a mini dramatic movie where the first model of the show is seen going into different rooms with different scenarios, before he ends up on the rood surrounded by the Marching 100. The model hopped on a spaceship before blast off, which kicked off FAMU's performance.
HBCU GameDay breaks down the significance of the songs they performed as they made their way down a yellow, winding runway.
Performing "Get Up For the Rattlers" was a major shout out to Florida A&M University.  In the traditional form, they played the verse and chorus and then sang the second verse…right on the "yellow brick road."  The walkway for the Louis Vuitton Fashion Show appeared as the yellow brick road in the Wizard of Oz.  The long winding structure was made to accent the outfits worn by the models.  The band also performed "Mighty Rattler."
"Authenticity is really at the center of everything we're interested in," saidBenjiB, music director at Louis Vuitton Men's. "We don't reference things or emulate things. We go to the top, and that's why we came to you."
This isn't the first time the Marching 100 performed in Paris:
Former FAMU drum major VictorGaines was proud to see the band in Paris again.  He traveled with the Rattlers to Paris in 1989 for the Bastille Day Celebration.   

"When we went in 1989, we were there to do a job.  I didn't realize the magnitude of what we did until we got back.  When we got all the accolades when we got back it made you understand how special it was.  We weren't focusing on making history, we were there to do a job.  When we got back and realized that it went around the world.  When you're in it, you focus on doing the best job you can and not to mess up," Gaines said.
For current drum major JarvisRittman, going to France is a defining moment.
"I'm honored to be one of the members selected, not only to represent Florida A&M University but also America at the Louis Vuitton Fashion Show," said Rittman, a senior health science student, during a brief pause in rehearsals Friday afternoon. "It's a new experience for me being from Quincy, Florida. It's very new to me."  
Aww. Watch their performance below:
FUN FACT: FAMU grads helped choreograph Beyonce's Coachella performance. 
After the grand opening, rapper KendrickLamar performed as the models trekked the yellow runway in colorful LV pieces. Peep a clip of Kendrick casually performing "Rich Spirit" while sitting next to supermodel NaomiCampbell below:
Rich Spirit @kendricklamar@davefree@pgLang@NaomiCampbellpic.twitter.com/aGH6kiMvGW

— KENDRICK LAMAR BIBLE (@dakendrickbible) June 23, 2022
As expected, the show paid tribute to the late fashion visionary Virgil Abloh, who served as artistic director of Louis Vuitton's menswear collection since 2018. He was the luxury brand's first African-American artistic director. Unfortunately, he passed away in November 2021 after a private battle with a rare, aggressive form of cancer called cardiac angiosarcoma. He was 41.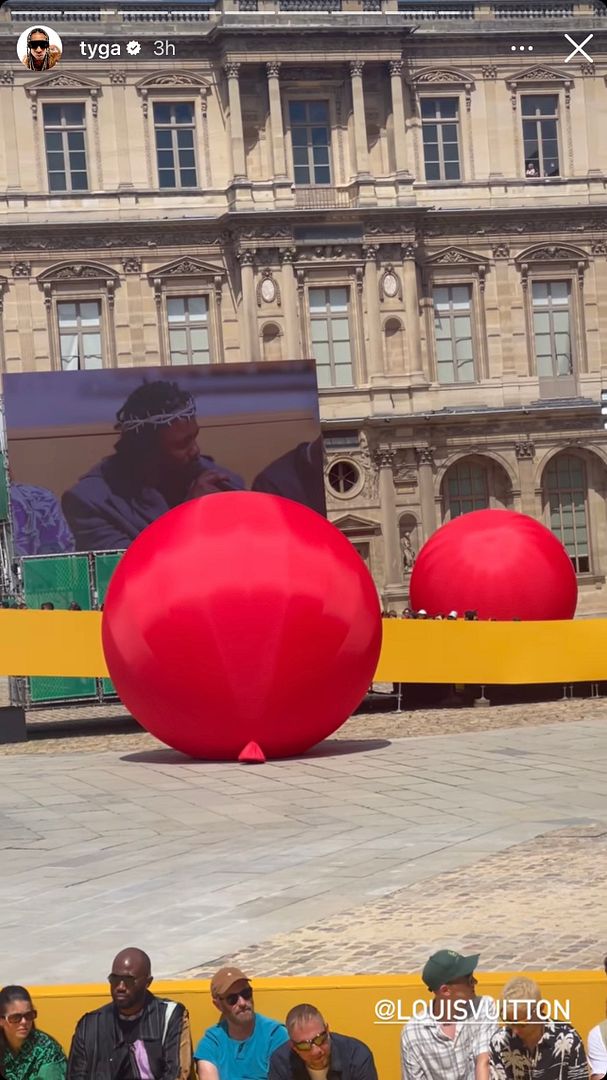 Sitting next to Kendrick was supermodel Naomi Campbell, who looked amazing, per usual.
Kendrick Lamar, Dave Free & Naomi Campbell made appearances at the Louis Vuitton Men's Spring and Summer 2023 show earlier today.

Kendrick also performed during the show, and paid tribute to Virgil Abloh. pic.twitter.com/cmndx1frtv

— OnThinIce (@OnThinlce) June 23, 2022
Rapper Tyga was also in the mix:
Fab times! #RIPVIRGIL
Photos: Francois Mori/AP