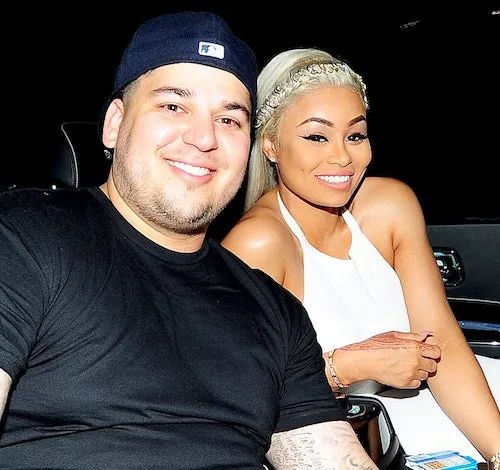 Blac Chyna and her daughter's dad RobKardashian were able to reach a settlement out of court to resolve the revenge porn lawsuit she filed against him. Deets inside…
After years of lawsuits, court hearings and restraining orders, it seems Blac Chyna and RobKardashian have finally resolved some of their issues.
According to reports, Chyna and Rob reached a last-minute settlement to avoid going to trial over Chyna's allegations that Rob illegally posted private, naked photos of Chyna on Instagram in July 2017. Jury selection was to begin today, but potential jurors were told they were no longer needed.
"The case in not going forward. It settled," a source confirms to Rolling Stone.
Details about the settlement are not immediately know.
Earlier this month, Rob's attorneys filed documents that said Chyna agreed to drop her revenge porn lawsuit IF he helped get her dropped from a separate lawsuit.
TMZ reports:
According to Rob, the deal between Chyna and himself was that he would get her out of that Jones lawsuit without it costing her a cent ... and she would drop the revenge porn case. Rob says he accepted that deal last month, but now Chyna's trying to get cute.

In the docs, obtained by TMZ, he says Chyna is threatening to push forward with a trial in the revenge porn case ... exactly what he had hoped to avoid when he struck the deal with her.

Rob says she needs to drop the case altogether, because he accepted the terms of the deal. As a result, he's asking a judge to enforce that contract. 
Chyna's lawyer, Bloom Firm attorney LynneCiani, reportedly said at a hearing last week that a financial settlement offer was on the table but had been rejected by Kardashian's camp. During that same hearing, Kardashian's lawyers tried — but failed — to get the judge to recognize and enforce an alleged agreement to settle the case based on terms discussed in an email in late May. Ciani said the terms were never accepted by Chyna, so there was never a deal. The court agreed. Womp.
"The reason Mr. Kardashian wants to settle this case, and I think it's important for the court to understand, is that he has a small child with Ms. White, a girl. And this is the type of trial that will have to deal with a lot of very sensitive issues. That is the reason Mr. Kardashian wanted to settle this case. He doesn't want in a year or five years, 10 years, his daughter to read about [the] fight between her parents that is going to involve sexually explicit images," Kardashian lawyer ToddEagansaid.
"There is a small daughter involved here. In fact, that's why plaintiff is moving forward with this case. She wants her daughter to know that it's not OK to have nude photos posted against your will, no matter who that person is," Chyna's attorney Lynne Ciani said.
The Lashed Boutique owner first sued Rob for revenge porn after he posted intimate, naked photos of her online during a social media rant. She then added alleged domestic violence claims and was successful with securing restraining orders against Rob. She also accused the Kardashian-Jenners - Kim, Kris, Khloe& Kylie - for working behind the scenes to have her E! Reality show "Rob & Chyna" canceled. A judge ruled in the Kardashians' favor back in April.
Do you think this is the end of their legal issues? 
Photo: Backgrid