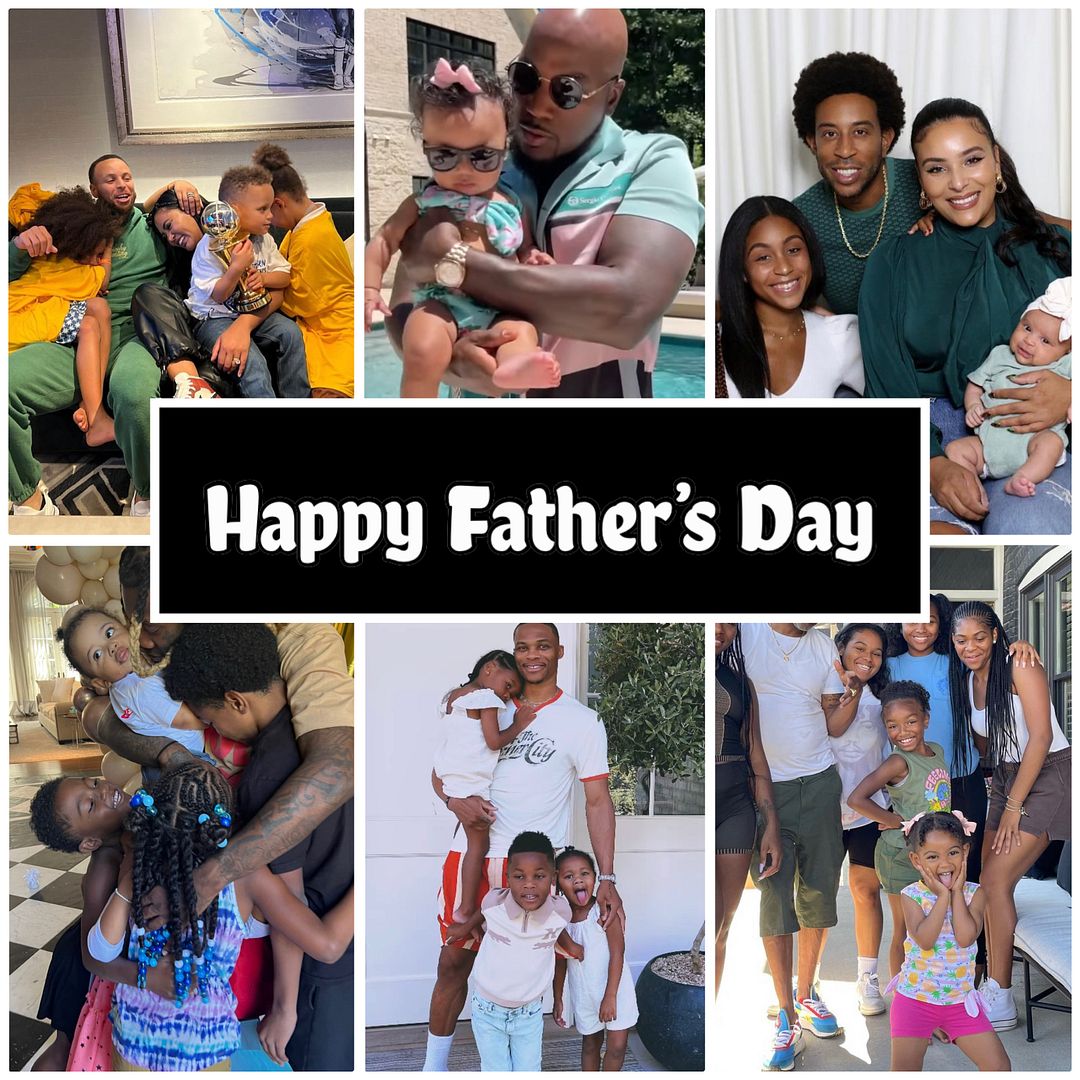 An NBA title, a new baby and a blended family day at the house! Steph Curry, Jeezy and Offset had an amazing Father's Day, celebrating with their kiddies. See what they were up to, plus more Father's Day tributes inside…
All the best dads were celebrated and praised for holding it down for their kids and family for Father's Day 2022. Several celeb dads were home with their kids to celebrate, making precious memories they'll cherish forever.
Cardi B and Offset invited several of their family members over for the weekend to turn up for Father's Day. All of Offset's children were there to shower him with gifts and to wish him a Happy Father's Day. His kids - Kody, Jordan, Kalea, Kulture& Wave - gifted him with cards, hugs and kisses as Cardi filmed him opening his gifts. Huge balloons in the foyer of their mansion spelled out "Happy Father's Day."
In the kitchen, Bardi whipped up some good eats to surprise Offset with breakfast in bed. After his kids gave him his gifts, the Grammy winner cooked up some oxtails and rice, as well as homemade margaritas. Yum. She also gifted her hubby with a luxury watch.
Watch the festivities below:
Adorbs.
Golden State Warriors superstar StephCurry probably had the best Father's Day ever. Days after winning his 4th NBA title, Steph - who is the best 3-point shooter of all time - spent Father's Day with his three children, Riley, Ryan and Canon, as well as his wife, AyeshaCurry.
Mrs. Curry posted a Father's Day tribute to her NBA star hubby along with pictures of him playing with their kids. 
 "Happy Father's Day my love!!! You are an angel on earth and we love you beyond measure! @stephencurry30," Ayesha wrote. Peep the pics above.
Also… 
New dad again Jeezy turned up with daughter Monaco Mai Jenkins for their first Father's Day celebration together. Jeannie Mai Jenkins shared flicks from their Father's Day get together where Jeezy and Jeannie's dads were also in attendance.
"Brought into this world by my Bố who taught me gratitude and perseverance, into the arms of my protective King who shows me peace in fatherhood, raised by the definition of loyalty and love that is the one and only Pops. My heart is full. Happy Father's Day everyday," she wrote.
NBA players Chris Paul and RussellWestbrook were celebrated with special video tributes on Father's Day from their respective wives, JadaPaul and NinaWestbrook:
#GirlDads Ludacris and MikeEpps snapped it up with their gorgeous daughters for Father's Day:
"Happy Father's day to the best girl dad! We love and appreciate all that you are, all that you do for our family," said Luda's wife, Eudoxie."This picture is in the back of the new book "Daddy And Me And The Rhyme To Be." Peep Baby Oyali's smile in the pic. #daddyandmeandtherhymetobe"
We hope all the outstanding YBF dads had a Happy Father's Day! Swipe through our gallery below of YBF Dads celebrating Father's Day!
Photos: Instagram