Rebrand? New era? Beyonce has removed all of her profile pictures from her official social media accounts. Also, there's a placeholder image for her seventh studio album on her official website. Is the Queen making a musical return? Fans seem to think so. More inside…
Listen, you better make sure your wig is glued or sewed down TIGHT because Beyonce may be gearing up for….something.
The BEYHive is in an uproar after Beyonce hopped online to delete some things from her personal accounts. Yesterday, Mrs. Carter removed her profile picture and banner images across Instagram, Twitter, and YouTube, causing the Hive to go into an absolute frenzy as they speculate what's to come. There's a trend with musicians/celebrities removing their profile pictures ahead of a rebrand of some sort.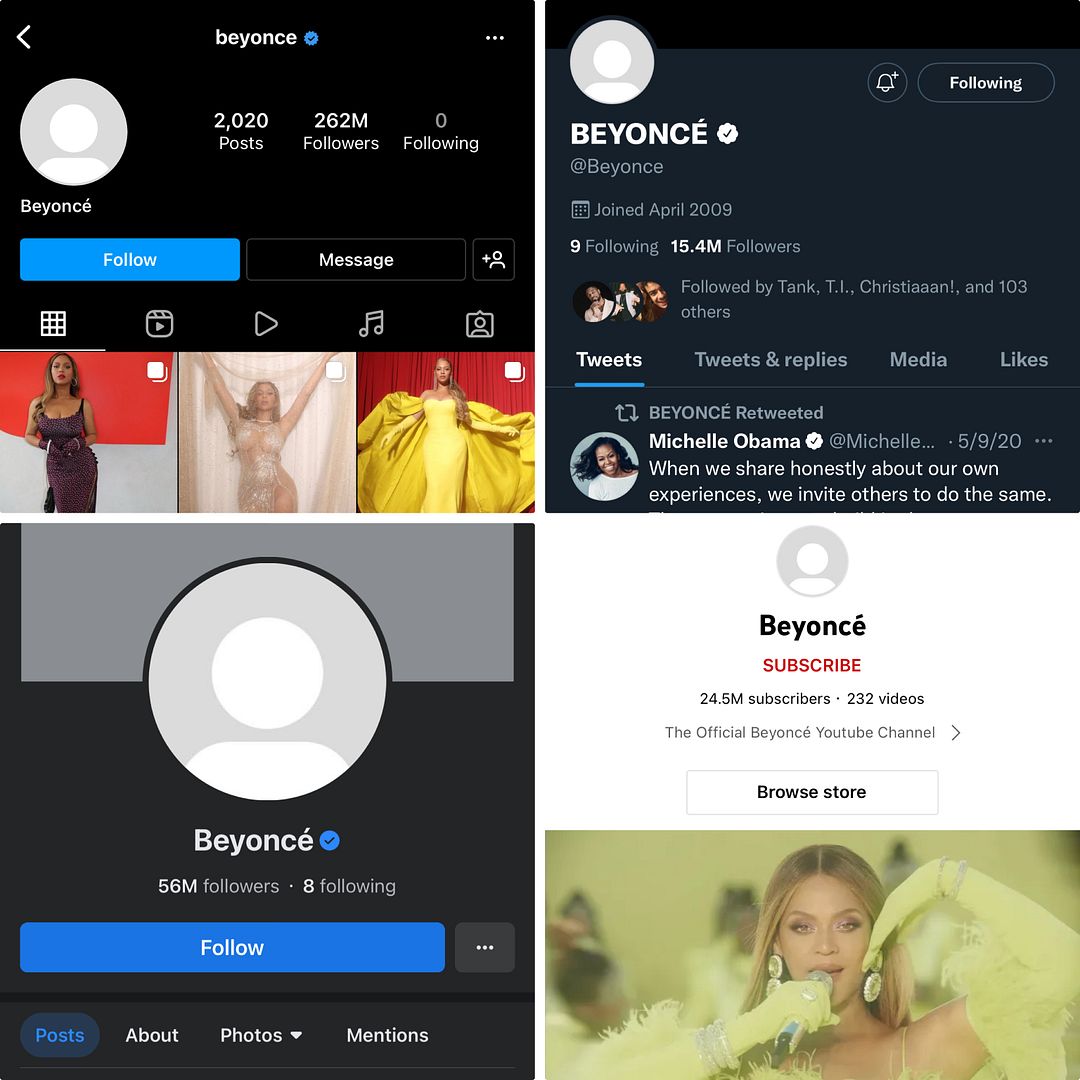 Naturally, fans believe the Queen is gearing up to release new music, as it has been six, long years since the vocal powerhouse has blessed her followers with new tracks. She did something else that hints at new music is a page on her website.
When you go to Bey's official website and search today's date, June 11, you see a place holder image for "B7," her seventh studio album.
When you click the image, it takes you to this page:
It's a blank page with the words, "THIS PAGE IS NOT A THING. TRY AGAIN," written on it. When you click on AGAIN it takes you back to the home page.
— BEYTHOVEN (@beyonceparkwood) June 11, 2022
It's worth noting Bey wiped her accounts in 2016 before she released "Formation" a day before her Super Bowl performance. She then announced she was heading out on her fifth world tour.
We also noticed Bey's most popular fansite (@BeyLegion) has a new layout:
Needless to say, fans are losing it over the possibility of new music. Some other Hive members believe she's going to release something in relation to her IVY PARK clothing brand, while others think she's just messing with all of us. Peep the reactions below: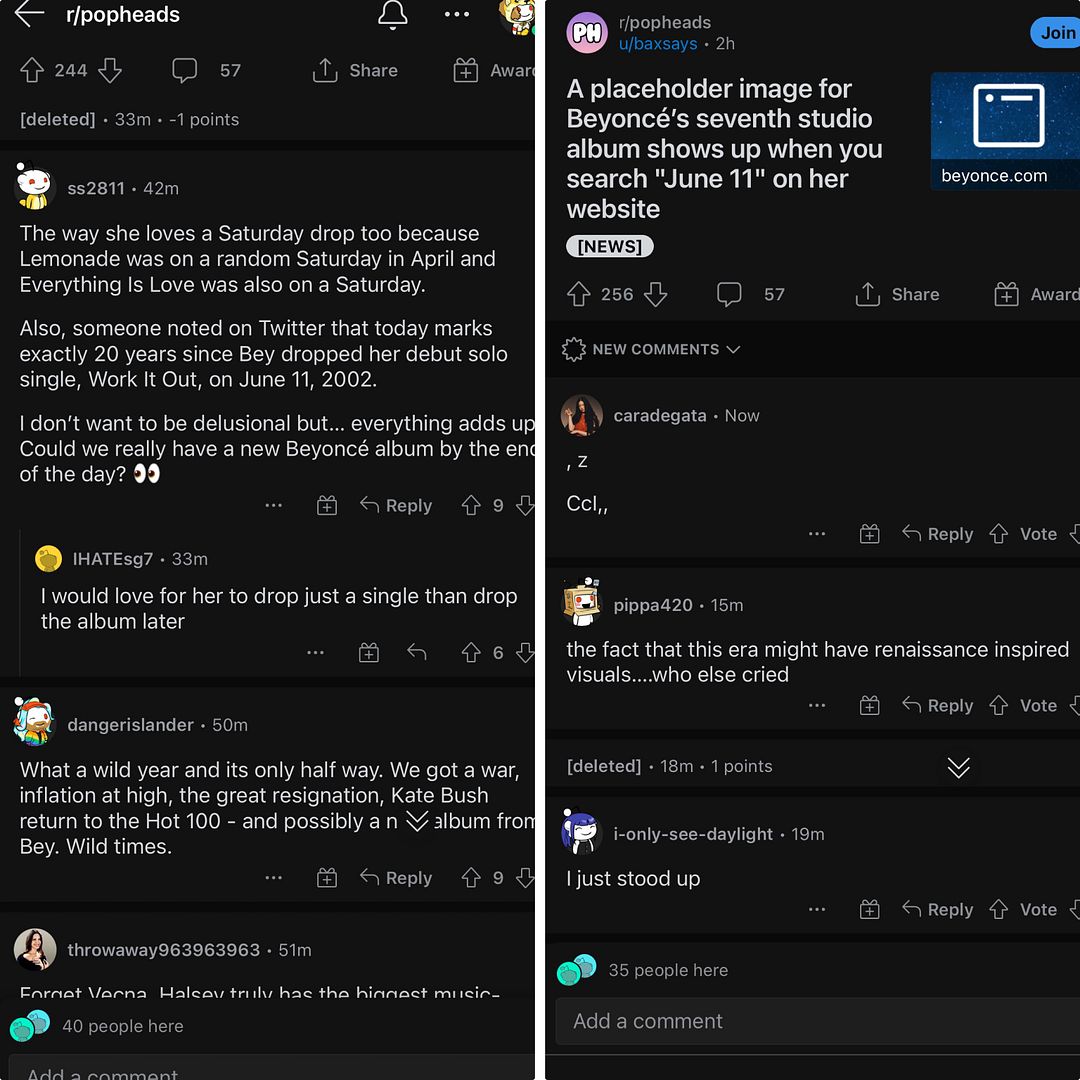 Beyoncé is coming #beyonceisBACK#BEYONCEISCOMING#beyoncepic.twitter.com/bSYPJzwlfL

— Posh Spice (@HumbledSnob) June 10, 2022
Beyoncé was not joking when she said "I stopped the world. World stop."

The way I was enjoying tf out of my show and my TV is now completely turned off. pic.twitter.com/rLm3APMdWG

— ty. (@TKing_20) June 10, 2022
The hive as soon as news broke of Beyoncé deleting her avi's on her socials :#BeyonceIsBack
pic.twitter.com/QNzdoJd0c3

— MALIK. (@MalikThaElite) June 10, 2022
twitter: "BEYONCÉ IS COMING"
beyoncé: pic.twitter.com/DJ4eLLe7DU

— (@suly0nce) June 10, 2022
*Beyoncé deletes her profile pics*

Us: BEYONCÉ IS COMING!!!!

Beyoncé: pic.twitter.com/xwQMO7cflL

— Meech (@MediumSizeMeech) June 10, 2022
Santana dropped that song with the Crazy In Love sample and Beyoncé removed all her profile pictures. As a street nigga, I know what that means.

— Yennifer (@queenyennifer_) June 10, 2022
Beyoncé this bullshit you're doing's not healthy for anyone!!! #BeyonceIsComing#Beyonce#beyonceisBACKpic.twitter.com/9bA2K1jDga

— Kike me dicen... (@KikePerezVega) June 10, 2022
Sometimes I think Beyonce does shit to just shake up the world. Like she took them pictures down and went to sleep.

— Mikelle Street (@MikelleStreet) June 10, 2022
Beyoncé watching us gag and scream knowing she's gonna release the Ivy Park Pride collection pic.twitter.com/1dwlTZc1XA

— Lloyd (@thole_2298) June 10, 2022
Do you think #BeyonceIsComing?! If so, what do you think she's releasing?
Photo: Beyonce's IG