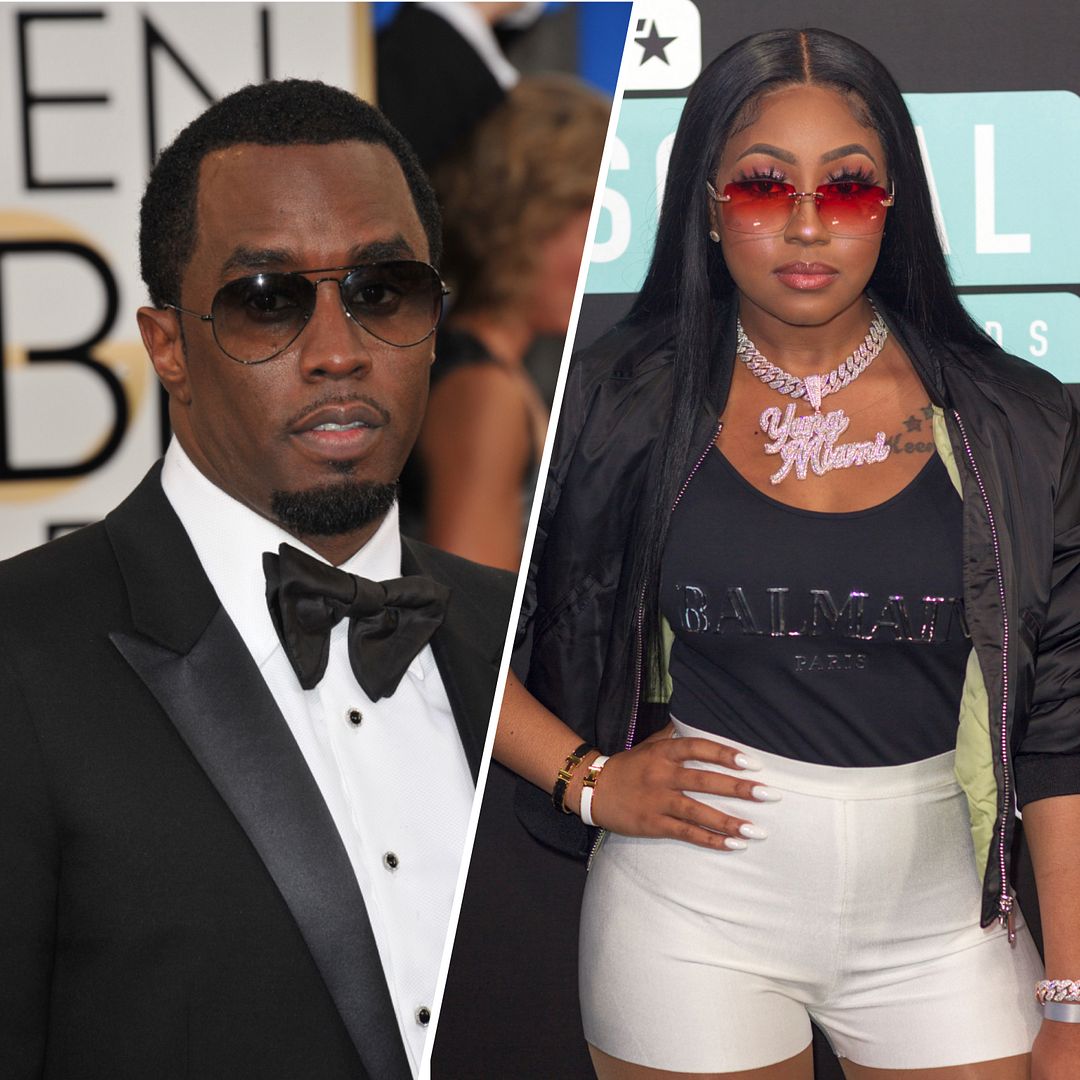 Diddy appears on Yung Miami's new podcast, "Caresha Please," as her first guest. And if you thought they were an unlikely pair, you may be surprised after seeing how much chemistry they have. Go inside for deets on their official relationship status, twin talk, fatherhood after Kim Porter's death and much more inside….
The City Girls are up!
Yung Miami aka Caresha is expanding her empire with a brand new podcast, "Caresha Please," which will air on REVOLT TV. And, of course, she had to bring in a special guest for the premiere - Revolt TV founder, Diddy "Love" Combs.
The "Top Notch" rapper put the TV network honcho in the hot seat, grilling him with hard-hitting questions about love, marriage, sex, fatherhood, and more.
As you know, rumors that the City Girls rapper and the Hip Hop mogul - who she dubbed "Mr. Billionaire D**k" - are dating have been swirling for almost a year after they were all boo'd up at QC honcho Pierre Thomas' Black Ball last year.
And they did the same this year, proving they are still on good terms following that "love triangle" drama with Diddy's longtime side chick Gina Huynh.
Keeping it "real, raw, and uncut," Caresha asked Diddy - straight up - about his relationship status.
"I'm single, but I'm dating," he said. "I'm just taking my time with life. To be honest, just after my loss, losing Kim, losing Cassie, romantically I needed a time out. I just needed to be single and to be free."
"So what we is[sic]?," Caresha asked.

"We date," he responded. "We're dating. We go have dates. We're friends. We go to exotic locations. We have great times."
Is marriage on the table? Not exactly.
Caresha asked Diddy why he never got married and he said he "just wasn't ready" and that he never had a desire to get married. It seems Caresha thinks the same way because she also said she's not looking to get married.
"I don't have a desire to be married because if it's time for me to get the f**k on, I want to pack my sh*t and leave," she explained.
Does Caresha believe in love?
"I'm still young, so I'm not really focused on love," she said.
She admitted to loving someone to a fault and that if she was to fall in love now, it could hinder her career.
"Do I still believe in love?," she asked. "Kinda, sorta, but n****s aint sh*t," she quipped.
Later in the conversation, the Bad Boy founder asked the Miami raptress for an update on her relationship status.
"I'm dating," she responded. "I'm having fun, living my best life. Doing what the f**k I want.

Then she added, "I'm in an entanglement. I feel like…I'm on my Jada sh*t. I'm just having fun. I'm just acting bad," she said.

"As long as you're laughing. As long as you're having a good time, that's what it's all about," Diddy responded.

"I"m just trying to get the bag," she said like a true City Girl.
When asked why he's "f***** with a City Girl," he responded:
"I mean because you're authentic. You're like one of the realest people I've ever met and you're authentically yourself. You're a great mother and a great friend. We just have a good time," he said while smiling.
When Yung Miami dropped her single "Rap Freaks" last year, one of her lyrics went viral for the way she meshed two words together to make them rhyme as well as the Diddy reference.
She rapped,"I like bad boys, no h*e shit, Diddy, let me put it in your face like them roaches. And put yo' rich a** to sleep, buenas noches."
The line was in reference to a story Diddy shared about how he was once awakened to roaches crawling all over him before he became rich and famous. At first, Diddy said he was upset with Caresha because she was poking fun at a traumatic time in his life.
"First of all, I was mad at you because that was a real traumatic story," he said before laughing. "Like, I was traumatized from those roaches and when I heard first, I was just like, 'Man, she just went and just didn't know how that really traumatized me.'"
He then seemingly referenced that they've never had sex.
"The 'Buenos Noches though, I was like, 'You must be talking about you. You gots to be talking about yourself' because you ain't putting nothing to sleep over here, baby girl," he said.
During a spit fire round of questioning, Caresha asked Diddy if he liked to "f***" or "make love," in which he admitted that he loves having "marathon sex."
"That sound real fun. Trying to see what that's about," Caresha flirted.
Caresha asked Diddy if he wanted more kids and he absolutely does.
"Now that my girls are getting older, I've definitely been having baby fever like crazy," he said. "I see it in my future. I definitely see it in my future."
After he said that, the mom-of-two let the Hip Hop mogul know she wants twins now!
"I wanna have twins so that's why I was throwing it out, because I wanted a set of twins and I know they run in your family," she said to Diddy.
Well alright.
On a more serious note, Caresha delicately asked him about how he's handling fatherhood following the death of Kim Porter, the mother to three of his six children, son QuincyBrown, and twin daughters Jessie& D'Lila.
"Fatherhood has been really really real. I was like a part-time father, you know what I'm talking about?" he said "Kim, Sarah and everybody held down and then, man, you know? Losing Kim, it was just like I was a full-time father."
"It's was rough. I really could not control crying. Any memory would just get me and really break me down," he said.
Diddy said prayer and God is what really got him through it. Caresha could empathize with Diddy because she recently lost her son's father. They discussed how they dealt with losing important people in their lives.
Diddy said he plans to take Caresha to church one day and she said she would love that. 
Watch their full interview above.
How did Caresha do for her first interview?
Photo: Featureflash Photo Agency/Jamie Lamor Thompson/Shutterstock