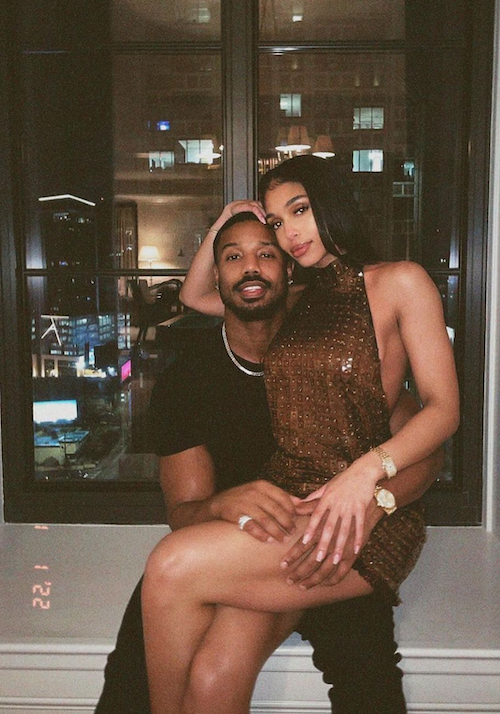 A lot has happened over the last few days since news broke that Lori Harvey and Michael B. Jordan called it quits. Here's everything you need to know about their uncoupling inside…
News that Lori Harvey and Michael B. Jordan's breakup broke over the weekend, leaving fans confused as to why the seemingly happy couple - that was often referenced as #CouplesGoals - would call it quits.
Sources told PEOPLE magazine the couple decided to end their year-and-a-half relationship despite still being in love with one another. As the breakup reports started circulating, both MBJ and Lori were active on social media and out in these streets.  Then, Lori completely erased any sign of him from her Instagram.
Her father, Steve Harvey, confirmed the news on his radio show as well, joking that he should learn from his kids and break up on social media because it's cheaper.
"I'm Team Lori 1,000%. She's my daughter. I love her, I support her… Things happen. It's hard to be young and in the limelight and have a successful relationship. Look, as long as everybody can walk away in peace, be friends… I ain't heard nobody say they busted no windows or nothing. As long as you don't put your hands on my daughter, I don't give a damn what you do."

"It's a breakup. I'm pretty sure they'll be fine. People break up all the time… I just wish I could've broken up without the cost factor! I gotta start learning from my children, get out early!… I waited way too late."
On Sunday (a day after the breakup report was released), the Black Panther star was spotted courtside with his homie/rapper Cordae at the Chase Center for Game 2 of the 2022 NBA Finals to see the Celtics face off against the Warriors.
Michael B. Jordan is in Chase Center tonight pic.twitter.com/fFREz43qKY

— Warriors on NBCS (@NBCSWarriors) June 6, 2022
#Cordae and #MichaelBJordan enjoying the game at The NBA Finals!

Are you rooting for the #Celtics or #Warriors? pic.twitter.com/bf7o9SEAE3

— REVOLT (@revolttv) June 7, 2022
Meanwhile, Lori linked up with her friend/singer Justine Sky to attend a friend's baby shower amid social media losing it over the breakup news:
Lori Harvey and Justine Skye looking gorgeous. pic.twitter.com/WSSaV6ekvE

— Lori Harvey Looks (@loriharveylooks) June 6, 2022
Watch more from her IG Stories below:
As for why they broke up...
Sources told PEOPLE their 10-year age gap may have something to do with it. The 35-year-old CREED star was reportedly ready to settle down, while the 25-year-old model wasn't quite ready to settle down yet.
"Michael matured a lot over the course of their relationship and was ready to commit for the long term," the source said. "He let down his guard with her, opening up emotionally in a romantic relationship for the first time," adds the source. "They had great times together and brought out the best in each other." 
The source revealed they're both "heartbroken" over the breakup.
"Michael and Lori are both completely heartbroken," the source shared. "They still love each other."
A source close to Lori shared Lori realized that she and MBJ "weren't on the same page" as they were making plans for their future.
"She still wants to have fun and be free," the source added. "Michael is a great guy. She is sad that their relationship didn't work out, but she is moving on."
As expected, the "manosphere" is big mad at Lori for not wanting to marry MBJ despite him being a "good guy." Go figure.
Ya'll know Lori Harvey and Michael B. Jordan never gonna read your thinkpieces?? pic.twitter.com/6GNhWE2ev5

— Aye Yo B (@BeSmoove7) June 8, 2022
While we aren't happy that they broke up, we do give Lori props for knowing exactly what she wants (and desn't want) and standing firm on it, rather than settling into a relationship where she's not truly happy. It's unclear if marriage was ever the initial goal for these two, as both seemed to shy away from that question when asked.  Lori also ended an engagement with soccer player Memphis Depay several years prior.
Now that it's rumored MBJ wanted to walk down the aisle and she didn't, it sounds like he could have changed his mind...and she didn't.  And that's ok.  As long as no one lied and led on the other person from the get about what their expectations of this relationship were.
Lori Harvey's name has been trending on social media since the breakup news, especially after her step-father/TV host Steve Harvey and her mother Marjorie Harvey began posting on social media following the breakup. Fans have been reading into The Harveys' social media posts, speculating if some are subliminals aimed at the Hollywood actor:
Lori Harvey please stop using your dad's account

— Walter (@logancarter371) June 7, 2022
The "Family Feud" host shared a meme (two days after the breakup news) that reads, "Sometimes we need to thank God for what didn't happen."
Marjorie, Lori's mother, shared a cryptic video message from actress JenniferLewis on IG Stories on the same day. "
Interesting.
It's unclear if either of their posts were referring to their daughter's breakup, but it surely makes you wonder.
MBJ and Lori celebrated their one-year anniversary November 2021 after they made their relationship IG official earlier that year. Since their split, Lori wiped her IG clean of any remnants of MBJ. However, MBJ still has their coupledom photos on his IG timeline, including footage from March where they made their red carpet debut at the Vanity Fair Oscars afterparty:
Many people speculated MBJ and Lori's relationship was a PR stunt to begin with. Thoughts?
Swipe through our gallery below to see the former couple during happier times!
Photo: Instagram