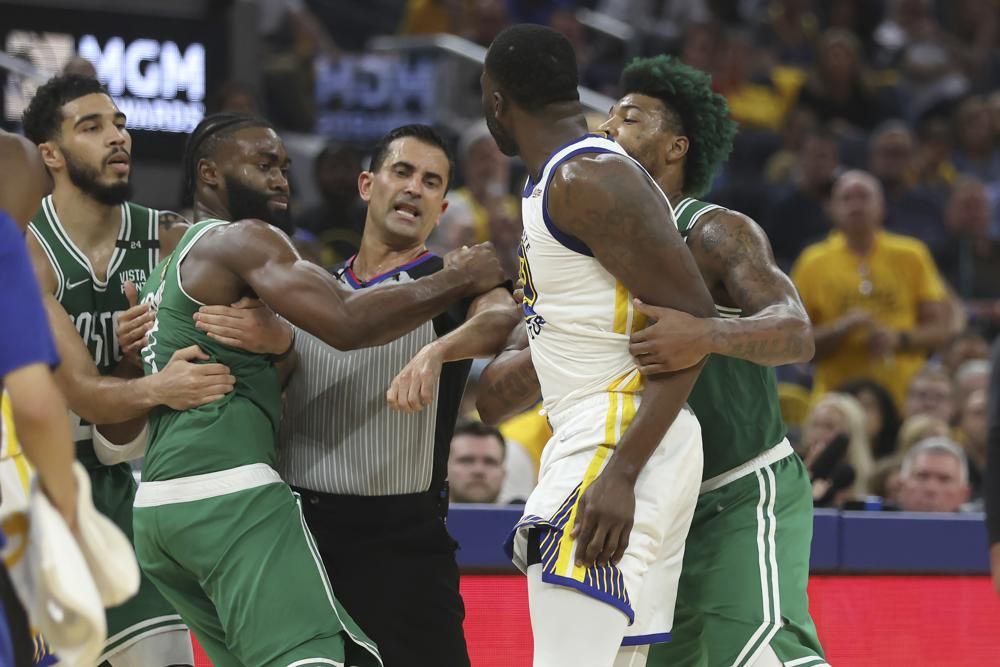 After losing Game 1, the Golden State Warriors showed up for Game 2 ready for war. Now, Draymond Green and his Warrior teammates are being accused of "playing dirty" to clinch the win. Decide for yourself inside…
Game 2 of the 2022 NBA Finals was SPICY!
Golden State Warriors baller Draymond Green is now being called out (again) for his style of play, which isn't anything new.
After losing Game 1 against the Boston Celtics, the Warriors knew they had to come back hard, and even harder since they were playing at home at the Chase Center.
Warriors baller Draymond Green made sure to amp up his on-court antics a few notches in an effort to get in the heads of his opponents. He started the game last night wildly, talking trash to just about every Celtics player. He caught an early technical foul after a brief clash with Celtics forward Grant Williams.
Draymond and Grant Williams getting chippy pic.twitter.com/R0xLZI2tWd

— Warriors on NBCS (@NBCSWarriors) June 6, 2022
The foul didn't stop his over-the-topness though.
During the last minute of the first half, Celtics shooting guard Jaylen Brown - who recently signed to Kanye West's DONDA Sports - shot a three-pointer and was fouled by Draymond. As they both tumbled to the floor, Draymond's legs fell on top of Jaylen's head. Jaylen pushed Draymond's legs off of him, which caused Draymond to nudge him and a scuffle was about to ensue. Check it out below:
Draymond Green and Jaylen Brown getting into it pic.twitter.com/ZV7RmpP3en

— Celtics on NBC Sports Boston (@NBCSCeltics) June 6, 2022
During his post-game conference, Jaylen called Draymond's actions an "illegal play" and he accused Draymond of trying to pull his pants down.
"I'm just trying to play basketball. I feel like that was an illegal play. I felt like that could have been called, but they let it go," said Jaylen.

"I don't know what I'm supposed to do there. Some guy has his legs on top of your head, and then he tried to pull my pants down. I don't know what that's about. But that's what Draymond Green does. He does whatever it takes to win. He'll pull you and grab you, and muck the game up. That's what he does for that team. It's nothing to be surprised about."
Peep the clip below:
"He tried to pull my pants down, I don't know what that was about."

-Jaylen Brown on Draymond Green pic.twitter.com/6GwA3LEuWx

— Ben Stinar (@BenStinar) June 6, 2022
AnnaHorford, the sister of Boston Celtics center AlHorford, also called Draymond out for "playing dirty." She also called out Warriors baller Jordan Poole.
And Poole has followed his lead. Lmao

— Anna Horford (@AnnaHorford) June 6, 2022
"If Draymond can't outplay an opponent, he simply resorts to playing dirty," she tweeted. "And Poole has followed his lead. Lmao," she continued.
Some people feel like the refs give Draymond special treatment and they don't like it.
Obviously, Dray isn't complaining. During his post-game interview, he didn't feel like he did anything wrong.
"For me to sit back and say, 'Oh, I'm going to push it to this edge and try to pull back,' that don't work," Draymond said. "I've got to be me. So the first tech -- it is what it is. That's not going to stop me from being aggressive or doing what I do on the basketball court. Just got to live with the results."

"We knew we had to keep our foot on the gas pedal and not let up," Draymond continued. "We did that."
Peep his post-game interview above.
Warriors frontman Steph Curry was happy with Draymond's intensity during Game 2.
"Just being himself," Steph said about Draymond. "Finding different ways to impact the game on both ends of the floor, like sometimes it shows up on the stat sheet across the board, and sometimes you just feel his energy and his focus and his passion. And that gives us a lot of life, so I know he took Game 1 personally in terms of getting back to his standard, and it was great to see."
With the added aggressiveness and intensity, the Warriors were able to blow out the Celtics 107-88 in Game 2, tying the series. Game 3 goes down Wednesday, June 8th at 9pm EST in Boston on ABC. Who you got?
Photo: AP Photo/Jed Jacobsohn