Before we head down in the valley where the girls get naked, the "P-Valley" cast linked up with raptress MeganThee Stallion on the pink carpet for the season 2 premiere of "P-Valley" in L.A. last night. Watch the gworls cut up on the carpet and the dance floor (where pregnant "P-Valley" newbie MiracleWatts put her hands on her knees with Meg) inside…
It's been two, long, excruciating years since we've spent a night in Chucalissa, Mississippi. We've been patiently waiting to make our way down to the valley where the girls get naked. And now, the wait is finally over.
The PYNK is BACK! And it's time for the re-opening. 
Last night, the world premiere of STARZ's "P-Valley" Season 2 went down at the Avalon Hollywood in Los Angeles, bringing out the entire cast, plus raptress Megan Thee Stallion! And everyone looked TF good.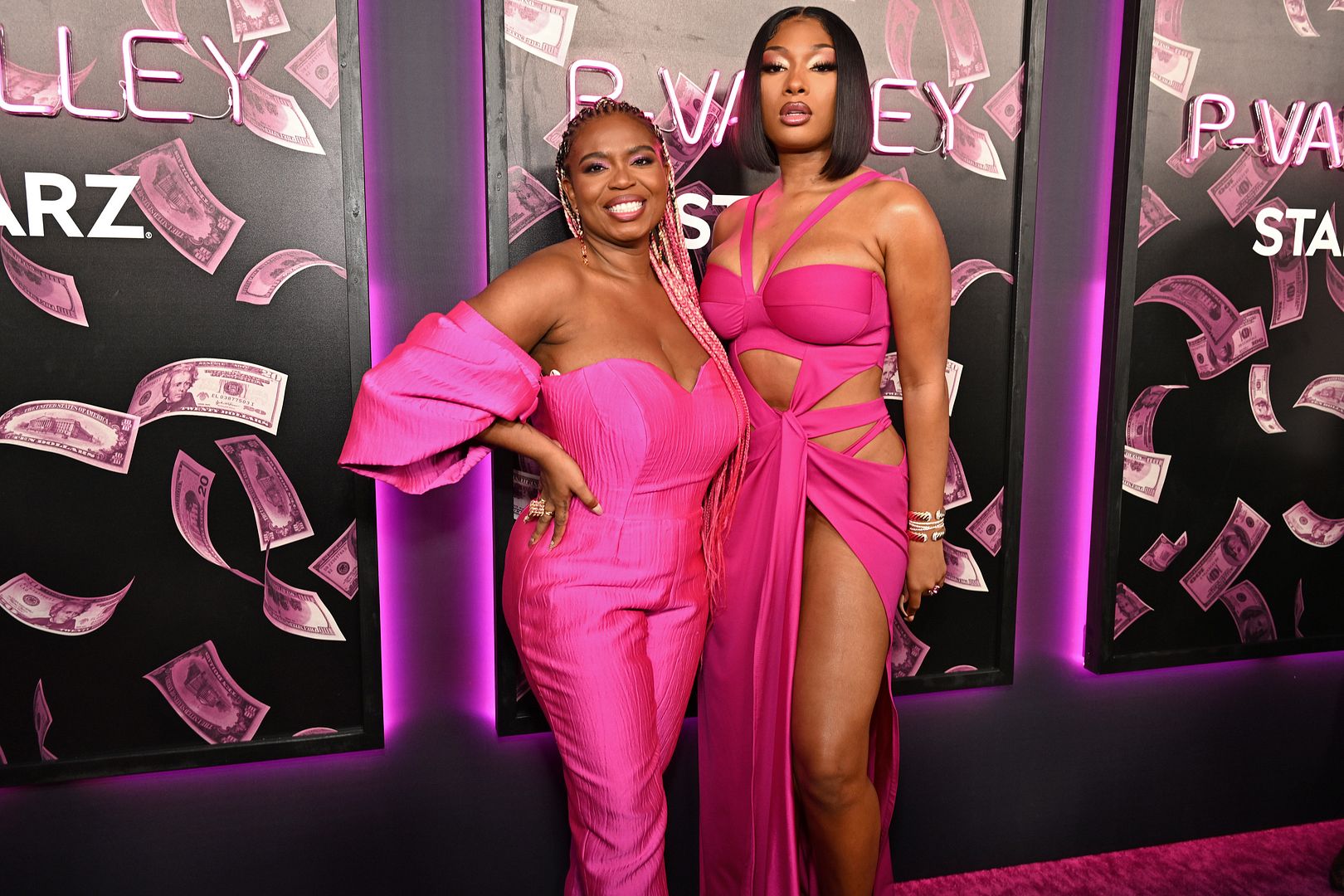 Pretty in pink, Meg - who just released the video treatment to her track "Plan B" - made her way to the pink carpet to celebrate "P-Valley's" return, snapping it up alongside "P-Valley" creator, executive producer, and Pulitzer Prize winner Katori Hall. 
During the premiere, Katori hit the the stage to speak to the audience about the upcoming season. 
"I felt that I needed to turn P-Valley into a mirror, into a reflection of things that we have [gone] through these past two years, and that's why I felt like it was my responsibility to embrace, in season two, the fact that we did this pandemic," adding, "This season is deeper, is darker, but let me tell you something, it's a thousand percent better."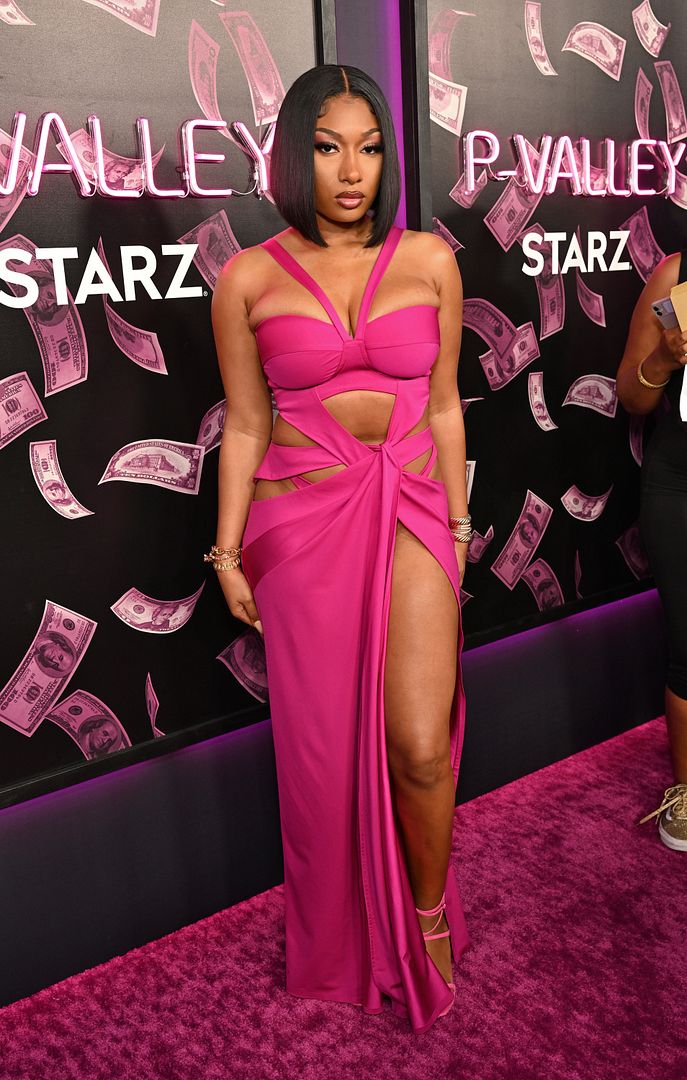 The Grammy Award winning artist has recorded an original song for the Season 2 soundtrack. The song's release date has not been announced yet.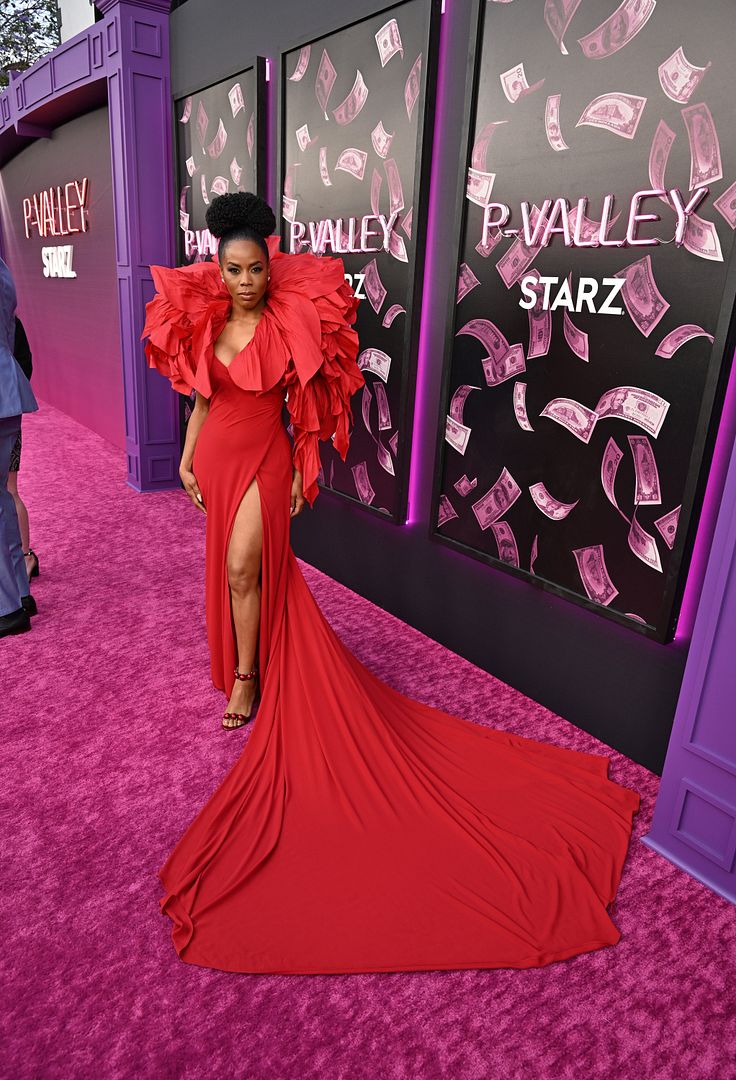 Lady in red!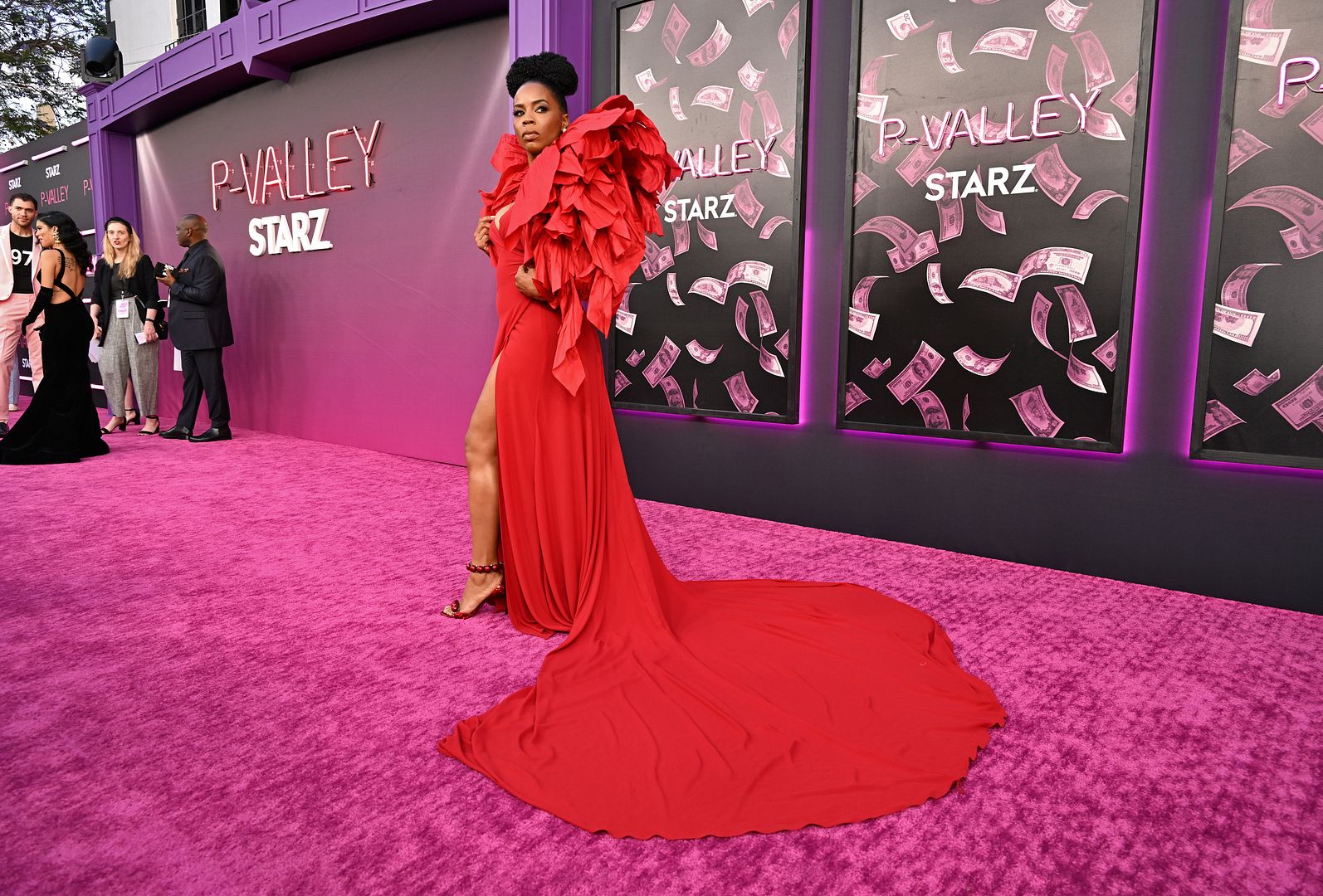 Star Brandee Evans (who plays Mercedes) pulled up on the pink carpet like a boss! She gave thigh action, dramatics and we loved all of it. 
It was also her 37th birthday!
M-I-Crooked Letter, Crooked Letter-I-Crooked Letter, Crooked Letter-I-Hump Back, Hump Back-I Aye!
Shannon Thornton posed it up in a floral Naheem Khan jumpsuit and Ruthie Davis heels.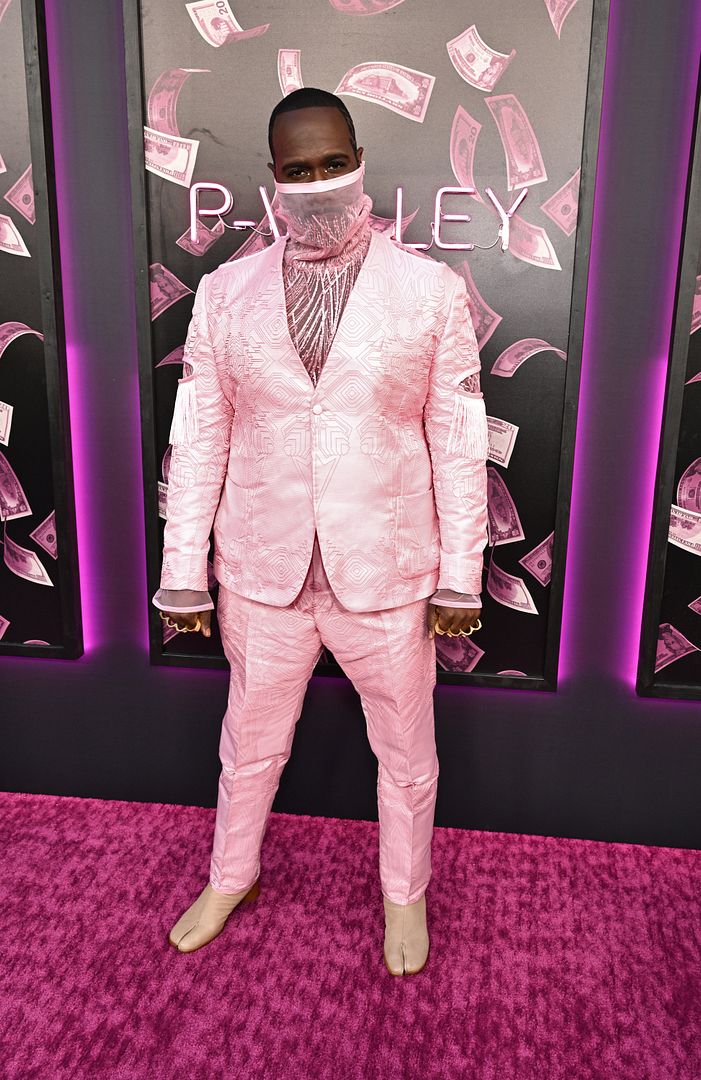 Come thru, Uncle Clifford! 
Star Nicco Annan hit the carpet to serve a lewk in a powder pink suit that featured a built-in, sheer facemask, which he paired with Maison Margiela booties.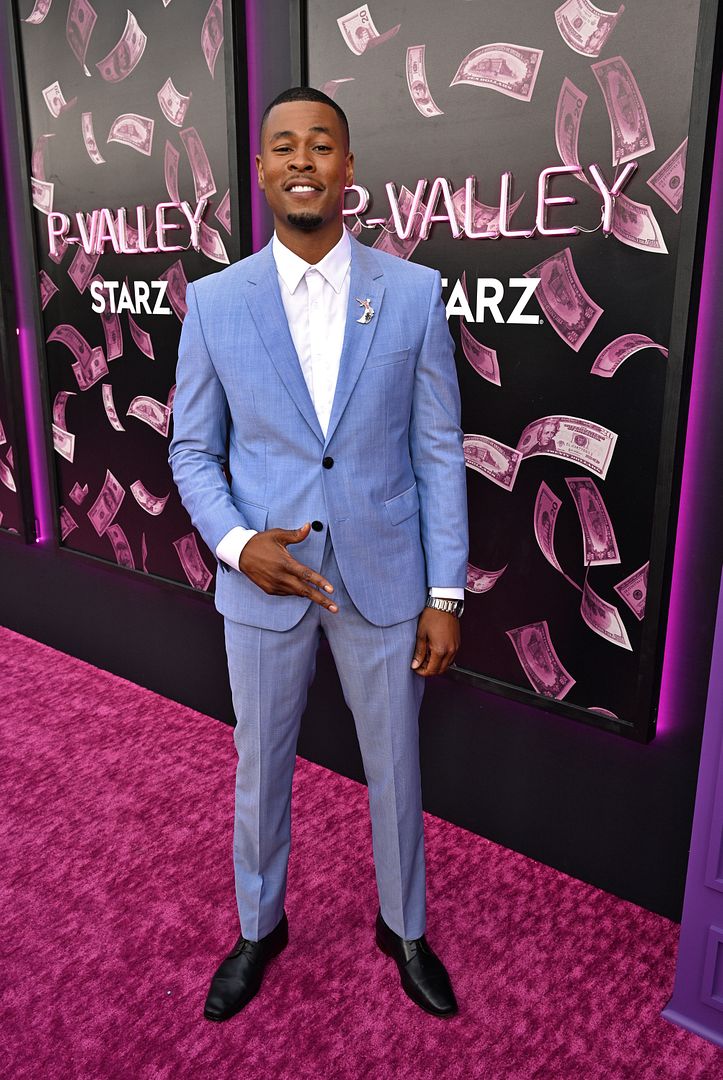 "P-Valley" star J. Alphonse Nicholson (who plays Lil Murda) got dapper in a blue suit.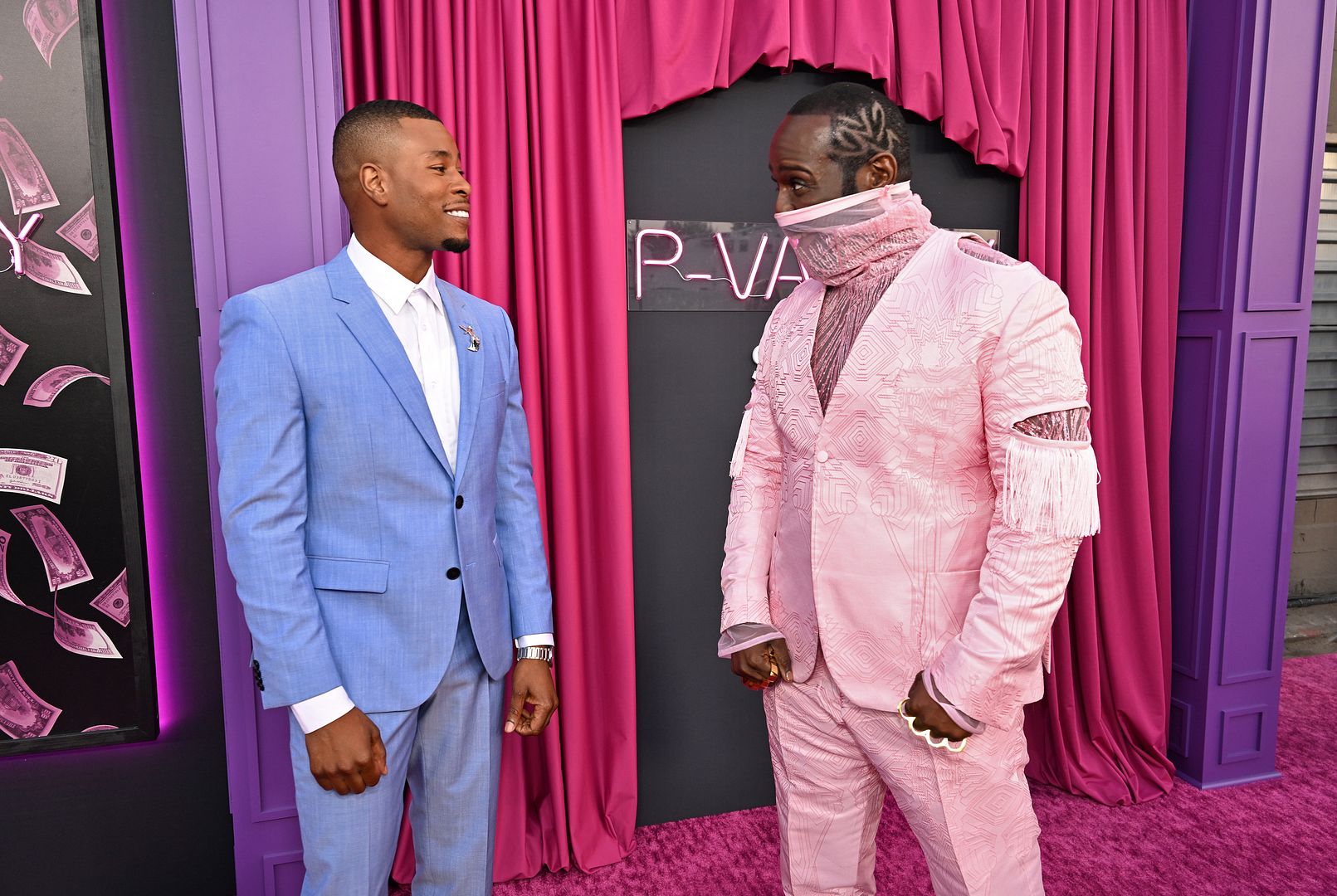 We wonder if Lil Murda and Uncle Clifford will get back together this season.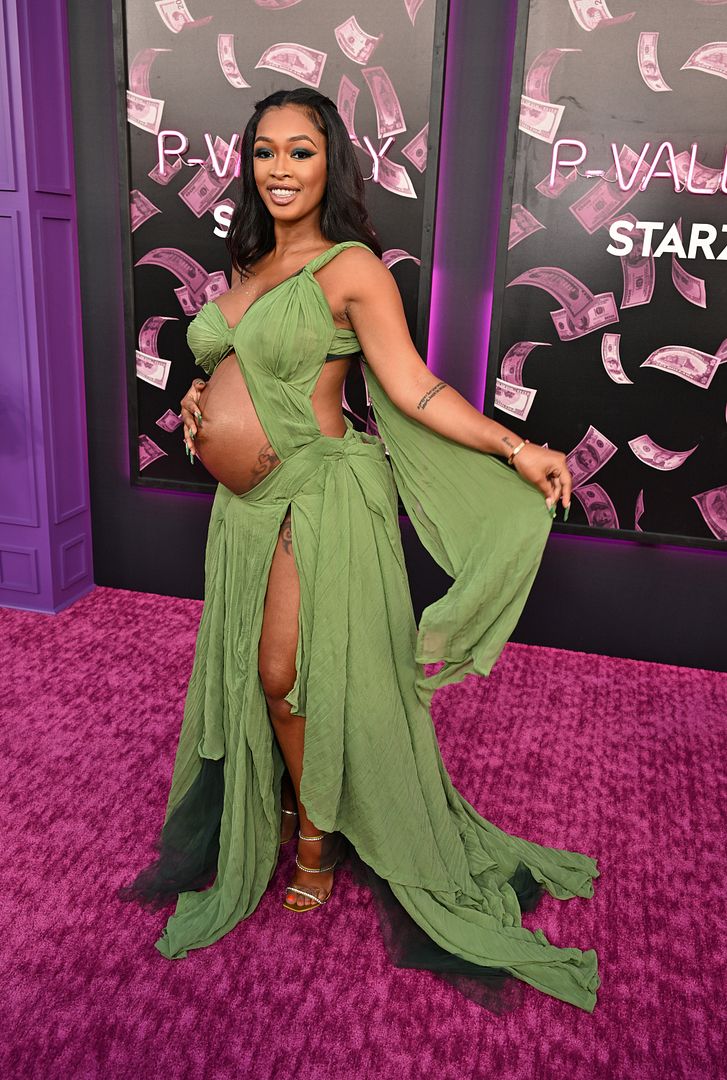 IG model/former dancer MiracleWatts bumped along on the pink carpet in a green, cutout gown, serving up goddess vibes. 
We previously told you she's joining her real-life boyfriend Tyler Lepley (who was notably missing) at The PYNK this season.  Months after it was announced she was joining the STARZ series, Miracle and Tyler announced they're expecting a baby soon.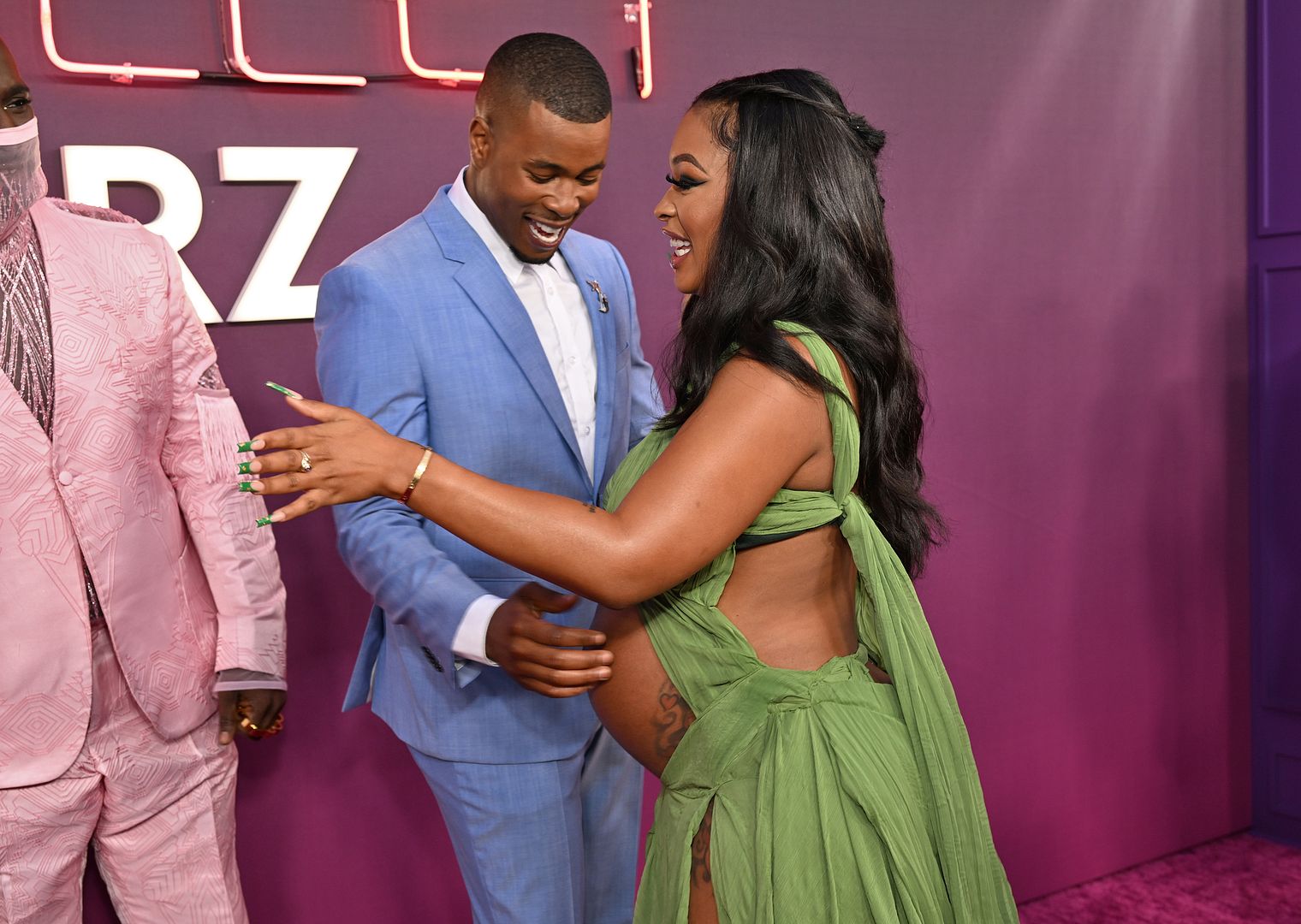 The mom-to-be will recur as Big Bone, a fighter and a biter with sky-high ambitions. She is a rambunctious new presence at The Pynk blessed with a molasses-thick body, knees of steel, and a tongue more lethal than a draco. Spicy! It's her first-ever television role and we wouldn't be surprised if Tyler pulled some strings to help get her on the show.
By the way, Tyler was not in attendance because he's currently filming Season 2 of Amazon Prime's "Harlem."
Looking every bit of a billionaire's wife, Savannah James slayed the pink carpet.  She never misses.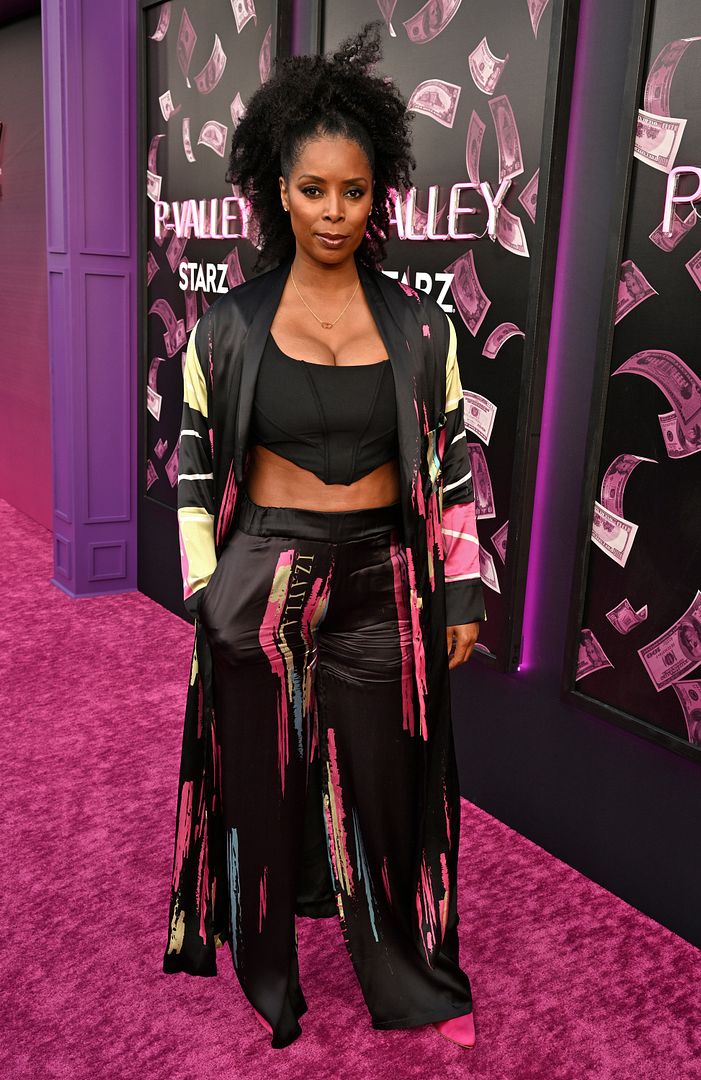 Actress/director TashaSmith - who has directed an episode in the first season - looked BOMB!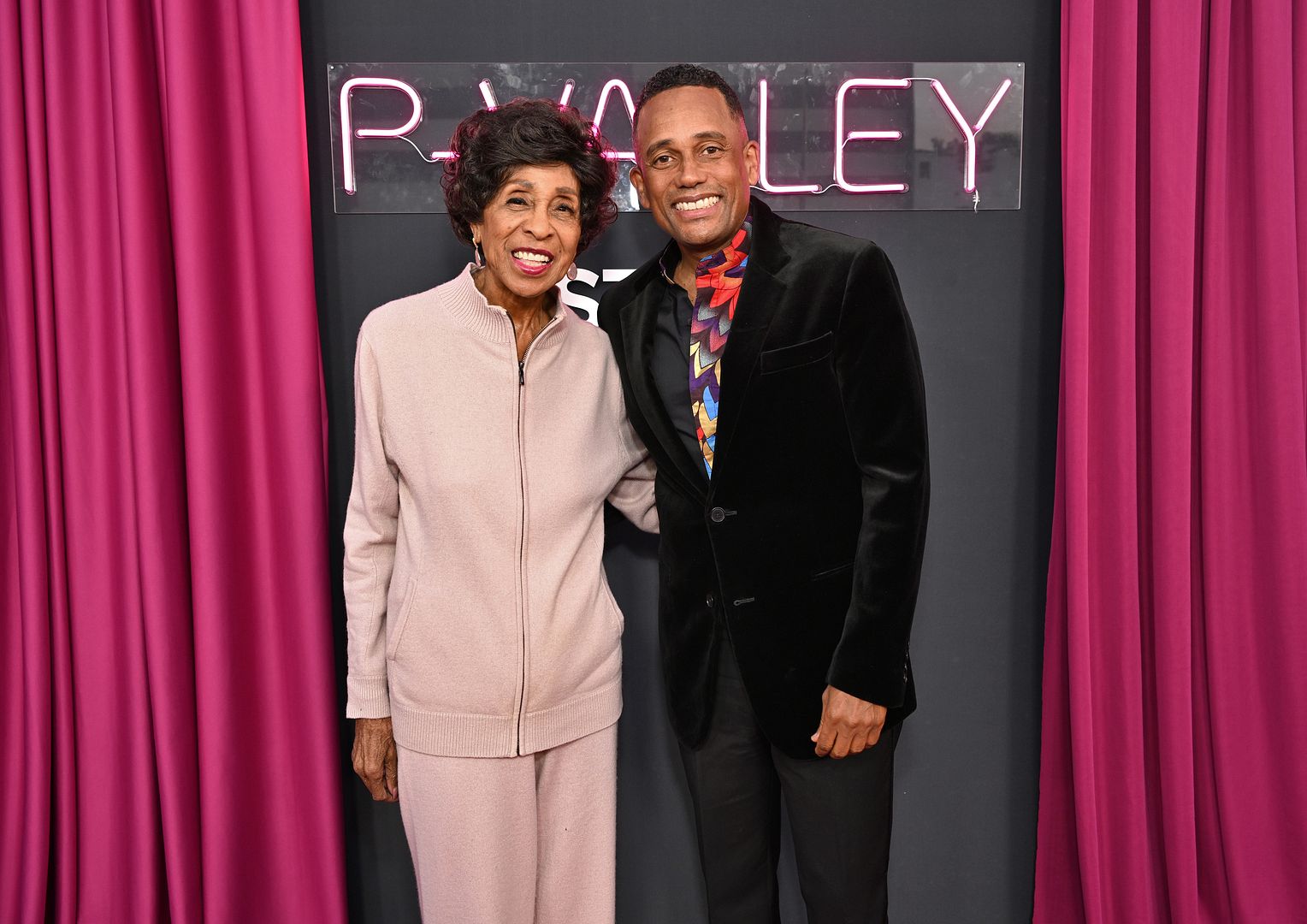 "Jeffersons" actress MarlaGibbs was all smiles alongside "The Good Doctor" actor Hill Harper.
Additional cast members at the event included Harriet D. Foy, Dan J. Johnson, Psalms Salazar, Gail Bean, Morocco Omari, Jordan M. Cox, Skyler Joy, Dominic DeVore, Brandon Gilpin, Bertram Williams Jr. John Clarence Stewart, Josh Ventura and BlueKimble, as well as co-executive producers Patrik-Ian Polk and Nicole Jefferson Asher.
Inside...
Everyone sung Brandee "Happy Birthday" as she was celebrating her 37th birthday.
The event also had strippers performing during the premiere. 
Of course the exotic dancers were there to hype up the crowd.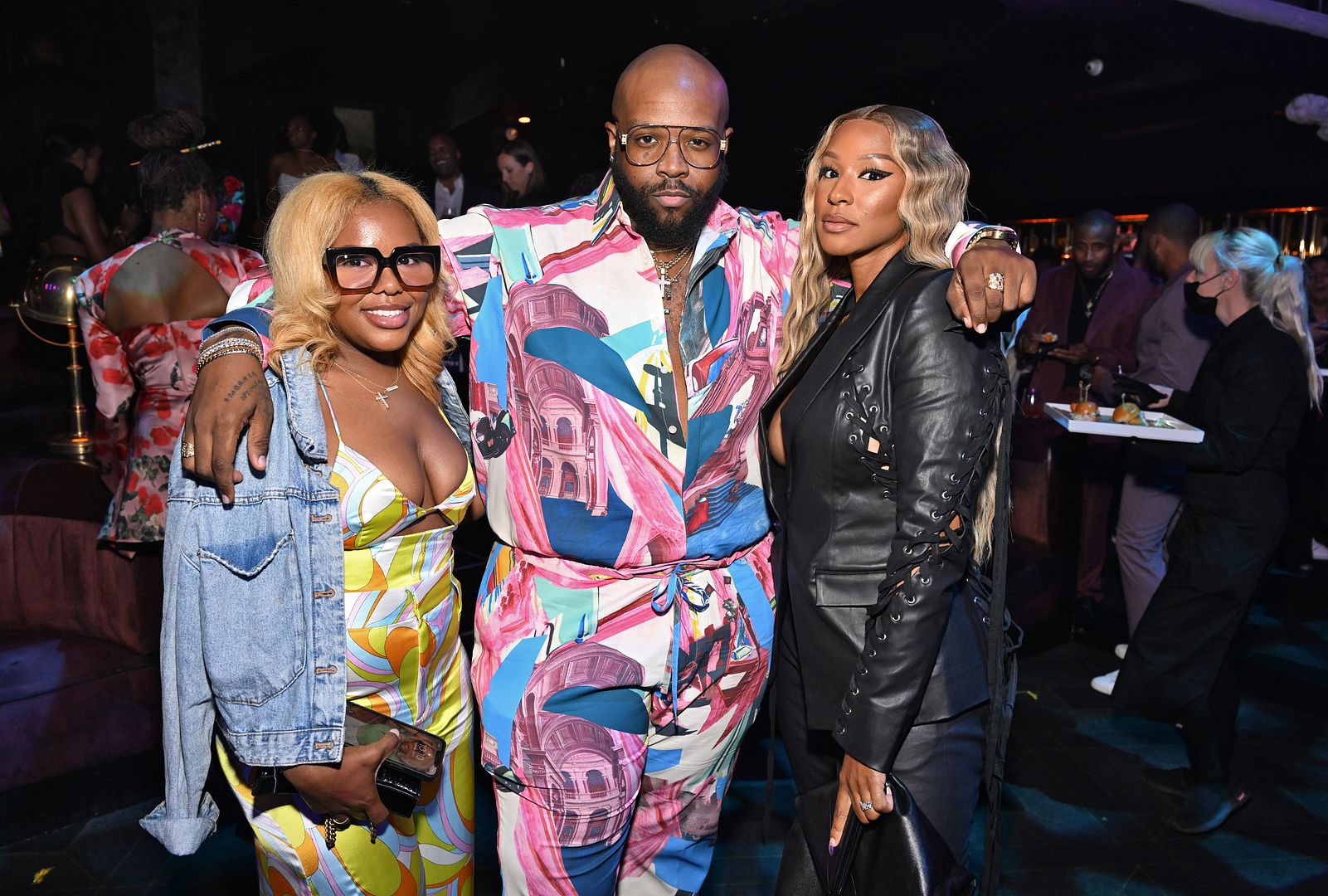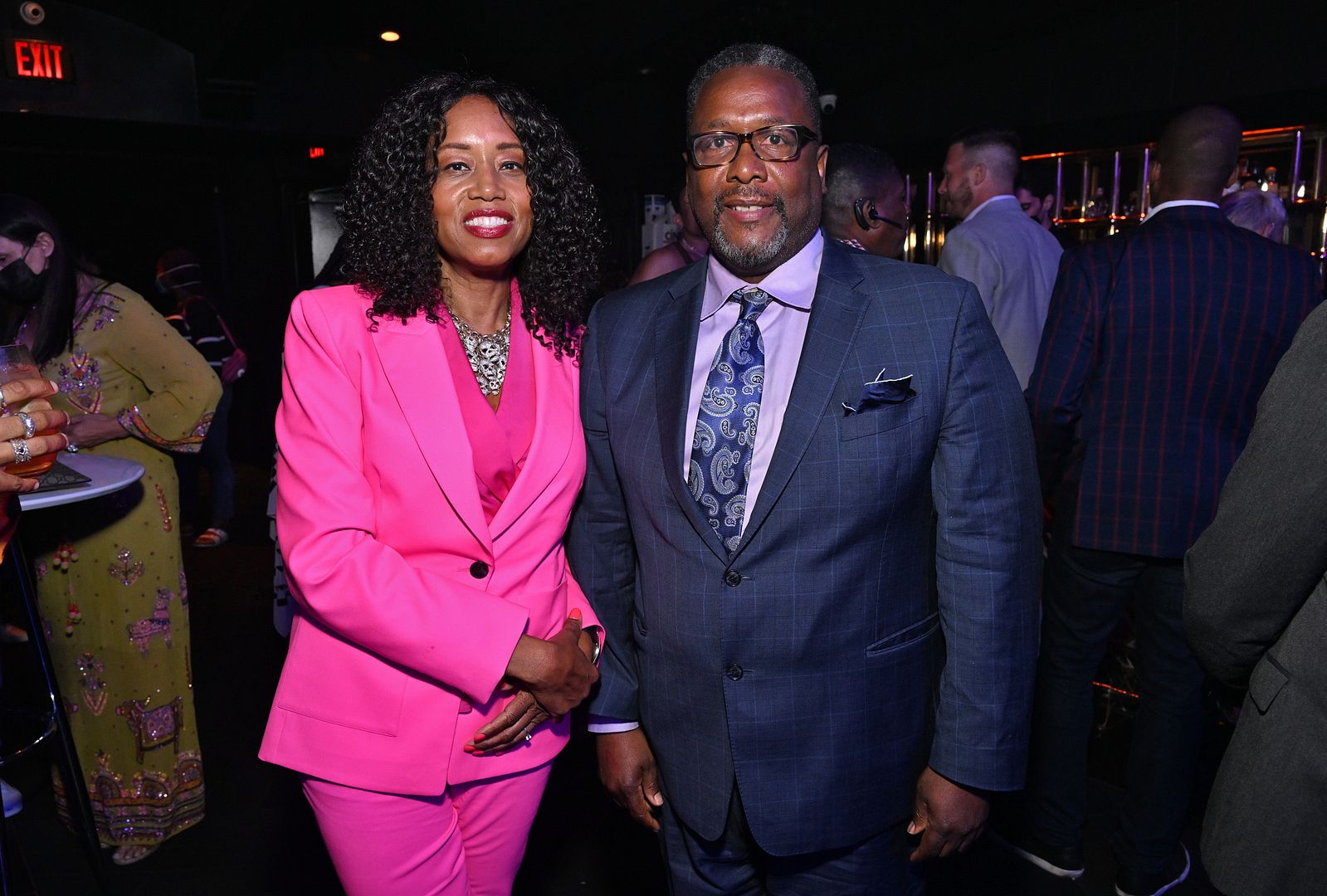 "The Wire" star WendellPierce came out for the festivities, snapping it up alongside KathrynBusby, STARZ President of Original Programming.
During the event, Kathryn Bugsby raved about the groundbreaking series, saying, "This show has created a platform where stereotypes are pushed aside and the conversation is centered on visibility and truth."
Watch Megan Thee Stallion and a pregnant Miracle Watts twerk-off on the dance floor below: 
If you can't see the clip above, check it out below:
Ok now!
"P-Valley" premieres TONIGHT at 9pm EST/PST on STARZ and it's already streaming on the STARZ App.
Photos: Michael Kovac/Getty Images for STARZ