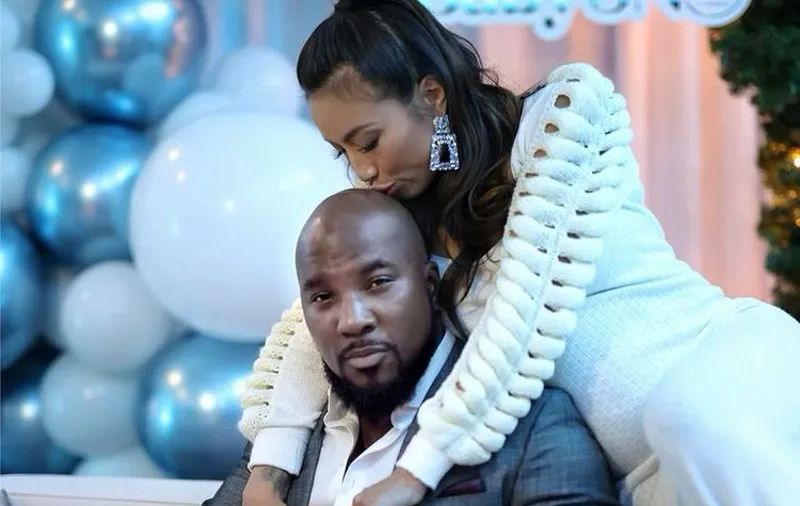 Meet baby Monaco Mai Jenkins! Five months after her grand entrance into the world, Jeannie Mai Jenkins introduces her and Jeezy's baby girl. See her inside…
Well, hello there cutie!
After welcoming their first child together in January, the Jenkins are ready to introduce her to the world. Meet five-month-old Monaco Mai Jenkins.
"The Real" co-host Jeannie Mai Jenkins, 43, revealed Baby Monaco in the latest installment of her YouTube series, "Hello Hunnay With Jeannie Mai." After promoting a baby bottle brand, the first-time mom shared a montage of pictures and videos of Baby Monaco - who is now 17 weeks - meeting her family members, as well as her former co-hosts on "The Real," for the first time.
In the footage, we see Daddy Jeezy, 44, on baby duty, changing diapers, feeding, and bonding with his infant daughter. Monaco is Jeezy's third child and Jeannie's first.
After the montage, 43, Jeannie welcomed Baby Monaco to the camera for the first time along with her mom, "Momma Mai." Dressed in an adorable sleeveless cheetah print dress, Jeannie noted it the was first time she wore something sleeveless. She said she was "so nervous" to introduce her and Jeezy's baby to the world.
"I got really scared, guarded and protected," she said. "Please excuse the nerves."
Peep Baby Monaco's big reveal below:
The couple revealed their baby's name and the meaning shortly after her January arrival. 
"I thought Baby J's name should be a J name, because obviously Jeannie and Jeezy makes sense, but that wasn't the name that came to us," the 43-year-old first-time mom explained. "What really came to us was how baby J came to fruition for us when we were dating."
After having an intimate conversation on a bridge in Monaco, France, they felt they should name their baby after where they lives changed forever.
"Three years ago, Jeezy and Jeannie were talking on a bridge in France, talking about what it meant to do life together. Here they decided to grow and raise a family together. Hence, they named their child after the city that changed their lives forever: Monaco Mai Jenkins."
Jeezy & Jeannie tied the knot in March 2021 and then announced they were pregnant with their rainbow baby a few months later. Jeannie later revealed she had a miscarriage before she got pregnant with Monaco. Previously, Jeannie said she didn't want to have children, but revealed she had a change of heart after falling madly in love with the Snowman. The couple celebrated their baby's arrival with TWO baby showers to ensure both families could celebrate. 
Congrats again the couple!
Photos: Jeannie's IG/YouTube screenshots