It's a battle of WHO is the HEADLINER! Mo'Nique and D.L. Hughley are feuding after Mo BLASTED him in epic fashion on stage over a contract dispute. After the show, he hopped on social media to call out Mo's behavior as the reason why she's always involved in drama with someone. And the drama didn't stop there. Full recap inside….
So, would the real headliner please crack the first joke?!
Mo'Nique and D.L. Hughley are bickering online and on stage over WHO was actually billed as the headliner for a recent show in Detroit. This week both Mo and D.L. were tapped to perform for "The Comedy Explosion" held at the Fox Theater in Detroit, Michigan. 
Ish hit the fan when Mo got on stage. The Oscar winner launched a heated rant about D.L., seemingly over a contract dispute. It seems she was told she would headline the event, however, that's not how it went down. It seems something went down about her contract backstage that pissed Mo OFF, so she talked about it soon as she hit the stage.
"I f****s with contracts that's why n****s have a problem with me. That's what the motherf*cking contract says 'Mo'Nique is to be the last motherf*cking person on the got d*mn stage. She is the headliner. That's what I signed the contract for," she said."The contract said the headliner! But a n*gga named DL Hughley turned into a b**** and said 'I won't perform if she does that.' N***a you opened for the Kings of Comedy, I closed for the Queens of Comedy, nigga."
She then attacked his character, saying,"What kind of real n***a would ever attack a got d*mned black woman?" she asked in reference to D.L. bashing her on an old tour.
"N*gga your name is D.L., what the f*ck does it stand for?," questioning his sexuality. "How far are you bending over n***a? On the DL."
She said a lot of black men in Hollywood have a problem with her because she has a Black King, her husband.
"What kind of real n***a is that? That's a b***h n***a. What kind of real n***a would ever attack a black woman? A b***h n***a. I feel sorry for D.L.'s family. I feel sorry for his motherf***ing wife because how do you suck d**k of a coward?"
Watch the viral clip below:
#MoNique has some words for #DLHughley after an alleged contract dispute pic.twitter.com/e8yfULZ8Y8

— Virtual Celebrity News Network (@ddukelantern) May 29, 2022
During her set, she also called D.L. and comedian Steve Harvey "motherf***king coons."
Watch her full rant below:
After the show, D.L. Hughley addressed Mo's insults on social media, blaming her actions as the reason why she has experienced so many public disagreements with people (ie Lee Daniels, Tyler Perry & Oprah) throughout her career.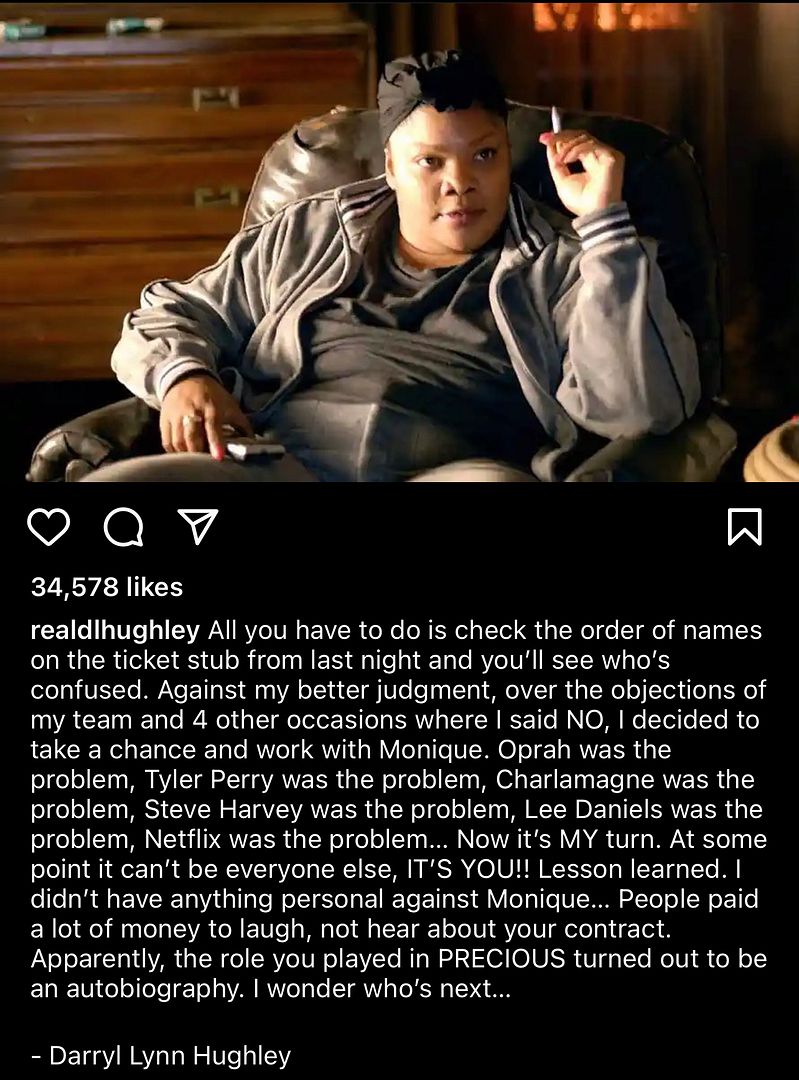 "All you have to do is check the order of names on the ticket stub from last night and you'll see who's confused," D.L. stated. "Against my better judgment, over the objections of my team and 4 other occasions where I said NO, I decided to take a chance and work with Monique," he said.
"Oprah was the problem, TylerPerry was the problem, Charlamagne was the problem, SteveHarvey was the problem, LeeDaniels was the problem, Netflix was the problem… Now it's MY turn. At some point it can't be everyone else, IT'S YOU!! Lesson learned. I didn't have anything personal against Monique… People paid a lot of money to laugh, not here about your contract. Apparently, the role you played in PRECIOUS turned out to be an autobiography. I wonder who's next…," the 59-year-old comedian wrote.
Mo took a screenshot of his response, reposted it on her timeline and responded.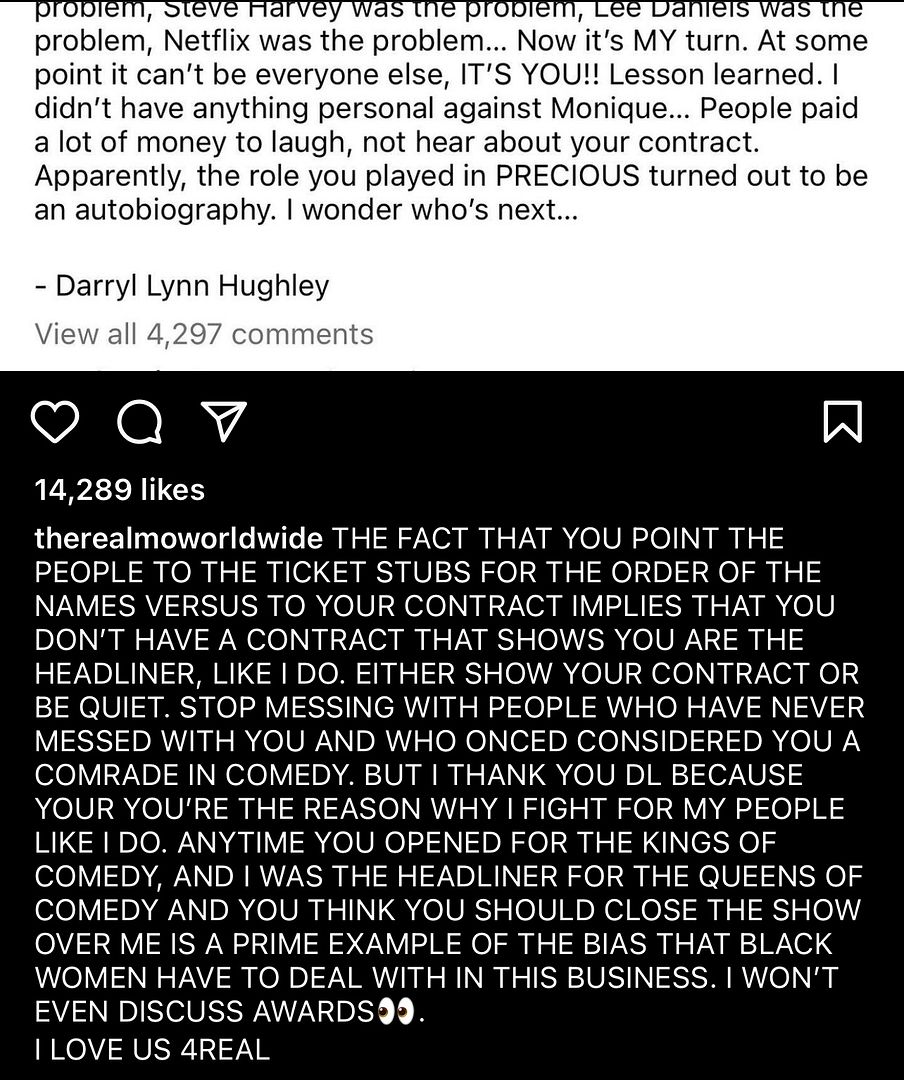 In the caption, she said D.L.'s decision to direct people to the ticket stub before his contract is more than enough proof he wasn't the intended headliner.
"THE FACT THAT YOU POINT THE PEOPLE TO THE TICKET STUBS FOR THE ORDER OF THE NAMES VERSUS TO YOUR CONTRACT IMPLIES THAT YOU DON'T HAVE A CONTRACT THAT SHOWS YOU ARE THE HEADLINER, LIKE I DO. EITHER SHOW YOUR CONTRACT OR BE QUIET," she said."STOP MESSING WITH PEOPLE WHO HAVE NEVER MESSED WITH YOU AND WHO ONCED CONSIDERED YOU A COMRADE IN COMEDY. BUT I THANK YOU DL BECAUSE YOUR YOU'RE THE REASON WHY I FIGHT FOR MY PEOPLE LIKE I DO. ANYTIME YOU OPENED FOR THE KINGS OF COMEDY, AND I WAS THE HEADLINER FOR THE QUEENS OF COMEDY AND YOU THINK YOU SHOULD CLOSE THE SHOW OVER ME IS A PRIME EXAMPLE OF THE BIAS THAT BLACK WOMEN HAVE TO DEAL WITH IN THIS BUSINESS. I WON'T EVEN DISCUSS AWARDS."
"I LOVE US 4REAL," she concluded.
She also wrote the message in his comments: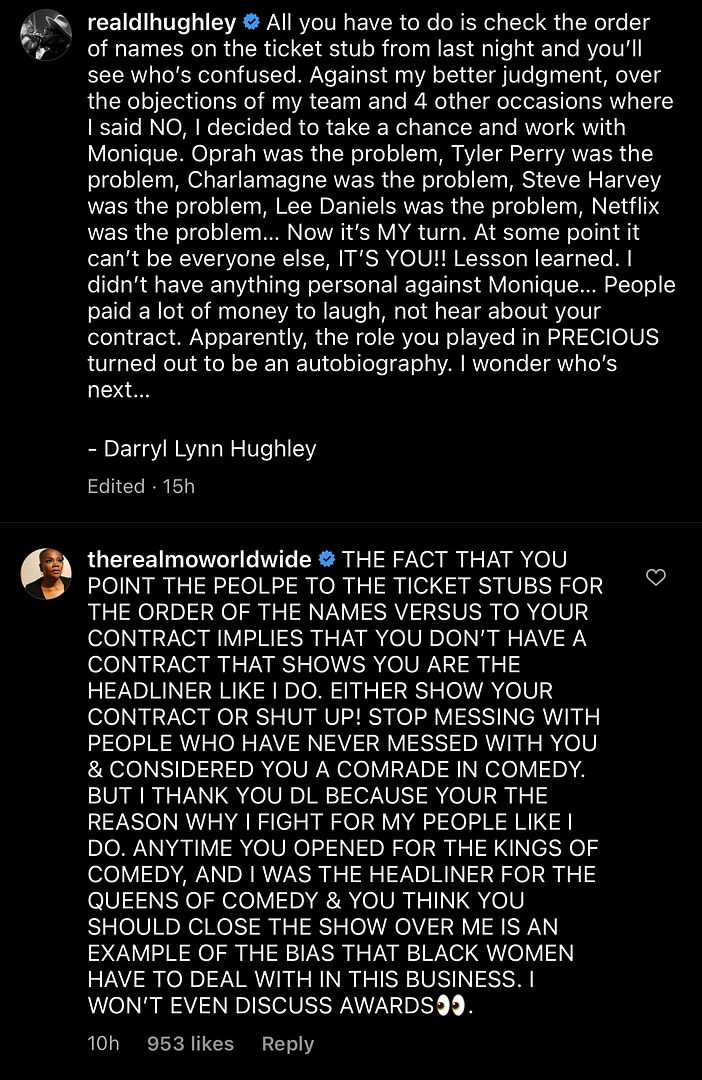 D.L. then posted a picture of the flyer as well as the call sheet for the event, showing he was always the headliner:
To be fair, these are promo tools AFTER the contract, not the contract itself. And Mo did say things got changed up after he saw the contract.  No word from Mo…yet.
By the way, Mo had an incredible month this past April. 50 Cent announce she's joining Season 2 of his STARZ series "BMF." She also squashed her beef with Lee Daniels after he publicly apologized for mistreating her. He tapped her to replace Octavia Spencer in his upcoming film, Demon House.
Photos: Mo's IG/Eugene Powers/Shutterstock