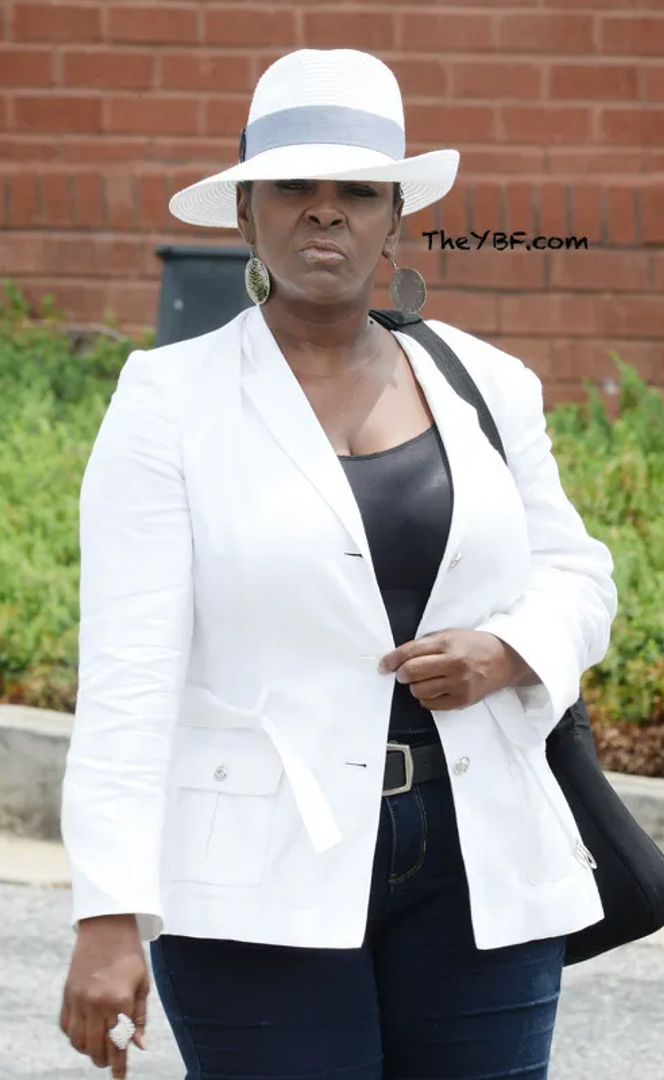 Leolah Brown - Bobby Brown's sister - is BLASTING her brother's wife, Alicia Etheredge Brown, for comments she made about the late Whitney Houston in a recent interview. She then went on a week-long social media rant about how Alicia is destroying her brother's life and even accused her of "targeting" Bobby's children from previous relationships. Get it all inside…
Bobby Brown's sister Leolah Brown Muhammad isn't one to mince words when she's upset. And she doesn't mind publicly blasting anyone who she feels is trying to destroy her family. Remember when she popped off on Pat Houston during Bobbi Kristina Brown's funeral and was escorted out? Yeah, she doesn't play when it comes to family. 
Bobby's sister is NOT pleased with comments her brother's wife Alicia Etheredge Brown made about his late ex-wife Whitney Houston and Bobby's deceased children, Bobbi Kristina Brown and Bobby Brown Jr., who both died due to drug abuse.
Bobby is gearing up to make a musical and TV comeback where he's working on a new solo album, a new tour with New Edition, and a new reality show with his family coming down the pipeline. Bobby and Alicia sat down with PEOPLE to open up about their love story and what it's like raising three young children together.
"I am the yin to his yang," Alicia gushed in an interview. 
Living in the shadow of his previous marriage to the late singer, Alicia said she has come to an understanding and has found a place of contentment when it comes to the memory of Whitney and her husband's connection to her.
"Bobby and Whitney were their time," she shared. "I also came from a place. So knowing that he loved hard and came out the other end and somehow we were meant to be and found each other again, that's what I focus on."
Well, Leolah wasn't here for Alicia's comments about Bobby & Whitney's marriage, so she called her out on Facebook.
"All that Ying & Yang is garbage! Lies&Phoniness! I am bringing the truth that shall set this whole world Free!," Leolah wrote on Facebook.
It didn't stop there. Leolah called Alicia out for not allowing Bobby Brown Jr. to live with them when he didn't have shelter. She said she will NOT stay silent while Alicia attempts to destroy her brother.
"Don't you all believe Alicia talking about my niece Bobbi Kristina & my nephew Bobby Jr.," Leolah wrote. "Enough is a dam NUFF of the faking now. Bobby Jr was not even allowed in his own father's home BCS of ALICIA! And I have a dam witness that he had nowhere to go in LA BCS Alicia wouldn't let him stay in his own father's house! Oh yeah, I'm gon tell the dam truth and Shane that devil. I HAD TO FIND SHELTER FOR HIM PLUS SEND HIM MONEY BCS HE HAD NO MONEY FOR FOOD SO STOP THE DAM LYING ALICIA!"
"When the world finds out the truth about you it'll put a stop to all this bull crap your trying to set up for yourself. I'm so sick of you dam demonized evil beasts around my brother. You all preyed on my brother since day one...and now he married you KNOWING he should not have. And stop telling people that you were with my brother before Whitney. He never married you then BCS you were a groupie like I said."
Read her full rant above. 
Over several days, Leolah dragged Alicia. 
"Paleez WHITNEY HOUSTON WILL NEVER BE FORGOTTEN," Leolah continued. "TRUST ME Bobby Brown can never forget such a real woman. No worries. Whitney had a strong spirit that B can't forget. That's THE impossible. Whitney probably comes in his dreams."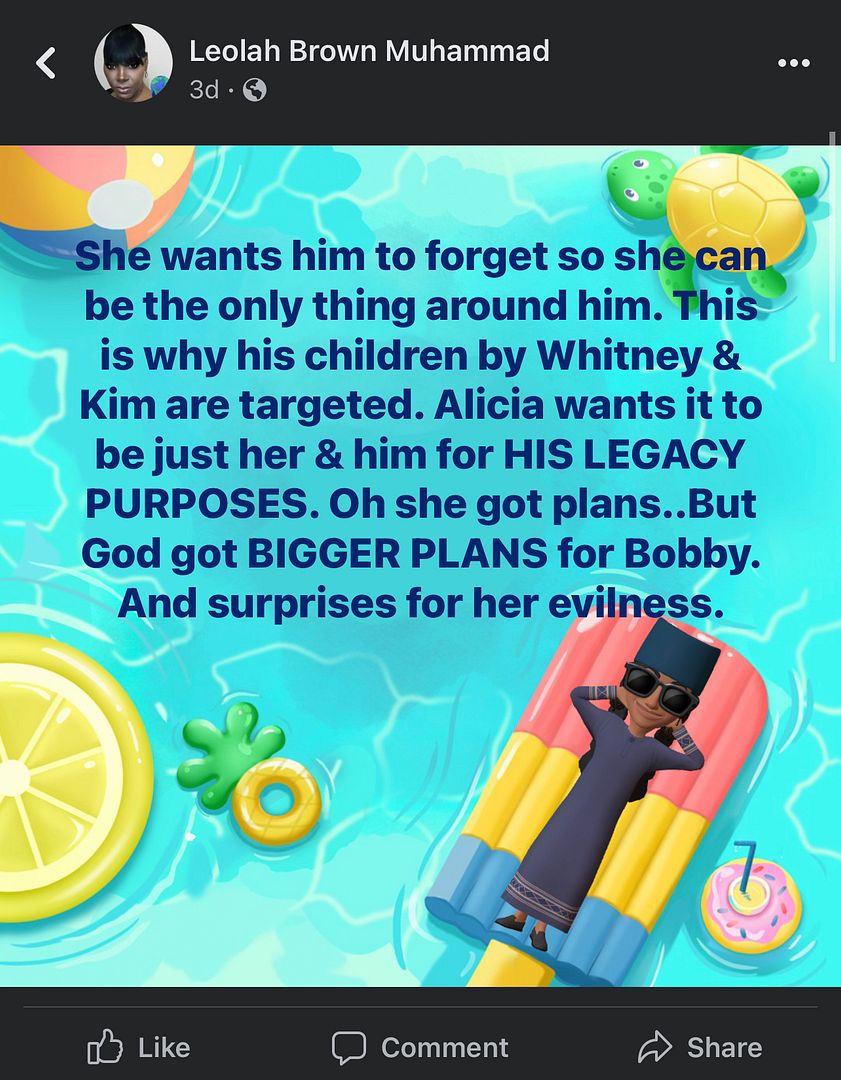 "She wants him to forget so she can be the only thing around him. This is why his children by Whitney and Kim are targeted," Leola continued. "Alicia wants it to be just her & him for HIS LEGACY PURPOSES. Oh she got plans … but God has BIGGER PLANS for Bobby. And surprises for her evilness."
In another post, Leolah threatened to expose Alicia to prove to her brother that his wife "ain't sh*t."
"AINT NO GAMES BEING PLAYED ANY MORE WITHOUT EXPOSURE!!! IM GOING TO PROVE TO MY BROTHER THAT HIS WIFE AINT $&!T!!!! OH YOU WILL SEE WHY IM SO UPSET. PROOF IS ON ITS WAY!!! LET ME SHOW YOU A SNIPPET OF WHAT I GOT! STAY TUNED!!!"
After receiving alleged receipts, she shared screenshots of a text message exchange where Alicia is supposedly conversing with the girl they believe is responsible for Bobby's death. Leolah believes a girl named "Anna" slipped Bobby some fentanyl, which was one of the substances found in his body at the time of his death.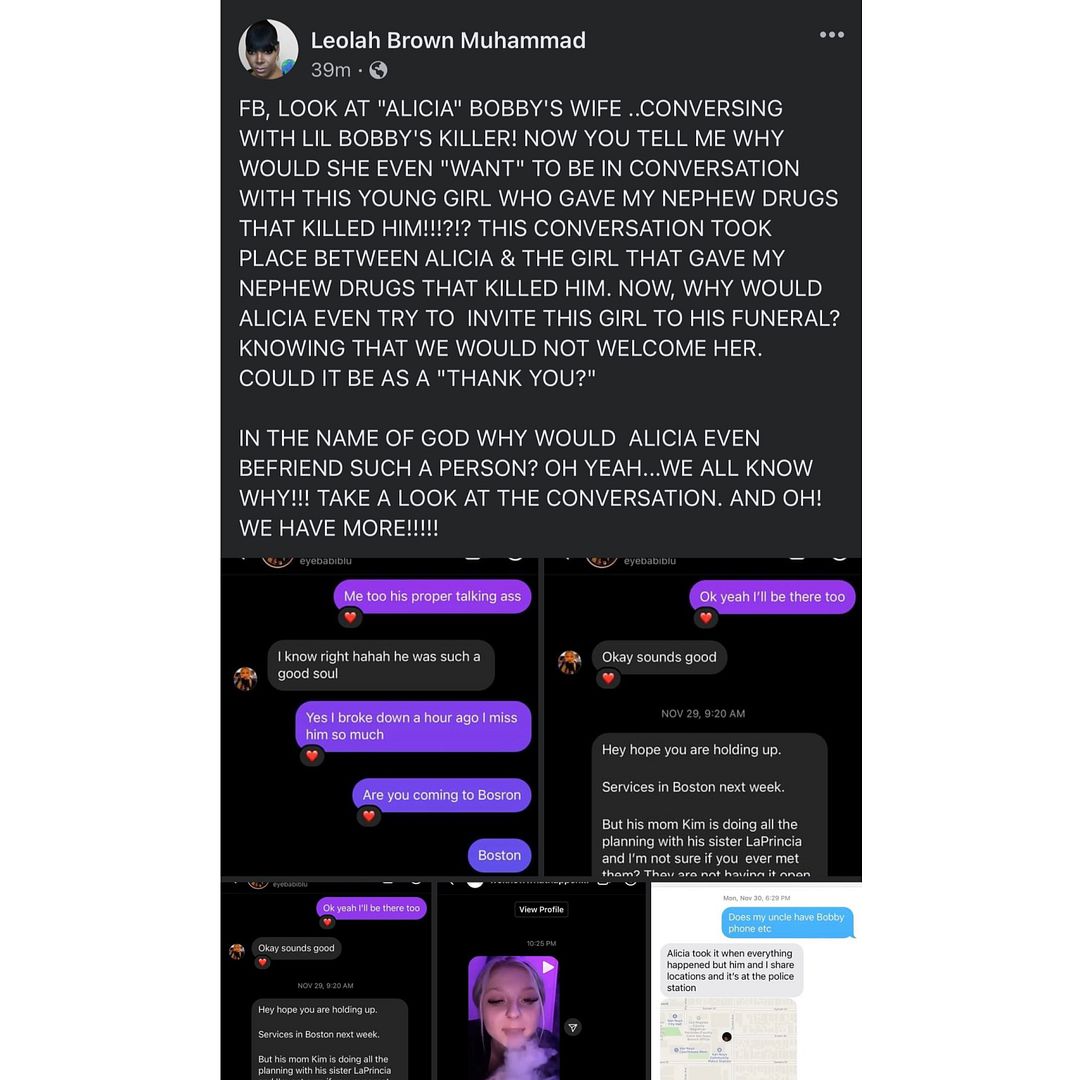 "FB, LOOK AT "ALICIA" BOBBY'S WIFE ..CONVERSING WITH LIL BOBBY'S KILLER! NOW YOU TELL ME WHY WOULD SHE EVEN "WANT" TO BE IN CONVERSATION WITH THIS YOUNG GIRL WHO GAVE MY NEPHEW DRUGS THAT KILLED HIM!!!?!? THIS CONVERSATION TOOK PLACE BETWEEN ALICIA & THE GIRL THAT GAVE MY NEPHEW DRUGS THAT KILLED HIM. NOW, WHY WOULD ALICIA EVEN TRY TO INVITE THIS GIRL TO HIS FUNERAL? KNOWING THAT WE WOULD NOT WELCOME HER. COULD IT BE AS A "THANK YOU?"
"IN THE NAME OF GOD WHY WOULD ALICIA EVEN BEFRIEND SUCH A PERSON? OH YEAH...WE ALL KNOW WHY!!! TAKE A LOOK AT THE CONVERSATION. AND OH! WE HAVE MORE!!!!!"
Below are the screenshots
Lastly...
She wanted to set the record straight about Bobby Brown Jr.'s drug use before his untimely death a few years ago.
"And just for the record my nephew Bobby Jr WAS CLEAN! He wasn't doing anything before he was found," she wrote. We had just spoke to him just hours before on FACETIME and he was clean & sober!!!! But see, they want this world to think he was using when HE WAS NOT! Therefore someone HAD TO taint his food &or drink with drugs!"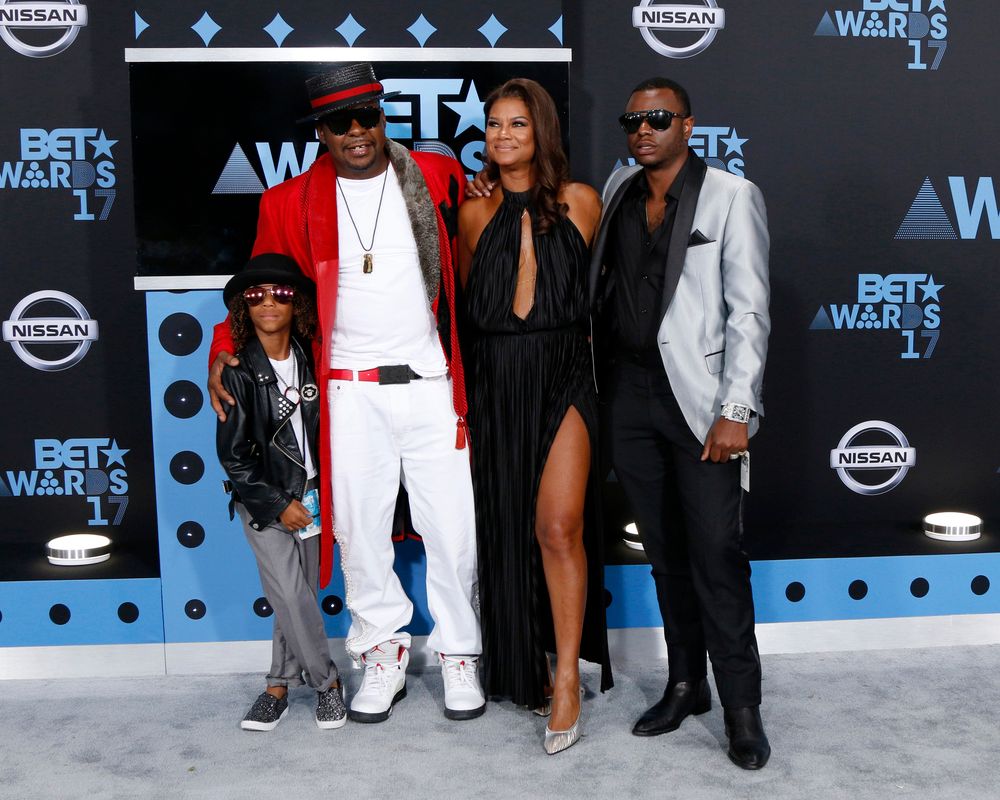 In November 2020, Bobby Brown Jr. (above), Bobby's eldest son from a previous relationship, died from the combined effects of alcohol, cocaine and fentanyl at the age of 28. That's the same year Bobby was admitted to a treatment facility due to his struggle with alcohol addiction.
No word from Bobby or Alicia about Leolah's claims. Do you believe her?
Photo: Splash /Randy Miramontez/Shutterstock