It's graduation season! And Tyrese went all out for his 14-year-old daughter's middle school graduation since he missed her ceremony. Also, Yara Shahidi is now a Harvard grad! Celebrate inside…
Time is flying because the YBF kiddos are growing up!
Singer/actor Tyrese Gibson celebrated his daughter Shayla Gibson's middle school graduation in an epic way. Although Ty wasn't there in person for her ceremony, he made sure his presence was felt.
The Fast & Furious star gifted the soon-to-be high schooler with a brand-new white Rolls Royce. He also sent a truck that displayed images and videos of special moments the father-daughter duo shared over the years.
The over-the-top gesture came in place of the actor missing out on the 14-year-old's graduation ceremony due to filming Fast & Furious 10 (Fast X) in London. He expressed his disappointment that he was not there with her on social media:
"I feel horrible as a father that I missed this one of a kind moment but it's very very clear that my daughter felt all that love that I arranged from London," he captioned a video of the car being delivered. "Thank you Momma Norma for being there," he wrote. "Funny that you're in my country and I'm in yours lol congratulations to our angel SHAYLA [ Princess ] Gibson you did it baby you have made daddy sooooooo proud!!!!!"
It seems the Baby Boy star and his ex-wife Norma Gibson are getting along these days as he shouted her out in the caption. He also shared a screenshot of a FaceTime call he recently had with his Shayla and Norma, praising her for graduating to her next phase in life:
"To see you smile again from making you laugh in a way that only I can for all it's worth in this moment I praise God," the singer/actor posted."Our daughter is graduating today 9th grade Shayla "Princess" Gibson this is truly truly as answered prayer……. God owns the EARTH and until you understand 'Who' he is you will never be able to relate to the joys I'm feeling from having a moment of PEACE and FAMILY and not war….. Someone out there whoever you are has been praying for my original family…… This is what the start of a breakthrough and answers prayers look like…… Norma Gibson the mother of our angel SHAYLA "Princess" Gibson graduation day!!!!!!!!! Let's gooooo!!!!!!!!!!! [I was showing them my instagram lip] Something I've noticed all the IG models do on IG lol"
In August 2017, Tyrese & Norma were at odds after she filed to get a permanent restraining order against the "Sweet Lady" singer for allegedly beating their daughter, who was 10-years-old at the time.
In the court documents, Norma alleged Ty "pushed our daughter to the ground, pinned her face down, put his knees on her back, grabbed her hands with one arm and beat her with the other." She accused her ex of of spying on her and said she was scared of him at times. Not only that, she also previously said he suffers from bipolar disorder, all allegations Tyrese denied.
Tyrese made claims that Norma was trying to alienate his daughter from him, which sparked a weeks long saga on social media that featured the actor/singer begging and pleading to get his daughter back. He wrote multiple Instagram dissertations, claiming the powers that be simply want to make black fathers disappear. He also went viral for disturbing social media posts where he was hysterically crying and pleading to get his daughter back.
As a result of the drama, a judge demanded the singer stay 100 yards away from Shayla and her mother. In November 2017, the Los Angeles Department of Children and Family Services dropped the case against Tyrese.
As you can see, Ty and Norma have come a LONG way and we're sure Shayla is grateful for it.
By the way, Ty has another daughter, Soraya Gibson, whom he shares with his second ex-wife, Samantha Lee.
Back to the graduates...
A few years ago, we told you Yara Shahidi chose to attend Harvard University after getting into every college she applied to. She decided to double major in African American Studies and Sociology at the Ivy League.
Now, the "Grown-ish" star is officially a Harvard graduate!
"Yara (noun): a Harvard graduate #ITSOFFICIAL #CLASSOF2022," the 22-year-old captioned on Instagram.
The young activist/actress' father, Afshin, was uber excited about his daughter's major milestone:
"Beautifully surreal moment seeing our delicate petal in full bloom," her dad captioned their photo, tagging his wife, Keri. Shahidi.
Harvard alum and Forever FLOTUS Michelle Obama - who wrote one of Yara's recommendation letters - congratulated the new Harvard grad on her major accomplishment: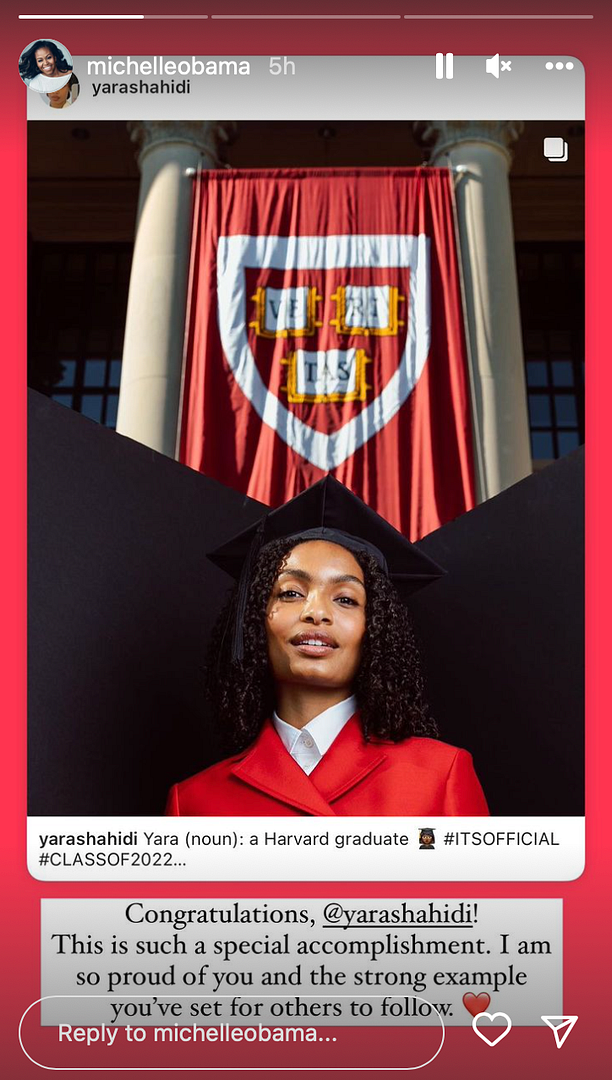 "This is such a special accomplishment," Lady O wrote. "I am so proud of your and the strong example you've set for others to follow." 
LOVE TO SEE IT! Congrats to the 2022 grads!
Swipe through our 2022 YBF Grads gallery below to see who else copped a degree/diploma!
Photos: Instagram