The Jamaican athlete Sha'Carri Richardson accused of abusing her while they were in a relationship is speaking out, sharing her side of what went down during their toxic relationship. Find out what Janeek Brown has to say about the abuse accusations inside…
Last week, Track and Field sprinter Sha'Carri Richardson shared she was abused during a relationship with a Jamaican athlete. Now, that athlete is speaking out.
Jeneek Brown, a Jamaican athlete who specializes in the 100m Hurdles, addressed the abuse allegations made by Sha'Carri, admitting she did in fact abuse the sprinter, but alleged Sha'Carri only spoke out for clout.
During a virtual interview with @BwouaTingz, Janeek revealed the abuse only happened once and said they tried to work past their issues, yet, continued to fall short.
"I was abusive once that there's physical evidence of," Janeek said. "And we moved on, and even after then I was trying to move on from that, we still got nowhere."
If the abuse was as bad as Sha'Carri claims, Janeek said she should file charges against her. Throughout their relationship, she said it was a lot of fighting going on between them and that they just couldn't get along.
"We just keep on fighting, blaming each other and the regular relationship problems," she continued.
At the time of their relationship, Jeneek said she was going through some things while trying to find herself.
"Yeah, I was going through something—I was finding myself, that's why I am coming to social media, you feel me?," she said. "So yeah, it's a transformation; I'm going to find myself now. I may look different now."
Peep the clip below:
Interesting.
Last week, Sha'Carri took to her IG Stories to reveal she recently got out of an abusive relationship and said she felt better she was able to share her truth:
"I was in a relationship with a Jamaican athlete that never cared about me from jump," Sha'Carri wrote."I was abused and stole from yet protected her from the judgment of her country and family while they dragged me. I had to deal with homophobic [sic] and so much more that I'm still healing from."
In another post, the 22-year-old athlete shared lyrics from Fetty Wap's track titled "The Truth" before sharing a picture of herself all boo'd up with Janeek before taking it down.
"Feels amazing living in my truth," she wrote with the smiling halo emoji.
After the interview streamed, Sha'Carri posted: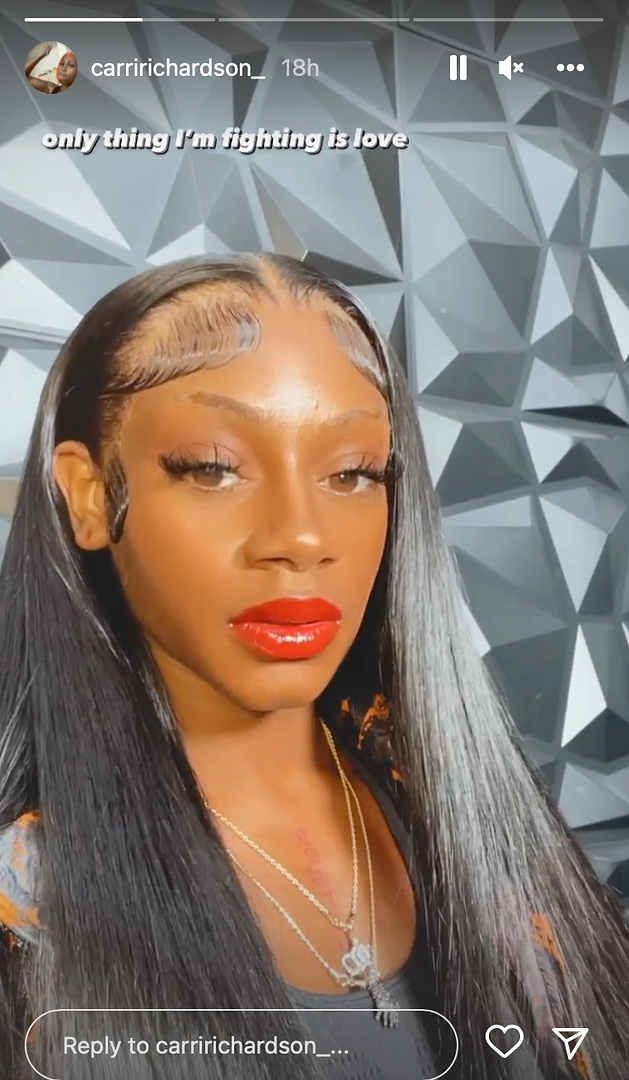 "only thing I'm fighting is love," she captioned a video of herself. 
Glad they both decided to end their toxic relationship. 
EXTRAS:
1. Netflix puts a warning on the new season of "Stranger Things" following Texas school massacre. STORY
Photo: Sha'Carri's IG