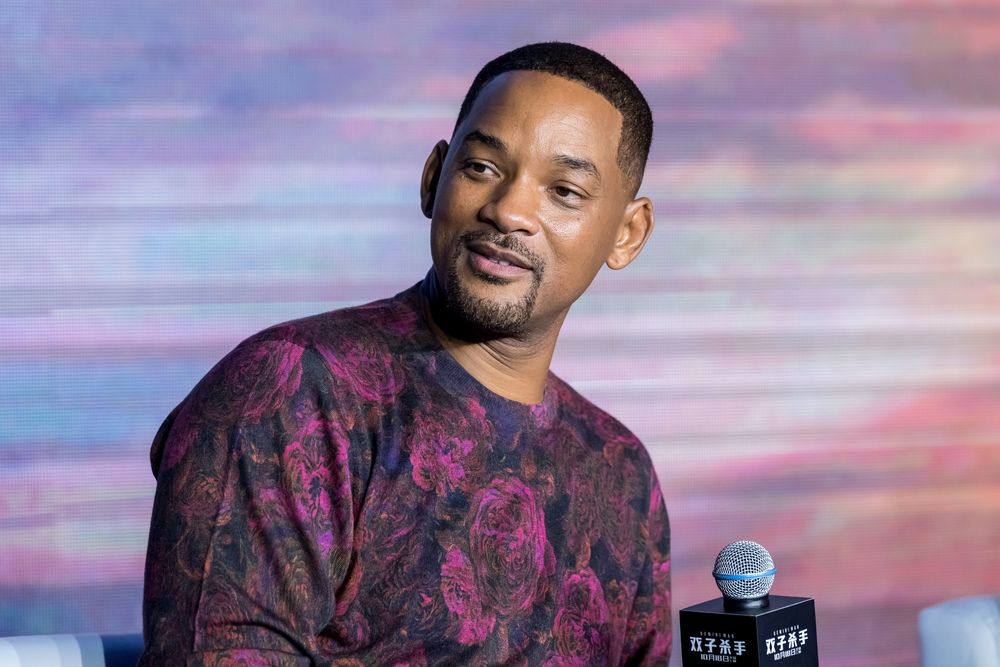 Long before the infamous Oscars Slap, Will Smith had a vision where he lost his career, his money, his family…everything. He tells David Letterman about it on his Netflix show, "My Next Guest Needs No Introduction." Deets inside…
Earlier this month, we told you Will Smith (as well as Cardi B) will appear in a new episode of David Letterman's Netflix series, "My Next Guest Needs No Introduction with David Letterman."
We also told you Will's interview was filmed BEFORE he walked up onstage to slap comedian Chris Rock for joking about Jada Pinkett Smith's bald head during the live telecast of the 94th Academy Awards and to not expect the Hollywood actor to address the drama. Following the backlash, Will apologized to the Academy and Chris before resigning from the Academy.
Also, the episode was prefaced with a title card that read, "The episode was recorded prior to the 2022 Academy Awards ceremony."
However, the Oscar winner said something profound during the interview that seemingly foreshadowed what was to come.
While chatting it up with Letterman, the King Richard star said he had a terrifying vision about losing, essentially, everything. His money. His family. His career. Gone.
While on a two-year sabbatical, the 53-year-old jetted to Peru, where he went on 14 ayahuasca journeys.
In 2017, around the time I Am Legend was released, Will said he began to notice a "subtle sickness" involving an "addiction" to "material success." To heal himself, he decided to take a break from work and not speak for two full weeks.
"I felt very confident that No. 1 movies were much more of an addiction than they were a fulfilling emotional endeavor," he said."I correlated being the best with being able to have the love in my life that would make me feel safe."
The Bad Boys actor then started taking "journeys" on ayahuasca (a plant-based psychedelic) and one of the experiences forced him to face his fear of losing everything.
"One of the experiences was the individual most hellish psychological experience of my life," Will shared.
"I'm drinking. I'm sitting there, and then, all of a sudden, it's like I start seeing all of my money flying away and my house is flying away, and my career is gone," he said. "And I'm trying to grab for my money and my career. My whole life is getting destroyed."
"So this is your fear in real life?" Letterman asked.
"My fear," Will confirmed. "I'm in there and I'm wanting to vomit and all of that. And I hear a voice saying, 'This is what the f*ck it is. This is what the f*ck life is. And I'm going, 'Oh sh*t.'"
The actor then starts hearing his daughter, Willow Smith, screaming, "Daddy, help me! Daddy! How come you won't help me?"
"And I'm like, 'I don't see you, baby,'" he said. "The shaman is like, 'Relax, relax, relax.' And she tells me, 'Sit up.' Then, slowly, I stopped caring about my money, I just wanted to get to Willow. I stopped caring about my house, about my career. And I get to the point where I settled down and the voice is still at 100%, I still hear Willow screaming. My money is still flying away, but I'm going [exhales] and I'm totally calm even though there's hell going on in my mind."
At that moment, he realized he could "live with the reality that at any moment, anything can be gone in one second."
"Anything that happens in my life, I can handle it. I can handle any person I lose, I can handle anything that goes wrong in my life, I can handle anything in my marriage, I can handle anything that this life has to offer me," Will said.
Since the infamous Oscars slap, Netflix has yanked a few of his projects, including Bright 2 and a drama titled Fast and Loose. There were rumors Sony paused production for Bad Boys 4, also starring Martin Lawrence.
Tom Rothman, the chairman of Sony's Motion Picture Group, said that's not true.
"No. That was inaccurate," Tom told Deadline. "That movie's been in development and still is. There weren't any brakes to pump because the car wasn't moving. That was a very unfortunate thing that happened, and I don't think it's really my place to comment, except to say that I've known Will Smith for many years, and I know him to be a good person. That was an example of a very good person having a very bad moment, in front of the world. I believe his apology and regret is genuine, and I believe in forgiveness and redemption."
So, there's that. 
During the interview, Will also talked about the line in his memoir where he said he always felt like a coward.  
"The first line of the first chapter is, 'I've always thought of myself as a coward,'" he said. "When I was 9 years old, I saw my father beat up my mother, and I didn't do anything. And that just left a traumatic impression of myself as a coward."
"Life is so exciting to me right now, because I can reach people differently than I've ever been able to reach people, largely because of my pain," he said. "I'm really ready to dive into my art in a way that I think will be hopefully fulfilling for me and helpful for the human family."
It'll be interesting to see Will's first official interview following the Oscars slap and if he'll address it. Would you watch?
Photo: ChinaImages/Depositphotos