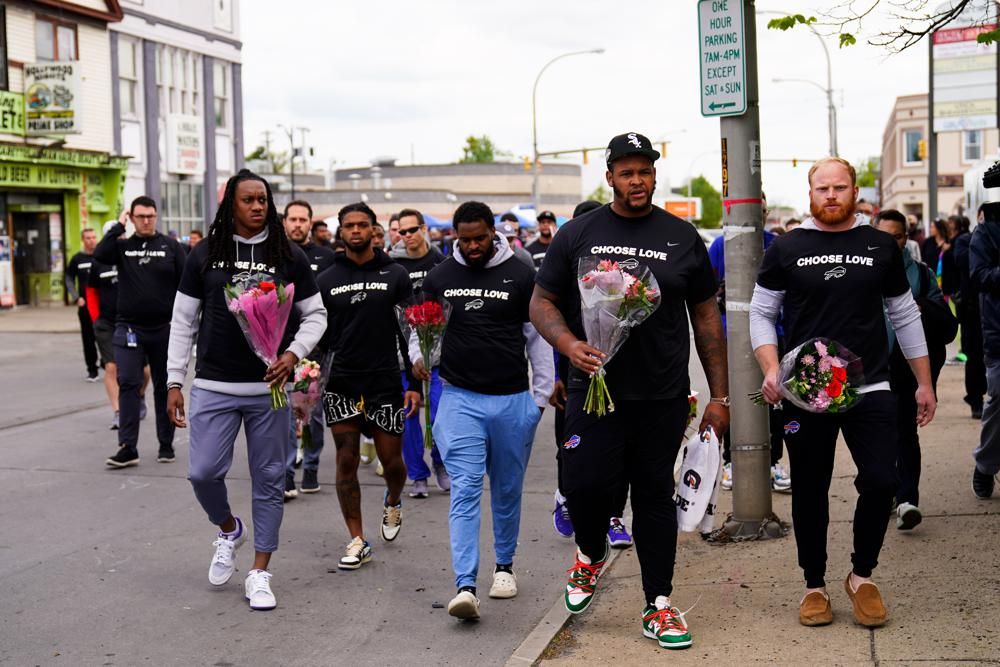 The city of Buffalo is coming together to provide comfort and support for their community following the tragic racist attack at a supermarket that took the lives of 10 people and injured 3 others. The Buffalo Bills, as well as the NHL's Buffalo Sabres and the Buffalo Bandits professional lacrosse team visited the memorial/scene of the attack. Watch the players lend a helping hand to their community inside…
It's one thing to post words and memes of support when a tragedy happens. It hits ten times better when those people actually come out to show support, as well as bring supplies and resources to help a city that's grieving.
While simply showing up won't bring back the loved ones lost, the Buffalo community is hurting, so any act of kindness is what they all need right now. And that's exactly what they're getting.
Players, coaches and staff from the Buffalo Bills organization showed up and showed out for their fans days after a white, 18-year-old domestic terrorist gunned down 10 innocent Black victims and wounded 3 others while they were shopping at the Tops Supermarket Saturday (May 14th) afternoon.
The NHL's Buffalo Sabres and the National Lacrosse League Buffalo Bandits joined the Bills to visit the memorial set up to remember those who lost their lives and those who were injured during the racist attack.
Hopping off of tour buses, the sports teams wore black t-shirts that read, "Choose Love," while toting flowers, food and groceries. Bills safety Josh Thomas was captured paying his respects: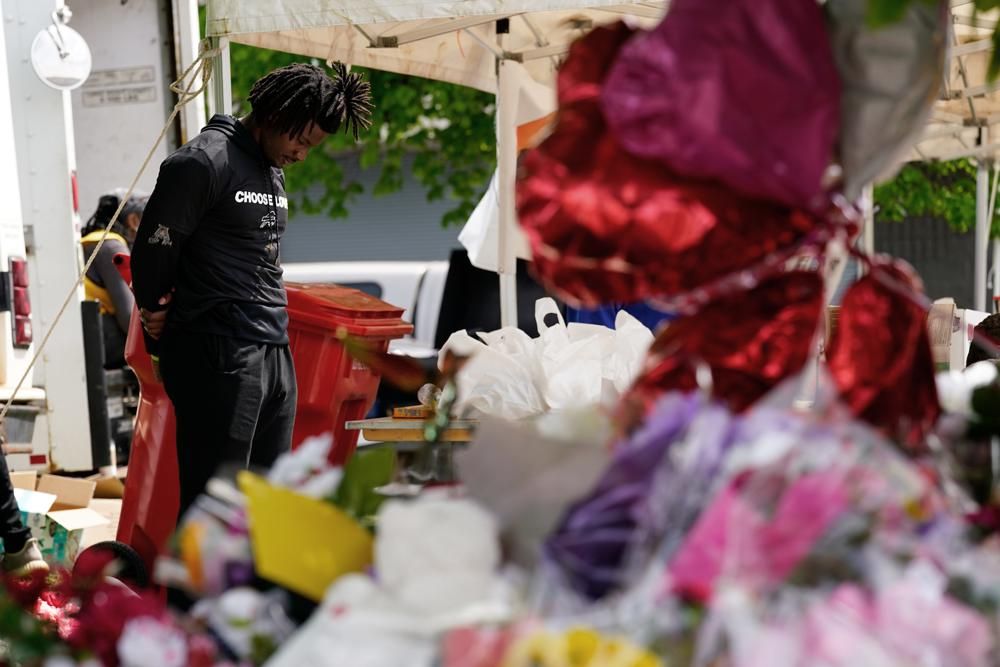 The teams left bouquets of flowers at the memorial, gave away groceries, and fed 750 people in the community chicken Alfredo with the help of local chef Darian Bryan and World Central Kitchen. Players also snapped selfies and signed autographs for those in the community.
Stefon Diggs and Gabe Davis busy at work @WGRZ#Billspic.twitter.com/gnftEerSyp

— Ashly Holder (@AshNoelleTV) May 18, 2022
Bills wide receiver Stefon Diggs flew to Buffalo specifically to lend a helping hand serving good.
Dion Dawkins isn't from Buffalo. But he calls this city home. And that's what makes these last few days so difficult #BuffaloStrong#BillsMafia@WKBWpic.twitter.com/1GgX87NBAr

— Matthew Bové (@Matt_Bove) May 18, 2022
"Buffalo is, honestly, this is my first home," Bills offensive tackle Dion Dawkins said to WKBW. "This is the place where I first bought a house, I first started to raise a family."
"This has affected everybody who lives here. It has affected everybody at a height that really can't really can't be explained. Just being here for the community, which is our community, is where the growth helps. It's going to take brick by brick to build it back because we had somebody who targeted a community, a neighborhood of African American people and that's really where the hurt is."
Peep the clip above.
Josh Allen: I hear you, I'm listening to you, and If there is anything I can do to help let me know because I'm willing to do it #BuffaloStrong#BillsMafia@WKBWpic.twitter.com/boWaPXUYdf

— Matthew Bové (@Matt_Bove) May 18, 2022
"It's hard to find the words to say, and I don't know if there's anything that you can say to help somebody that's uneasy about something like that feel better other than saying I'm here for you," Bills quarterback Josh Allen said. "I hear you, I'm listening to you, and I can help. If there's anyway I can help, let me know because I'm willing to do it."
Four buses of players & staff

Three professional sports teams

Two words on their shirts

One community coming together#BuffaloStrong@WKBWpic.twitter.com/5msLKA0a2t

— Matthew Bové (@Matt_Bove) May 18, 2022
We love you and we grieve with you, Buffalo. pic.twitter.com/S75ZiSVbym

— Buffalo Bills (@BuffaloBills) May 18, 2022
NFL commissioner Roger Goddell, Bills co-owners, and more also came out to show their support:
Roger Goodell, Terry Pegula, Kim Pegula, Bruce Smith, Thurman Thomas, Jim Kelly, Rick Jeanneret, Patrick Kaleta, Rob Ray and others have arrived to volunteer at the Resource Council of WNY to volunteer @WKBW#OneBuffalo#BuffaloStrongpic.twitter.com/mvCTsQLtf6

— Matthew Bové (@Matt_Bove) May 19, 2022
So who needs groceries? #OneBuffalo@WKBWpic.twitter.com/fSq58wxTGd

— Matthew Bové (@Matt_Bove) May 19, 2022
Bruce Smith: I was just compelled to go to the memorial site and I cried like a baby. I wept. But it was good. I needed to have that moment to begin the healing process #BillsMafia@WKBWpic.twitter.com/rD0V7lRqgn

— Matthew Bové (@Matt_Bove) May 19, 2022
The Bills said this is only the beginning of the healing process. According to ESPN, the Buffalo Bills Foundation, combined with the NFL Foundation, will donate $400,000 to go toward the Buffalo Together Community Response Fund and a variety of nonprofit organizations working on emergency response efforts.
Photos: AP Photo/Matt Rourke