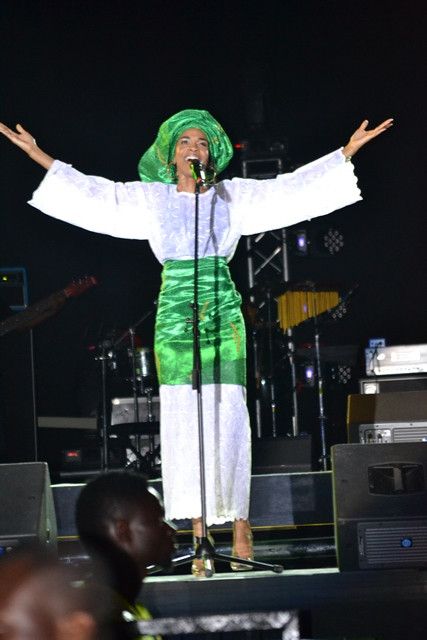 Michelle Williams has been romantically linked (through rumors) to former NFL baller Adewale "Wale" Ogunleye for the past couple of years.  Perhaps even overlapping with the relationship between Wale & Kelis.  But now we've learned the two are getting more serious, and Michelle traveled to his home country of Nigeria over the weekend....
Former Destiny's Child member Michelle Williams has been spending her days still singing, and allegedly staying boo'd up with Wale Agunleye.  We're told Michelle started dating the baller after she broke up with her longtime boyfriend, Chris Dave, a famous drummer who is a part of the Robert Glasper Band and plays with D'Angelo.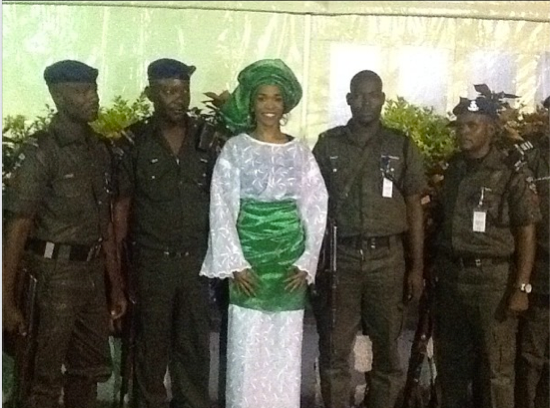 They've been trying to hide their relationship from the public, but we're told they're not ready to let the world in.  But that didn't stop Michelle from traveling with Wale to his home country of Nigeria this past weekend.  She was there to sing the country's National Anthem at an event (pictured above).  She tweeted this weekend: 
Sad to be leaving Nigeria so soon! I just got here yesterday and have to leave tonight! One of the BEST times of my life! #GRATEFUL
Sources tell us the former Miami Dolphin and Chicago Bears player have been dating for several months, but have been "cloe friends" for over a year. They've shared cozy dinners in Chicago (where Michelle is from) and even some trips to Miami.  And we're told they both live in Chicago now, as Wale just bought a home there.
We like these two...
Wale also dated Sanaa Lathan (pictured above back in 2009) for a few years prior to Kelis.