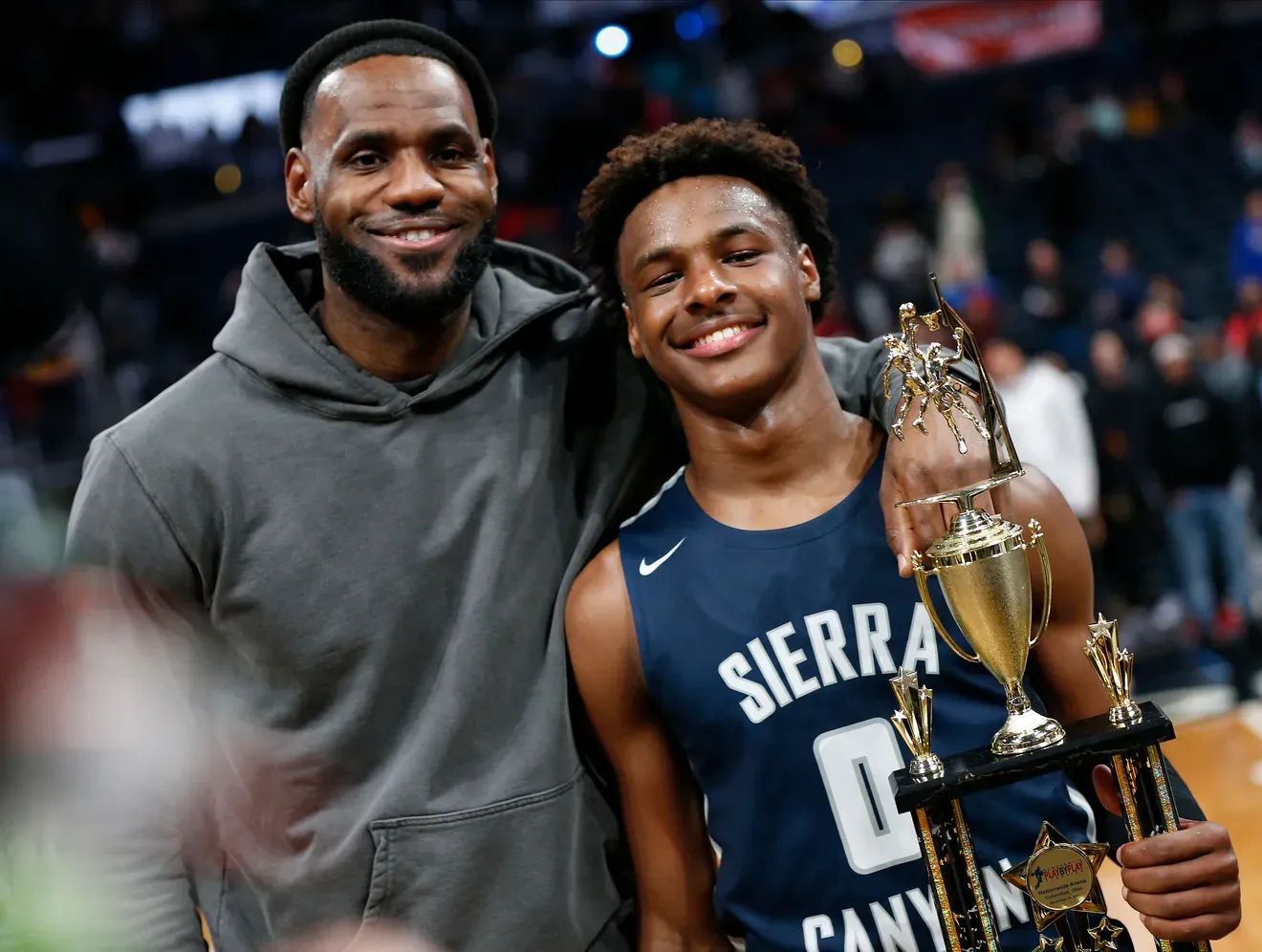 Growing up! Bronny James - son of LeBron& Savannah James - escorted his date to prom over the weekend and his date has caused quite a stir on social media. Meanwhile, Zhuri James' facial expression during the prom festivities took us out! Read her dad's response and more inside…
It's prom season!
Over the weekend,Bronny James- Lebron& Savannah James' eldest son - did prom in style. He picked up his date in a $326,000 custom Mercedes GT sports car, flexing on all his friends at Sierra Canyon High School in Los Angeles. He cleaned up nicely, rocking a custom Waraire Boswell suit.
A joyous occasion has turned into an online debate centering around his date. The 17-year-old has been receiving some backlash (along with plenty of praise) online for his prom date choice.
Bronny at Prom

(via Bronny/IG, @goodlooksfamily) pic.twitter.com/z8O1oecVup

— ClutchPoints (@ClutchPointsApp) May 18, 2022
The high-profile teen (who is one of the most highly-touted high school basketball players in the nation) took a blonde white teen, Peyton Gelfuso (who is said to be a TikTok influencer), as his prom date. Proud mom, Savannah James, shared pictures from the big event as she helped him get ready, reflecting on how fast her son is growing up:
"Sooooo @bronny went to prom this past weekend," Savannah - who also shares 14-year-old Bryce and 7-year-old Zhuri with LeBron - captioned the collage of photos. "Tons of emotions and realizations. Time really flies. So proud of you young man!! I will always have your front and your back!! Zhuri is processing all of this too!! (Last slide)"
And Zhuri's face surely took us OUT! Her dad - LeBron James - shared her photo on his IG Stories and said she does NOT play when it comes to her brothers:
"One thing she don't play about is her fkn brothers!!!," he wrote. HA!
Fans took to social media to express how they feel about Bronny's prom date choice and there are tons of people who have an issue that he didn't take a black girl to prom, while others have been condemning trolls that have an issue with his prom date:
I wonder what the selection of Black women @ Bronny James High School is like?

— J (@Jae_Milli0ss0) May 19, 2022
Bronny James getting cooked for making a white girl his girlfriend and bringing her to prom pic.twitter.com/cVsQXQVKIs

— Youngin (@siirahdoyah) May 19, 2022
Grown ass adults looking at Bronny James' high school prom date and trying to start a pure blood discourse in the year 2022. pic.twitter.com/tp5NhiqpLb

— j (@JaRomney) May 18, 2022
Reading grown ass folks clown 17 year old Bronny James for taking a white girl to prom is disgusting. RIH to Sharla as I enjoyed you being my date back in 97. You're truly missed! pic.twitter.com/pRaKBMTmCJ

— BSA II (@Booeasy9) May 19, 2022
People are weird. Y'all want racism/prejudice to end…but hating on Bronny James because he took a white girl to prom Let that young man live

— Terrance Rayborn (@DatMann_T) May 19, 2022
Bronny James posing with a white girl for prom! Just disgusted. The crisis is real when it comes to black athletes. pic.twitter.com/MHzI30rWxD

— SSJGarland (@ImaGStukes) May 18, 2022
I'm just now seeing this Bronny James shit, and y'all are weird af

Idc what issue you have with race mixing or him dating a white girl, bro's life has no correlation to yours and he is SEVENTEEN. Go find something better to do than be salty over shit that don't affect you

— YURRRRRRRT (@BroWhoTf_Cares) May 19, 2022
Also, there are TONS of comments from black males using this opportunity to disrespect and shade black women, and state that Bronny is doing something right simply because he's seemingly dating a white girl.  For example:
There are also "we salute the 'milk man'" comments, praising Bronny specifically for his choice.  If he shouldn't be shaded for his choice, he shouldn't be praised specifically for it either.  These type of comments are equally extremely problematic and ignorant.
Dr. Umar Johnson joined the chat. He questioned LeBron James' activism, sharing a photo of Bronny & his prom date, writing, "No disrespect, but…Yo LeBron, I thought you were an activist?"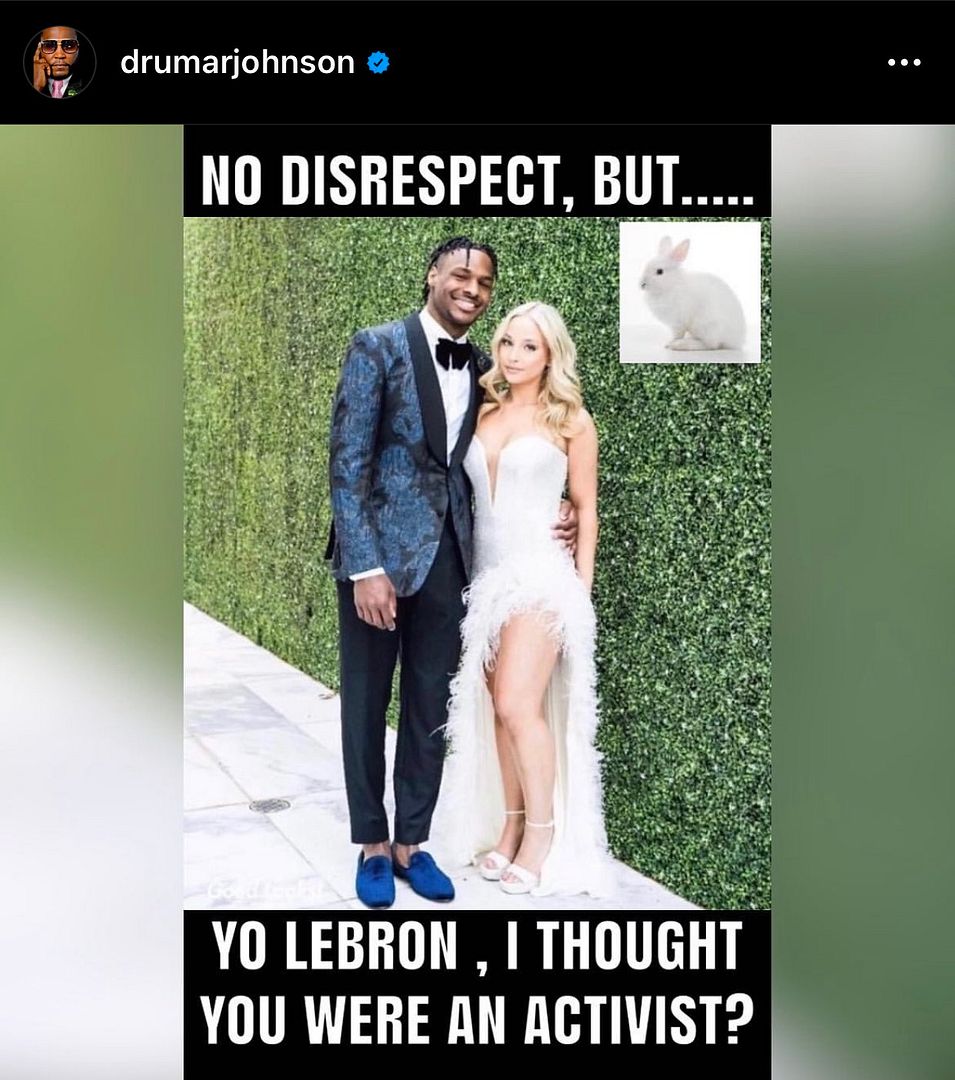 Wow.
Former NFL QB Robert Griffin III - who is married to a white woman - came to Bronny's defense, saying folks need to leave the kids alone:
LEAVE THESE KIDS ALONE!
People clowning Bronny for his prom date are just miserable. Let them enjoy their day. pic.twitter.com/ji3CG1dW0E

— Robert Griffin III (@RGIII) May 19, 2022
"LEAVE THESE KIDS ALONE! People clowning Bronny for his prom date are just miserable. Let them enjoy their day," RGIII tweeted.
Turns out, LeBron took a white girl to prom, so some users are saying Bronny is taking notes from his father and will one day find him a black queen: 
Time will tell...
Photo: AP/Jay LaPrete